Friends,
As we near the end of 2018, we reflect on the year that was and look forward to political change in 2019. This past year was a monumental one for the Jewish Democratic Council of America (JDCA), as we grew as an organization and movement, which is now 20,000 strong and nationwide. Thanks to supporters such as you, we made our voices heard on Capitol Hill and throughout the country, advocating for our values and affecting change in the midterms.  JDCA engaged more than half a million Jewish Democrats this past election, mobilized a national grassroots volunteer operation, and endorsed 58 candidates. We are thrilled that more than 80 percent of JDCA-endorsed candidates won and that JDCA helped to flip 28 seats from red to blue, which was critical in helping the Democrats win back control of the House. As we approach 2019, we look forward to working with members of the 116th Congress to bring about meaningful change. Please consider supporting our efforts today as we expand our advocacy efforts and lay the groundwork for Democratic victories in 2020.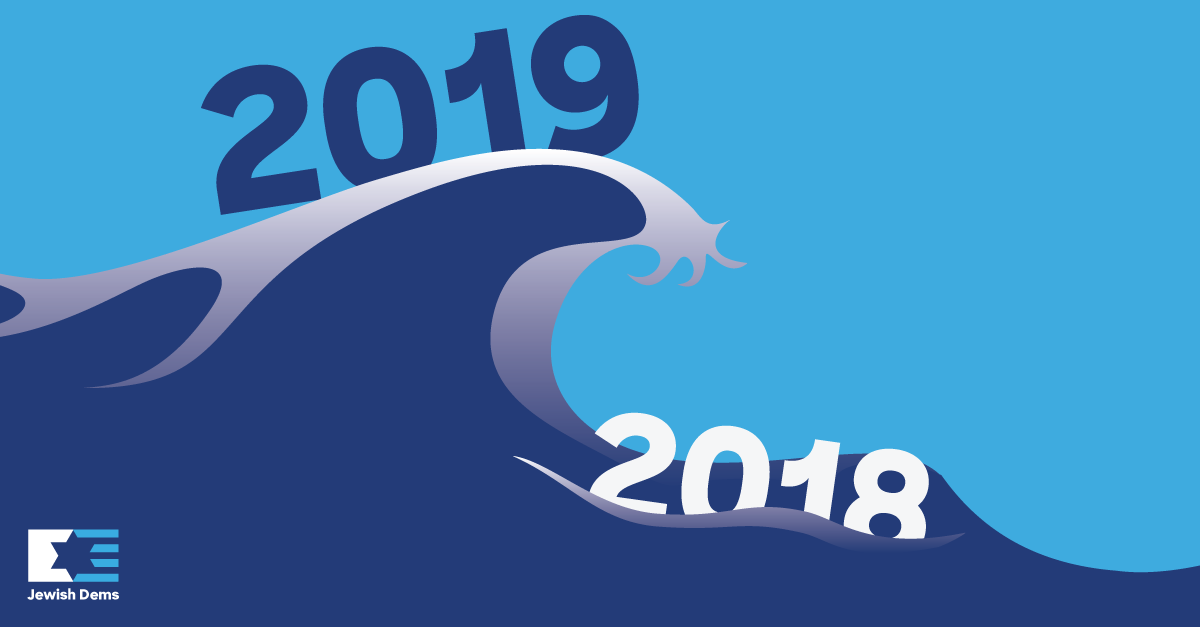 Reflections on the past week
As we barrel toward a government shut-down, JDCA is deeply concerned about President Trump's recklessness and belligerence insisting on more than $5 billion in taxpayer funding for an unnecessary border wall. JDCA is also deeply concerned about President Trump's surprise decision to withdraw U.S. troops from Syria and Afghanistan, which contributed to the resignation of Secretary of Defense Mattis. At the same time, we supported the Justice Department's decision to ban bump stocks that turn rifles into automatic weapons, and we are hopeful that the resignation of Interior Secretary Zinke gives the Trump administration a chance to appoint someone who is committed to combating climate change. Finally, as each day passes, we are increasingly appalled by the rampant corruption and scandals permeating the Trump administration, which have reached a perilous new low point (and it's a very low bar). And that's just the past week! Read on for a recap of our year…
Reflections on the past year
The past year underscored the need for political change in America perhaps more than any other in history. We have witnessed the demise of the U.S. presidency, a loss of American moral leadership at home and abroad, and a Republican-controlled Congress that abdicated its responsibility to serve as a check on the Executive Branch. JDCA responded strongly to developments as they happened, rejecting the Trump administration's policies, and urging Congress and others to take action and align U.S. policy with our values. Some highlights of JDCA's advocacy efforts over the past year:
Domestic Issues:
Foreign Policy:
Join JDCA in 2019
We are looking forward to working with all of you to affect the trajectory of our country in 2019 and beyond. Please TAKE ACTION with JDCA, check back in the new year as we announce our advocacy agenda for the 116th Congress, and consider other ways to support our efforts, which will only grow in the new year. If you or someone you know is interested in working at JDCA, please email [email protected] for more information, and apply to serve as a JDCA intern today.
We at JDCA wish everyone a peaceful and joyous end of 2018. Look for our next update on January 4!
Shabbat Shalom,
Ron Klein,
Chair, Jewish Democratic Council of America