Article
Jewish Dems Stand with Uyghurs
December 9, 2021
Tomorrow marks International Human Rights Day. As American Jews, we must speak out and demand that action be taken against human rights violations and atrocities around the world. For years, we have been following the horrific atrocities perpetrated by China against the Uyghur minority, which has rightly been labeled a genocide by the U.S. State Department. Yesterday, in response to the Chinese government's human rights violations and persecution of the Uyghur Muslims, the House of Representatives passed the Uyghur Forced Labor Prevention Act. Once passed in the Senate and signed into law, this important bill will impose strong sanctions and take other measures to hold China accountable, but it's not enough.
Jewish Dems support passage of this bill, and thank the elected officials who voted for it. But there is much more work to be done to end human rights violations and genocide. As Jewish Americans, we have an obligation to stand against genocide and crimes against humanity wherever they occur. In what is considered the largest incarceration of an ethnic-religious minority since the Holocaust, China has pushed more than one million Uyghurs into internment camps where they endure torture, forced labor, and forced sterilization. More action must be taken, and Jewish Dems are calling on every Senator to stand up for human rights and pass the Uyghur Forced Labor Prevention Act.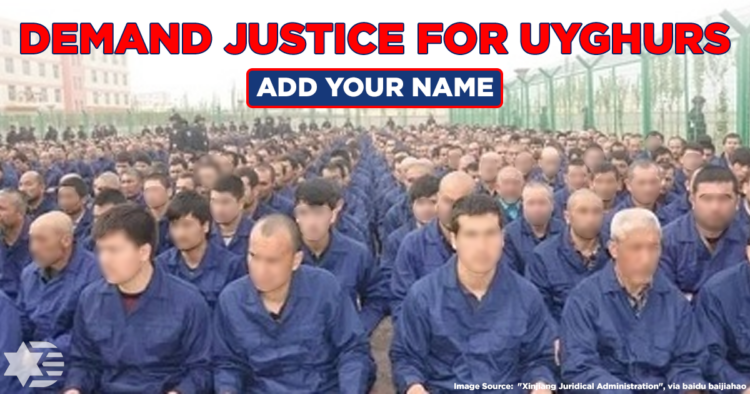 Click here to tell Congress that you support this important bill and that more must be done to stop China's genocide against the Uyghurs.
Tomorrow is International Human Rights Day, and Democrats are taking action to defend human rights around the world. Today, President Biden kicked off the Summit for Democracy, and House Democrats will pass the Protecting our Democracy Act to establish guardrails against the presidential abuses of power we saw under Donald Trump. We're grateful to the Biden Administration and Democrats for their leadership defending our values, and are deeply disappointed that Republicans have obstructed action to support democracy and human rights. 
GOP obstruction includes their efforts to block many critically important State Department nominees, including Sarah Margon to serve as Assistant Secretary of State for Democracy, Human Rights, and Labor. Margon is an international human rights expert who is committed to the U.S.-Israel relationship addressing unfair international bias against Israel. Read about our efforts to stop the GOP block of her nomination and how Democrats continue to lead despite Republican obstruction.