We have waited two years to elect leaders who share our values and will protect our democracy against the egregious policies of President Trump and Republicans in Congress. In less than two weeks, we will have our chance in the midterm elections. We know this is crunch time, and that's why we're stepping up our efforts in these final days. Please join us by supporting JDCA today. Now is the time to make a difference in the lead-up to the November 6 elections, as we aim to flip red seats to blue and help Democrats win back control of Congress. This week alone, JDCA took the following steps toward that goal:
➢ JDCA endorsed 12 more candidates, bringing the total number of endorsements to 58. These candidates share our values and are running House, Senate, and gubernatorial races where Jewish vote will play a meaningful role in the outcome of the election.
➢ JDCA launched one of the largest and most sophisticated ad buys to mobilize Jewish Democratic voters across the country. We are targeting voters where they get their information – online and in the print media – in key Senate and House races.
➢ JDCA issued a Get Out the Jewish Vote video online. Please share with others!
➢ JDCA's leadership published an op-ed to reiterate what we already know: Jewish voters support Democrats, and Democrats support Israel.
➢ JDCA condemned the racist and anti-Semitic robocall in Florida targeting Democratic gubernatorial candidate Andrew Gillum.
➢ JDCA continued to expand midterm volunteer opportunities across the country.
Every phone call, every door knocked, every minute can make a difference in this election. The future of our democracy is at stake. Read on for our take on current events and details on how you can make a difference in this critically important election.
Jewish Dems Endorse More Candidates
Last week, JDCA endorsed House candidates Greg Stanton (AZ-09), Debbie Mucarsel-Powell (FL-26), Steven Horsford (NV-04), Perry Gershon (NY-01), Max Rose (NY-11), Antonio Delgado (NY-19), Joseph Morelle (NY-25), Mary Gay Scanlon (PA-05), and Elaine Luria (VA-02), as well as gubernatorial candidates Gavin Newsom (CA), Stacey Abrams (GA), and Tom Wolf (PA). This brings the total number of JDCA-endorsed candidates to 58. In this cycle, JDCA has focused its efforts on key House, Senate, and gubernatorial races where the Jewish vote could be critical to ensuring a Democratic win. Now it's up to us to vote them into office.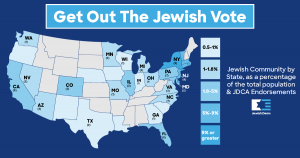 JDCA launches sophisticated Jewish mobilization campaign
Jewish Dems have launched one of the largest and most sophisticated ad buys to mobilize Jewish Democratic voters in the midterms. This highly targeted, six-figure campaign is focused on dozens of key battleground House and Senate races and includes print advertising, extensive social media and online targeting, phone banking, and on-the-ground canvassing to get out the Jewish vote.
More than half-a-million Jewish voters in key districts and states will see JDCA's digital ads online, complemented by print ads in two-dozen Jewish papers. In case it has not already appeared in your own social media feed, please view JDCA's video below!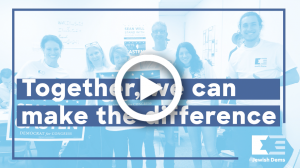 Setting the record straight on the Jewish vote in this election
Recent polling by the non-partisan Jewish Electorate Institute confirms that Jewish voters overwhelmingly support Democrats and see themselves and the Democratic Party as pro-Israel. This hasn't stopped Republicans from attempting to use Israel as a political wedge issue in this election and misrepresenting Democrats' longstanding support for the U.S.-Israel relationship. This week, JDCA's Executive Director Halie Soifer and I set the record straight in the Times of Israel in an opinion editorial enclosed below. As we explain here, Jewish voters continue to support the Democratic Party, and the Democratic Party continues to support a strong U.S.-Israel relationship.
JDCA condemns racist and anti-Semitic robocall in Florida
JDCA issued a strongly-worded condemnation of the racist and anti-Semitic robocall targeting Democrats in Florida. The call was commissioned by a white supremacist hate group and targeted Florida gubernatorial candidate Andrew Gillum. President Trump has legitimized and emboldened these hateful ideologies by his rhetoric and by his failure, again and again, to quickly, forcefully, and unequivocally condemn the racist dog whistles and conspiracy theories that are becoming increasingly common in Republican politics. The only answer is to vote for change, and that means voting Democratic.
Take Action now with Jewish Dems
JDCA has many ways for you to get involved in the election. We encourage you to check-out our volunteer event calendar here. Please join us at our next phone bank or canvass, or reach out to have our staff help you create your own event! Jewish Dems buttons and shirts will be provided to everyone who participates in our volunteer efforts, and we need your help to win on November 6. For more on volunteer efforts specifically, please email [email protected].
10/28 Denver, CO – Canvass and cocktails for Jason Crow from 2:00 pm-5:00 pm
10/28 Detroit, MI – Canvass for Haley Stevens from 3:00 pm-6:00 pm
10/29 Lansing, MI – Canvass for Elissa Slotkin from 5:00 pm-8:00 pm
10/31 Los Angeles, CA – Phonebanking for JDCA endorsed California House candidates 5:30 pm-8:30 pm
11/1 DMV – Phonebanking for JDCA endorsed New York House candidates 6:00 pm-9:00 pm
11/1 Boston, MA – JDCA Phonebanking 6:30-9:30 pm
11/3 DMV – GOTV Canvass for Jennifer Wexton and Tim Kaine 12:00 pm-3:00 pm
11/4 DMV – GOTV Canvass for Jennifer Wexton and Tim Kaine 12:00 pm-3:00 pm
Shabbat Shalom,
Ron Klein
Chair, Jewish Democratic Council of America