Article
Black Lives Matter
June 8, 2020
Over the weekend, Jewish Dems and countless Americans took to the streets to declare that Black Lives Matter and to support an end to racial injustice and a path forward for racial equity. To quote Rabbi Abraham Joshua Heschel, who marched next to Dr. Martin Luther King Jr., "When I marched in Selma, my feet were praying." We were proud to "pray with our feet" this weekend alongside millions of Americans demanding an end to racial injustice.
People all over the country are participating in this movement in many ways: by protesting, by supporting legislation, and by educating themselves about police brutality and systemic racism in America. We are a part of this movement because it's who we are – as Jews, we have known oppression and discrimination for too long. We have an obligation to listen, to engage, and to speak out. Join us.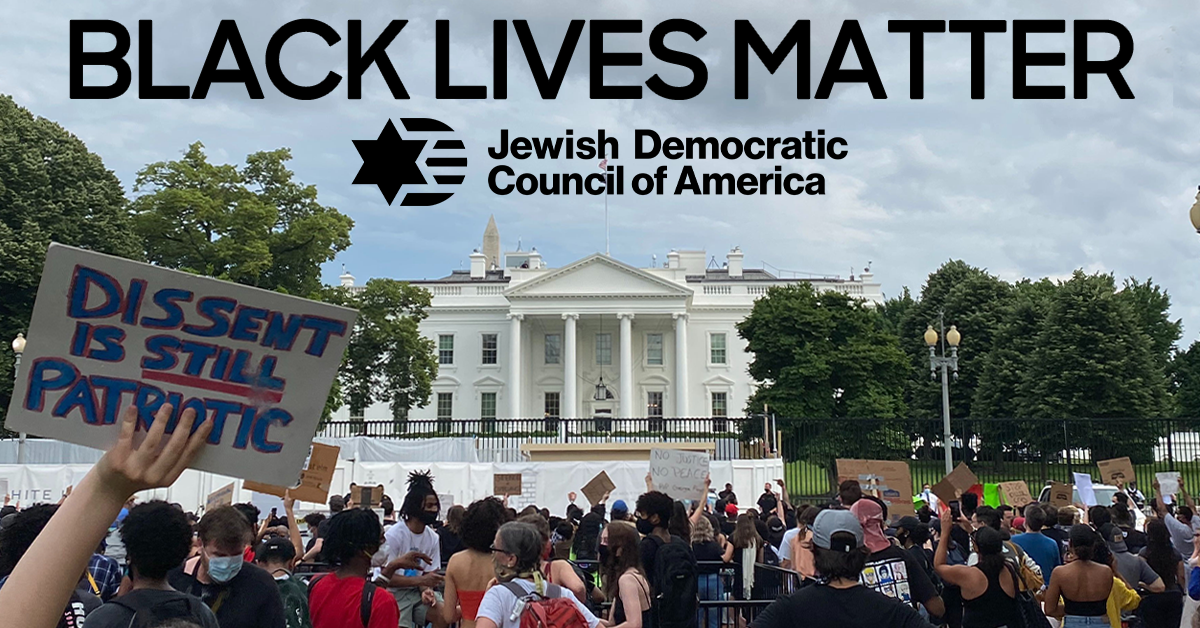 This week, we have an opportunity for you all to join our next "Democrats Leading in Crisis" call on Tuesday, June 9 from 3:00pm to 4:00pm ET focused on "Racial Injustice is a Jewish Issue: Reflecting on a Turbulent Week in America and Opportunities for Change." This will be one of the most important conversations we have had so far, including with Jews who are also members of the Black community, working to promote inclusivity and to dismantle systemic racism.
We'll hear from Jewish leaders, advocating for an end to racial injustice and for racial inclusion – Tema Smith and Marra B. Gad, as well as JDCA's NextGen member, Minneapolis-based Rabbi Michael Latz. The conversation will be moderated by Carly Pildis, JDCA's Director of Grassroots Organizing. You don't want to miss it and can sign-up by clicking on the image below.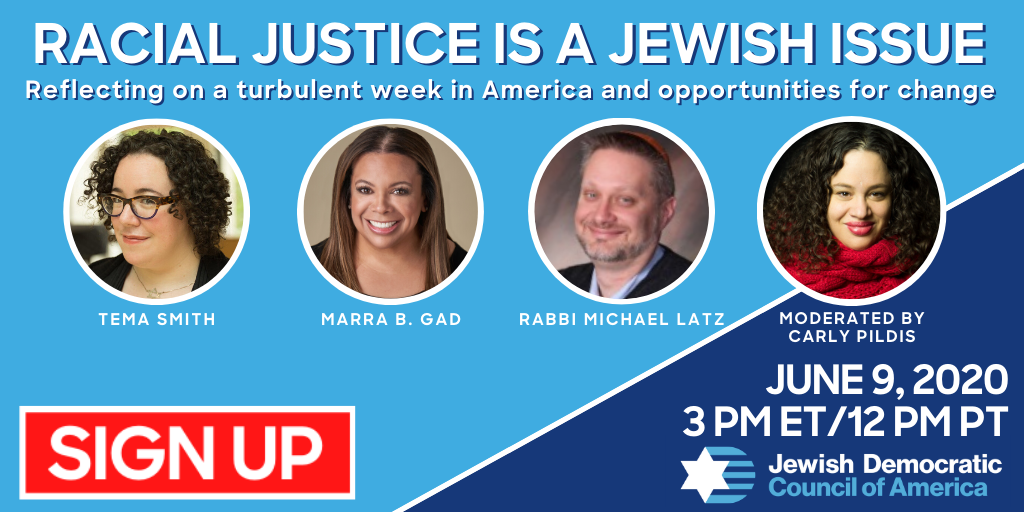 Last week, hundreds of you joined our call with Speaker of the House Nancy Pelosi, who thanked Jewish Dems for our critically important work, telling us that "On behalf of House Democrats, I thank you all at JDCA for using your voice to condemn the president's divisive and dangerous behavior. Thank you for making a consistent drumbeat and awareness around bigotry and white nationalism."
Speaker Pelosi is right: "We have to take our country back for our values. It has to be a country that respects the dignity and worth of every person, and does not undermine the vision of our founders…a country where people have a constitutional a right to speak out."
That's what we at JDCA are fighting for every day and that's why your support for our work is more important than ever. Please support JDCA today in our efforts to ensure a better and brighter future for all Americans.
Sincerely,
Ron Klein,
Chair, Jewish Democratic Council of America
Halie Soifer
Executive Director, Jewish Democratic Council of America