Article
Thank you, Madam Speaker
June 5, 2020
Thanks to the hundreds of you who joined us yesterday for our conversation with Speaker of the House Nancy Pelosi. We were thrilled to host Speaker Pelosi, who recognized JDCA's leadership advocating for Jewish values and supporting Democrats' policy agenda. She expressed strong support for the Jewish community and JDCA's critically important work and told us: "On behalf of House Democrats, I thank you all at JDCA for using your voice to condemn the president's divisive and dangerous behavior. Thank you for making a consistent drumbeat and awareness around bigotry and white nationalism."
On the call, Speaker Pelosi discussed the Democrats' response to the two crises facing our country – the pandemic and racial injustice – and we were inspired by her determined and decisive leadership. Not only did Speaker Pelosi talk about the support Democrats have provided for Americans in the HEROES Act, but she also talked about her solidarity with the Black community. Importantly, she didn't just speak with us, but she also translated her words into action, in real time. During our call, Speaker Pelosi signed and sent a letter to President Trump denouncing his militarized crackdown against peaceful protesters, as reported here by CNN.
We are no doubt facing one of the most challenging crossroads in American history, and Speaker Pelosi left us with an inspiring call to action about the most important election of our lifetimes, which is just 150 days away. The Speaker concluded, "We have to take our country back for our values. It has to be a country that respects the dignity and worth of every person, and does not undermine the vision of our founders…a country where people have a constitutional a right to speak out." Click on the image below to watch the call in its entirety, and we've also highlighted some clips.
Thank you, Madam Speaker, for your remarkable leadership at this critical time.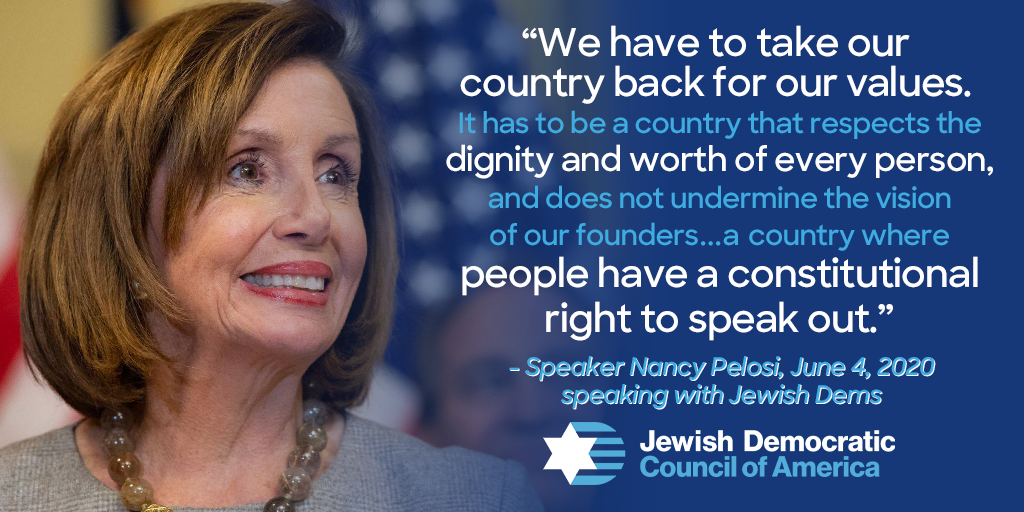 As we grapple with the anguish of racial injustice in our country, please join us for our next call on Tuesday, June 9 from 3:00pm to 4:00pm ET, for "Racial Injustice is a Jewish Issue: Reflecting on a Turbulent Week in America and Opportunities for Change." This will be a conversation with leaders working to create a more inclusive Jewish community and work together to dismantle systemic racism. We'll hear from Tema Smith and Marra Gad, as well as JDCA's NextGen member, Minneapolis-based Rabbi Michael Latz. The conversation will be moderated by JDCA's Director of Grassroots Organizing, Carly Pildis. You don't want to miss it and can sign-up by clicking on the image below.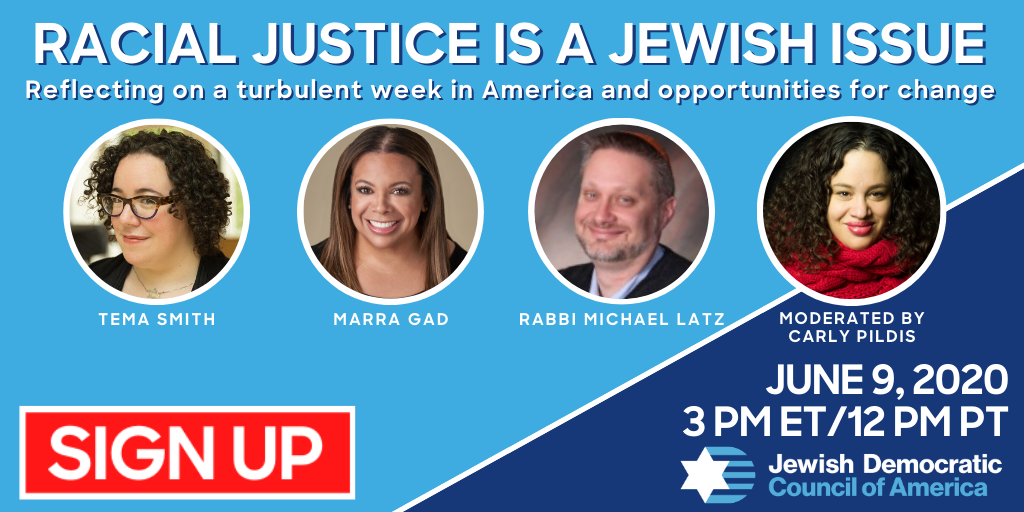 JDCA is mobilizing to to elect Joe Biden and a Democratic Senate, and to increase Speaker Pelosi's House majority. That's why your help and involvement is so important – and now is the time. Please become a part of our growing movement in our efforts to ensure a better and brighter future for all Americans.
Shabbat Shalom,
Ron Klein,

Chair, Jewish Democratic Council of America
Halie Soifer

Executive Director, Jewish Democratic Council of America