As we near the end of 2019, we're reflecting on the progress made by JDCA that will serve as the foundation for ensuring Democratic victories consistent with our values in the next election.
In a year, we hope to be celebrating Democratic control of the Senate and the White House, in addition to an increased Democratic majority in the House, and we look forward to partnering with you to ensure our shared success.
Until then, we want to wish you all a Chag Sameach, Happy Hanukkah, and a joyful time with friends and family. May the story of the Maccabees remind us that our values will pave the path to victory, and may the lights of the menorah guide us to achieving our goals in 2020.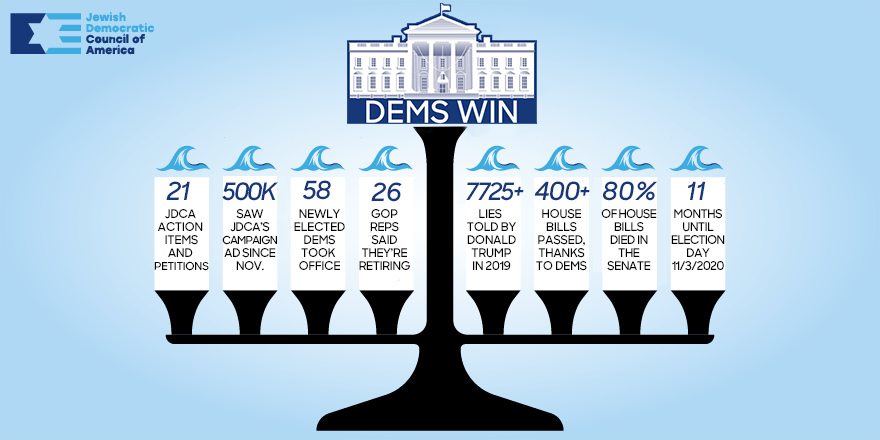 This past year demonstrated just how much elections matter. Were it not for the 2018 midterm elections, Democrats would not have been in a position to pass legislation, chair committees, lead hearings, and hold the president accountable for repeated wrongdoing.
In 2019 Democrats proved what is possible by passing over 400 pieces of legislation on critical issues such as gun safety, election security, and healthcare. Unfortunately, more than 80 percent of these bills are being held hostage by Senate Majority Leader Mitch McConnell and Senate Republicans, but we applaud their passage and recognize the critical importance of these milestones set by House Democrats that make a difference in the lives of Americans. We're also clear about what comes next – we must elect senators and a president who share our values in order to enact these important bills into law.
Throughout the year, JDCA responded to developments as they happened, and we provided opportunities for all of you to join us in taking action. We effectively served as the voice of Jewish Democrats, and the only national organization that combines Jewish advocacy with a Democratic political agenda. Jewish Americans know that they can count on JDCA for independent, values-driven advocacy that makes a difference. And we know that it's our values that will lead to victory in 2020.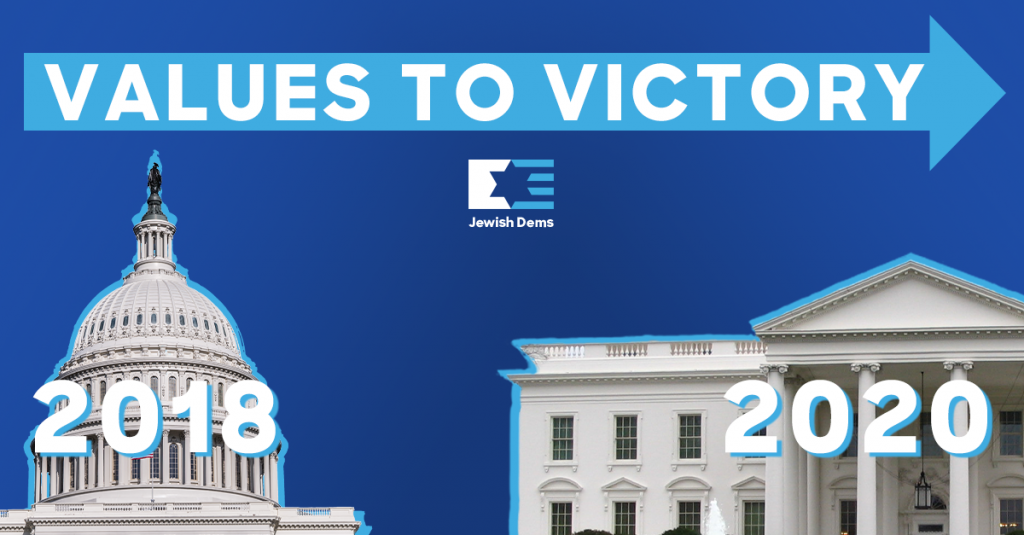 This past year was a monumental one for JDCA. Here are some highlights from 2019:
84% of JDCA-endorsed midterm candidates took office in January 2019. 28 of them flipped seats from red to blue, 45 of them are in Congress, and four are governors.
JDCA was the first organization to meet with Jewish members in the 116th Congress and has continued to meet with members throughout the year, consulting on key issues, making a difference on legislation, and bringing the voice of Jewish Democrats to the halls of Congress.
We've brought these Democrats to you, with over ten JDCA briefing calls with members of Congress and policy experts in 2019, and we've got many more briefings planned for 2020.
JDCA's powerful 60-second ad identifying Trump as the biggest threat to Jewish Americans has been seen by more than 500,000 voters across the country, and is the first of many to come. Share it today by clicking on the link below:
JDCA was mentioned in thousands of articles and quoted in countless breaking news stories in outlets such as the AP, New York Times, Washington Post, The Hill, JTA, Times of Israel, and more. JDCA's leadership has been guests on CNN, MSNBC, Fox News, HillTV, and i24, and was recently featured on Morning Joe!
We engaged our supporters with over 20 calls to action in 2019 on key issues, including anti-Semitism, Israel, prescription drug pricing, impeachment, white nationalism, Syria, gun safety, election security, immigration, reproductive rights, health care, and climate change.
We created an interactive timeline on rising anti-Semitism under Trump that, sadly but necessarily, we frequently update. If you haven't seen it, check it out below.
We created a Frequently Asked Questions (FAQ) guide on the Jewish vote to help inform the public and refute false narratives about the Jewish electorate.
We launched JDCA chapters in Florida, New York, Georgia, and D.C./Maryland/Virginia. We plan to launch many more chapters across the country in 2020. Let us know if you'd like to join or see a chapter in your area by emailing us at 

[email protected]

.
We created a JDCA Next Generation Leadership Council consisting of 30 Jewish "NextGen" leaders from across the country. More to come about NextGen and JDCA's soon-to-be-launched college campus initiative in early 2020.
We held 19 events across the country and already have plans for numerous community events in 2020. Want to host an event in your community before the 2020 election? Write to us at 

[email protected]

.
JDCA's Facebook and Twitter followings both grew by nearly 1,000% and we launched our Instagram account (@JewishDems). Follow us on social media!
We wish everyone a peaceful and joyous Hanukkah, and a restful end of 2019. Look for our next update in early January!
Shabbat Shalom and Happy Hanukkah,
Ron Klein,
Chair, Jewish Democratic Council of America
Halie Soifer
Executive Director, Jewish Democratic Council of America