Article
White Supremacy and Gun Violence are Partisan Issues
August 28, 2023
Dear Friends,
The Jewish Democratic Council of America (JDCA) condemns in the strongest possible terms the horrific murder of three Black people in Jacksonville perpetrated by a white supremacist and mourns the loss of the innocent victims of this unconscionable hate crime.
The weaponized extremism on display in Jacksonville this weekend has sadly become a partisan issue. Gun violence is an epidemic in the United States, yet Republicans refuse to ban the assault weapons used in Jacksonville and countless other cities across the United States. White supremacy, bigotry, racism, antisemitism, and right-wing extremism have been emboldened, tolerated, and embraced by Donald Trump and the Republican Party he leads.
In Jacksonville, the weapon used was emblazoned with Nazi symbols, and it's not the first time that right-wing extremists have invoked Nazism to justify their hate. Last week, the right-wing website Rumble played Republican National Committee (RNC) ads for the Republican Presidential Debate on pro-Hitler and neo-Nazi videos. By contrast, President Biden and the Democratic Party he leads — including nearly every Democrat in Congress — are committed to banning assault weapons and combating extremism, but the GOP continues to obstruct progress on both issues.
Read President Biden's response to the horrific murders in Jacksonville. He is unequivocal in his condemnation of white supremacy and gun violence that have, together, made our communities less safe.
The attack in Jacksonville occurred as JDCA and other organizations commemorated the 60th anniversary of the March on Washington. Six decades after Dr. Martin Luther King Jr. declared his dream of equality and justice, it's clear that we still face an uphill battle for freedom, voting rights, and security.
It's an uphill battle only because Republicans refuse to take action that will make our communities safe. The convergence of white supremacy, gun violence, and right-wing extremism pose deadly threats to Americans. Join JDCA and our friends at Giffords on September 13 for a discussion on the politics of gun safety.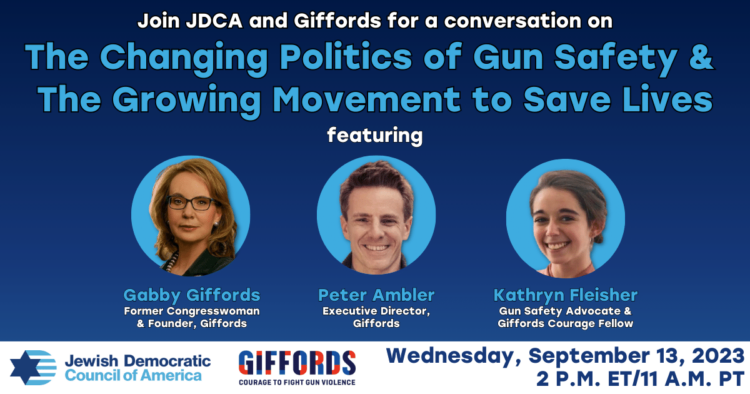 We again extend our condolences to the families and friends of the victims in Jacksonville. We hope you will support our efforts to elect Democrats who will combat extremism and ban assault weapons.
Sincerely,
Halie Soifer
CEO, Jewish Democratic Council of America