Article
We Flipped the Senate, Witnessed Insurrection, & Democracy Prevailed
January 8, 2021
What a week. As we enter the Sabbath and try to heal from the pain, anguish and fear following Wednesday's insurrection incited by President Trump, we are so grateful for the community we have created in the past three years.
Never was that more clear that earlier today, when almost 700 of you joined our discussion with Sen. Ben Cardin (D-MD) and Reps. Brad Schneider (D-IL), Mike Levin (D-CA) and Debbie Wasserman Schutz (D-FL) to hear about their harrowing personal experience during the siege on the Capitol. We were inspired by their strength, resilience, and commitment to preserving our democracy, which was on full display when they returned to the descreated halls of Congress late Wednesday to count the Electoral College votes. 
We join them in calling for Trump's immediate removal from office
. ICYMI, you can 
watch a video of the discussion here
.
Amazingly, the week started with Georgians electing Rev. Raphael Warnock and Jon Ossoff as the next U.S. Senators from the South. The historic nature of these victories cannot be overstated, and Rev. Warnock said it best: Rabbi Abraham Joshua Heschel and Dr. King "are smiling on this moment." We could not agree more, and we are incredibly proud that Jewish Dems helped elect them and flip the Senate blue.
Perhaps most importantly, this week, our democracy prevailed. Donald Trump and the terrorists he incited failed.  And in less than two weeks, with the Senate, House and White House under Democratic control, Joe Biden will have the ability to restore the soul of our nation, combat hatred and division, defend our national security, and protect American lives and livelihoods amid crisis. Jewish Dems helped to make that happen, and we're gratified and proud.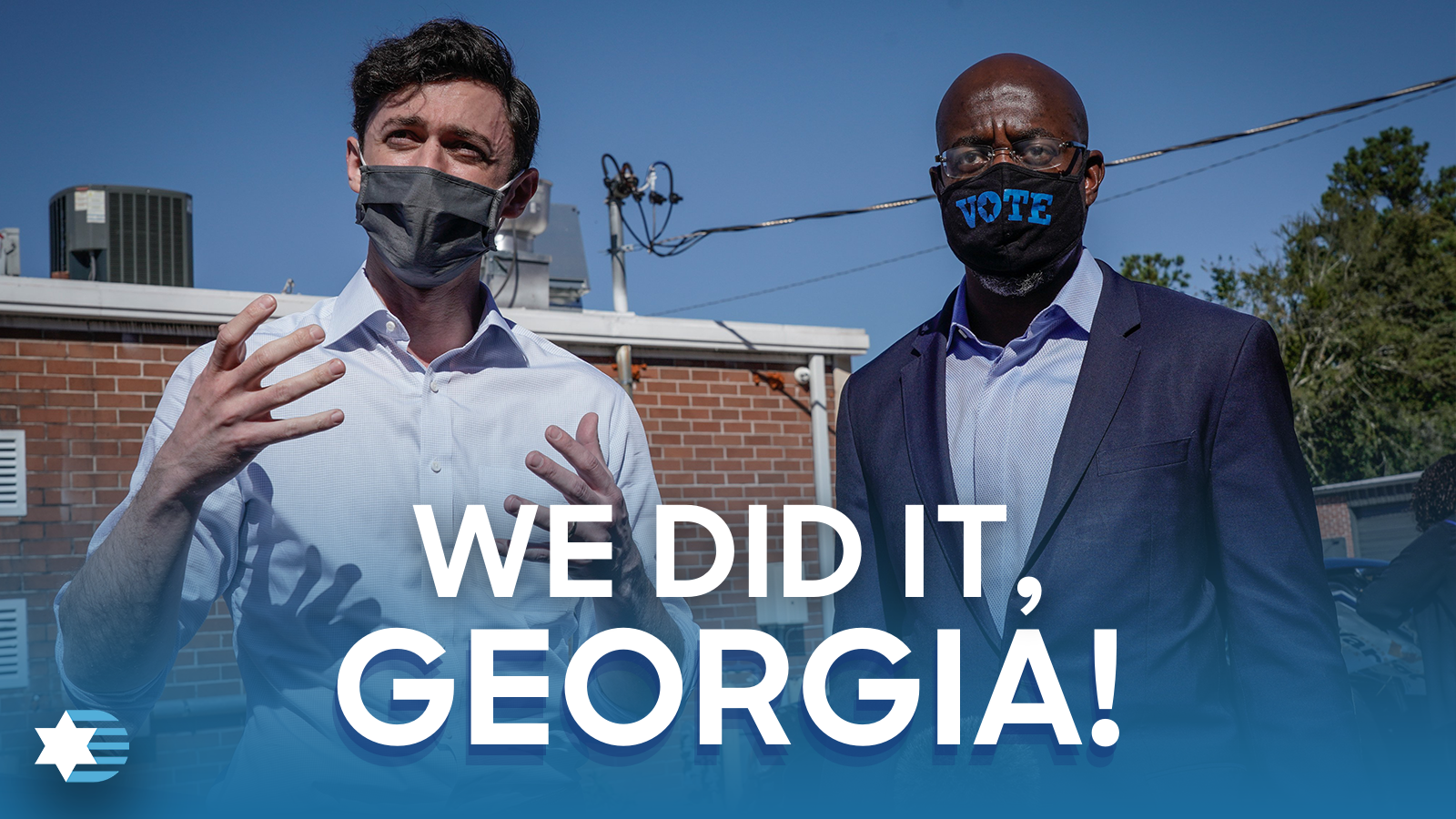 For Georgia, JDCA hosted 
33 phone banks and events
, including a 
community conversation with Jon Ossoff and Rev. Warnock
, a discussion on 
Black-Jewish relations
, and even a 
game show
. Over 
1,000 volunteers
 made over 
36,000 calls 
and
sent over
 37,000 texts
 to Jewish Georgians. We ran 
54 ads
, including direct mail, digital ads, and print ads, targeting 
86,000 Jewish voters
 and reaching voters nearly 
4 million times
.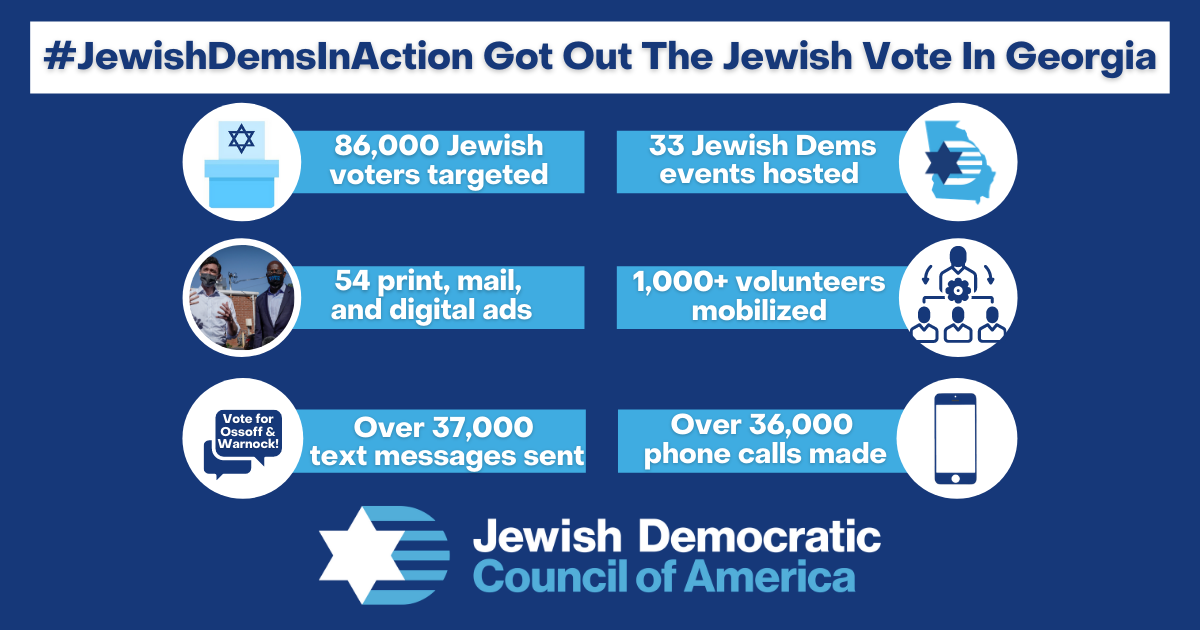 We're grateful for the partnership of the Jewish Democratic Women's Salon, Jewish Women for Joe-gia, Jew4Joe, and the Democratic Jewish Outreach of Pennsylvania, for their work to get out the vote in Georgia. We're thankful for the hard work and dedication of our Georgia Chapter leaders, JDCA Board Member Michael Rosenzweig, Bill Berger and Bryan Gershkowitz. We're also thankful to the Jewish celebrities who motivated us to take action in Georgia, including Debra Messing, Judy Gold, Beanie Feldstein, Alex Edelman, Mark Feuerstein and Richard Kind.
And soon, it will be time to celebrate. JOIN US ON SUNDAY, JANUARY 17, 5 PM ET/2 PM PT for a special celebration of our democracy and the inauguration of the Biden-Harris administration. We'll be joined by comedian Sarah Silverman and other celebrities, elected officials, and activists. We will also celebrate esteemed voting rights attorney Marc Elias for his tireless work preserving and protecting our democracy by presenting him with JDCA's first Ruth Bader Ginsburg Justice Award. Click here or on the image below to sign up.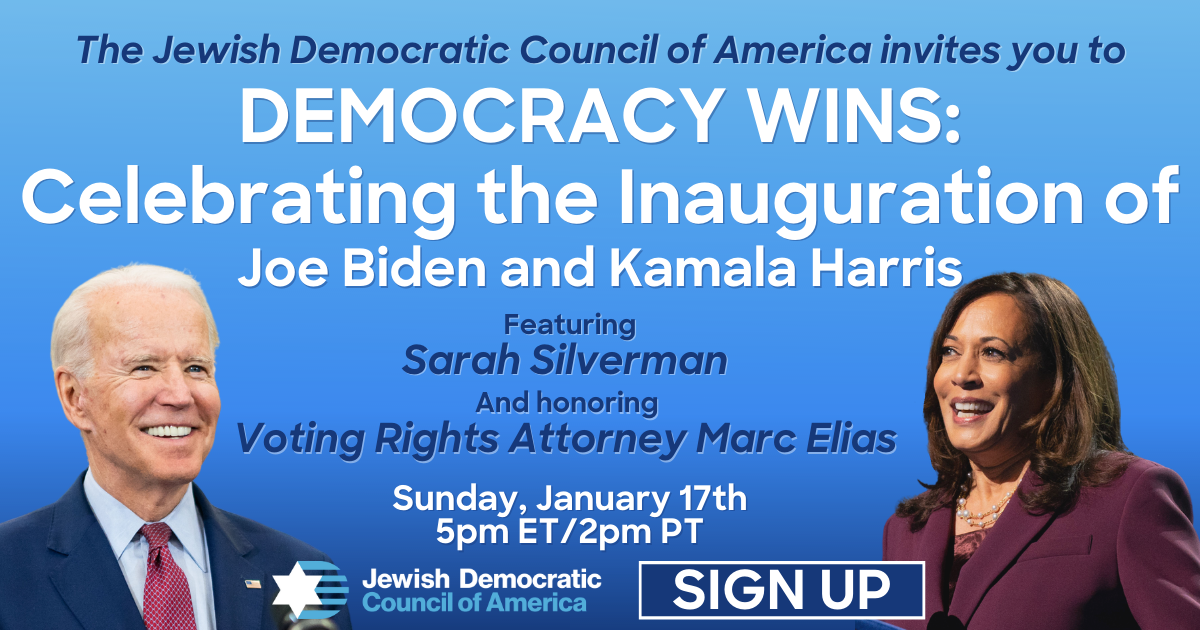 Our work in 2021 will be as important as ever. 
Invest in JDCA
today so we can continue to grow as a movement, engage key policymakers, advocate for our values, and amplify Jewish voices and values.
Shabbat Shalom,
Ron Klein
Board Chair, Jewish Democratic Council of America
Halie Soifer
Chief Executive Officer, Jewish Democratic Council of America