Article
We Can't Risk Four More Years of Donald Trump – Watch our New Ad
May 22, 2020
Yesterday, President Trump used Nazi terminology to praise Henry Ford, a known anti-Semite who was awarded the Nazi Party's Grand Cross of the German Eagle in 1933. Speaking before a group of Ford employees, Trump started his remarks by praising Ford's "good bloodlines."
This language was used by Hitler to target Jews in the Holocaust. Since then, the theory of "bloodlines" or eugenics, has been used by white nationalists to legitimize anti-Semitism, racism and other forms of bigotry and hatred.
Given his ongoing emboldening anti-Semitism and white nationalism, we are deeply concerned, but not surprised, that President Trump chose to invoke a Nazi theory to praise an anti-Semite. In response to his vile and dangerous words, we have some words of our own – enough.
Enough of the hatred and bigotry from our commander-in-chief. We cannot risk four more years of Donald Trump.
Check out our response to Trump and our latest ad by clicking on the image below, and join us for a conversation on anti-Semitism with Senator Jacky Rosen (D-NV) on Tuesday, May 26, at 3pm ET.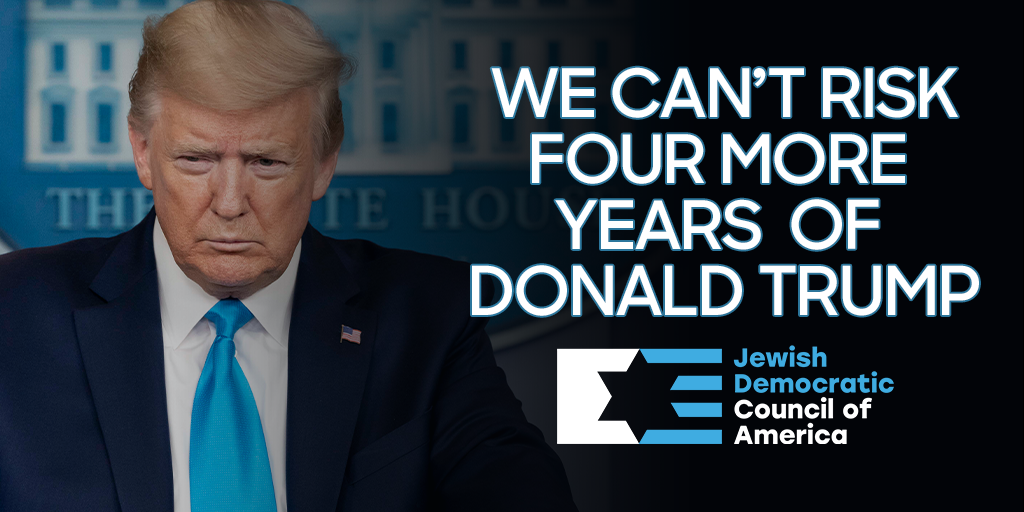 Join us on Tuesday, May 26, at 3:00pm ET for our next "Democrats Leading in Crisis" webinar with Senator Jacky Rosen, to discuss her efforts to combat rising anti-Semitism. Senator Rosen, the only former synagogue president in Congress, co-chairs the Bipartisan Taskforce on Anti-Semitism and is a leader on this issue in the Senate. We hope you'll join us for this timely and critically important conversation. Please click on the link below to sign-up, and send your questions to [email protected]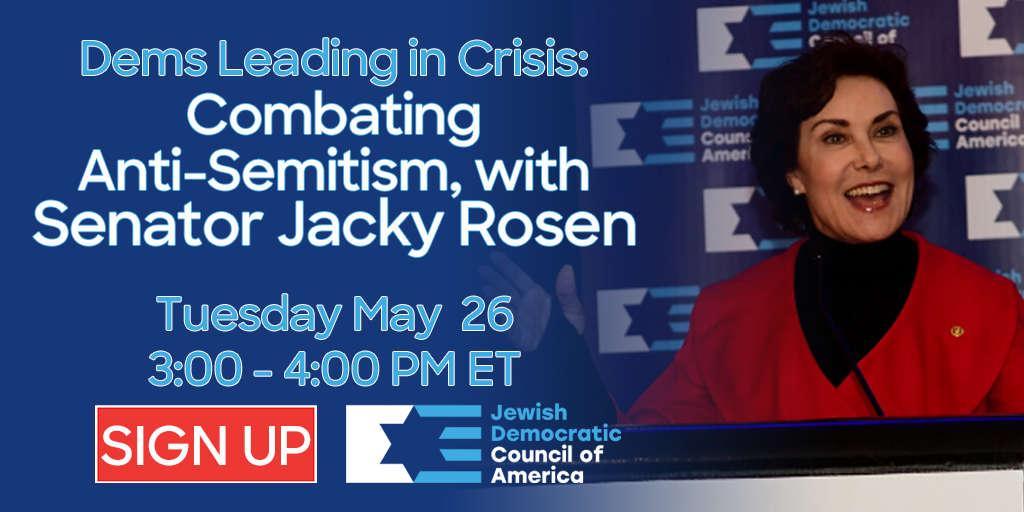 This weekend, we honor those men and women who sacrificed their lives for our country. As we honor the fallen on Memorial Day, let us also remember what makes our country truly great, and let us never forget what they sacrificed for: a better future for all of us.
We are grateful for their sacrifice, and we're grateful for your partnership.
Shabbat Shalom,
Ron Klein
Chair, Jewish Democratic Council of America
Halie Soifer
Executive Director, Jewish Democratic Council of America