Article
Trump & Extremists: Tomorrow's Jan. 6 Hearing
July 11, 2022
The Select Committee to Investigate the January 6th Attack on the Capitol will hold its next public hearing tomorrow, Tuesday, July 12 at 1:00 p.m. ET. This hearing, focused on extremism, will be led by JDCA's inaugural Defender of Democracy Award recipient, Congressman Jamie Raskin. Americans will hear testimony from the former spokesperson for the Oath Keepers, an extremist militia that helped to plan and lead the insurrection. The Committee will present further evidence of how Trump and his administration inspired and coordinated with white supremacist and extremist groups in an attempt to stop the peaceful transfer of power on January 6. Keep reading for the key takeaways from the first six hearings and sign up for JDCA's upcoming briefing this Friday at 11:00 a.m. ET on President Biden's trip to Israel.

RECAP: JANUARY 6th HEARINGS
Trump knew his mob was armed and dangerous: In her explosive testimony, Cassidy Hutchinson detailed that Trump knew that attendees of his "Stop the Steal" rally were armed with body armor and guns, including at least one AR-15. Despite this, Trump ordered the Secret Service to allow those with weapons to attend his speech. He justified this by saying 'They're not here to hurt me,' meaning that he did not care if they were there to hurt anyone else.
Trump's assault and criminal acts: When his team refused to take him to the Capitol and drove him back to the White House, Trump lunged at a Secret Service agent and attempted to wrest control of the vehicle. Trump's crimes were not limited to January 6th, as he has also been trying to intimidate witnesses who testify before the January 6th Committee. Witness intimidation is a federal crime. 
The Big Lie: Trump knew that his Big Lie was, in fact, a big lie. Trump's Attorney General Bill Barr said the former president's claims of election fraud were "idiotic," had "absolutely zero basis," and were "complete nonsense." Rudy Giuliani even told Rusty Bowers, Arizona's Speaker of the House, that they had no evidence of voter fraud in the 2020 election. Trump and his team knew they were lying about the 2020 election but, regardless, they pressed forward with their false claims.
Republicans in Congress helped Trump and asked for pardons: We continue to learn about the vast number of Republicans who aided Trump's attempted coup. Republican Senator from Wisconsin Ron Johnson – who is up for re-election in November – wanted to hand-deliver a list of fake electors to Vice President Pence right before the joint session of Congress to count the electoral votes.
Trump and his co-conspirators understood the illegality of their actions. Reps. Andy Biggs (R-AZ.), Louie Gohmert (R-TX), Scott Perry (R-PA), Marjorie Taylor Greene (R-GA), Matt Gaetz (R-FL) and Trump's lawyer John Eastman requested pardons for their part in Donald Trump's attempt to overturn the results of the 2020 elections. 
Democracy is not guaranteed; we must fight for it. The January 6th hearings are a painful reminder of the fragility of our democracy and the work we must do to preserve it. JDCA is the only national organization exclusively mobilizing Jewish voters, combining Jewish values and Democratic political advocacy. Together, we will mobilize millions of Jewish voters to expand Democrats' congressional majorities. Take action with us by supporting JDCA today.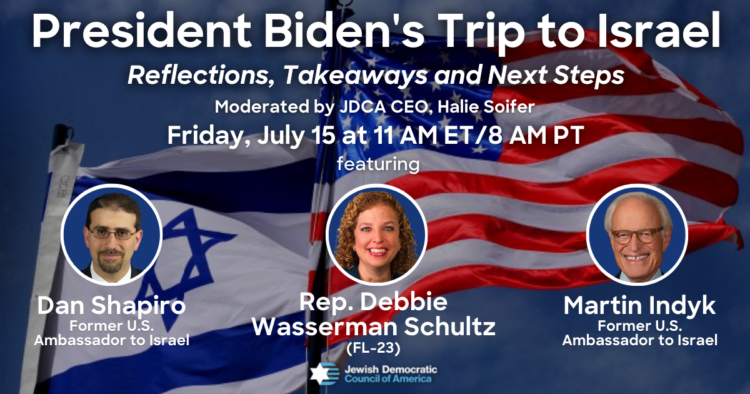 No president has entered office with a longer history of support for Israel than President Joe Biden. On Wednesday, President Biden will begin a historic visit to Israel to advance and underscore the importance of this partnership. We're excited to host Congresswoman Debbie Wasserman Schultz and former U.S. Ambassadors to Israel Dan Shapiro and Martin Indyk for a special briefing on President Biden's trip to Israel. Join us on Friday, July 15 at 11:00 a.m. ET/8:00 a.m. PT.