Article
Time for Action
May 8, 2020
This week, we have been reminded of the hatred, bigotry and even violence that has increased in our country in recent years, emboldened by a president who has aligned with racists, white nationalists and armed extremists. Faced with a choice of silence or action, the Jewish Democratic Council of America (JDCA) has chosen to speak out and take action in support of our values. If you feel similarly as we approach the most important election of our lifetime, join us and our movement by signing-up for our first National Day of Action on May 17 to create the change we need in November.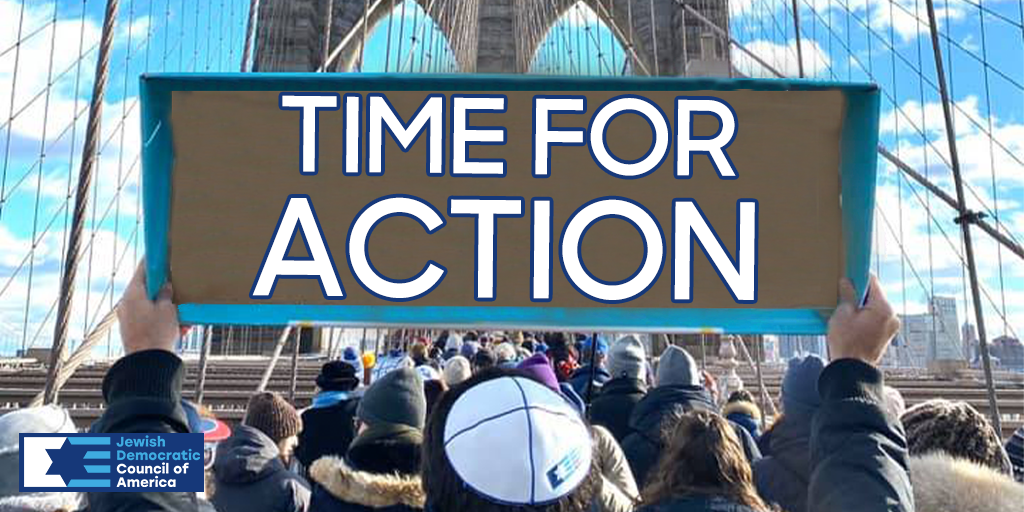 This week, we lifted our voices to speak out in support of our values, and our calls for change were heard far and wide. Following the horrific storming of Michigan's state capitol building, we criticized President Trump for praising protesters – some of whom carried swastikas and Confederate flags – and our voice was amplified not once, but twice, on CNN.
On Sunday's State of the Union, Jake Tapper asked Michigan Governor Gretchen Whitmer if she agreed with JDCA's condemnation of President Trump for calling these armed extremists "very good people," just as he called neo-Nazis marching in Charlottesville "very fine people."
On Wednesday, Halie published an opinion piece on CNN.com that affirmed: "The growing threat created by his [Trump's] reluctance to condemn hate groups is one of the most important reasons why I'm working on behalf of the Jewish Democratic Council of America (JDCA) to defeat Trump in November…From Charlottesville to Lansing, Trump has invigorated and encouraged hatred and division that threatens us all."
It's not just the Jewish community that's been affected. This week, JDCA joined with activists, leaders, and major civil rights organizations in mourning the horrific murder of Ahmaud Arbery in Georgia and calling for justice. A 25-year-old Black man going for a run should not be looked at with suspicion, chased down, and murdered in cold blood.
We've said it before, and we'll say it again: anti-Semitism, hatred, racism, Islamophobia, and bigotry are fundamentally un-American. Yet as more and more Americans die from COVID-19, President Trump is trying to turn attention from his failure to protect us by emboldening the voices of division and misinformation. The President of the United States is giving a green light to hate, and we will not be silent. Join us in bringing about change.
We are leading a series of webinars with hundreds of you each week, as a part of our "Democrats Leading in Crisis" series, to speak out in support of our values. This past week, we heard from Sen. Ben Cardin (MD) and Mark Hetfield, President and CEO of HIAS. Both inspired us with their commitment to values-driven leadership. As Mark said, "There is nothing more Jewish than helping the stranger, which is why the Torah tells us to do it 36 times."
This coming week, we will not have a Tuesday call. Instead, we hope you all will join us on Sunday, May 17 at 1:00 p.m. ET for our first National Day of Action, when we will kick-off our grassroots organizing effort to elect Democrats across the country. All of our efforts are virtual, and will include phone-banking and training with others in your area.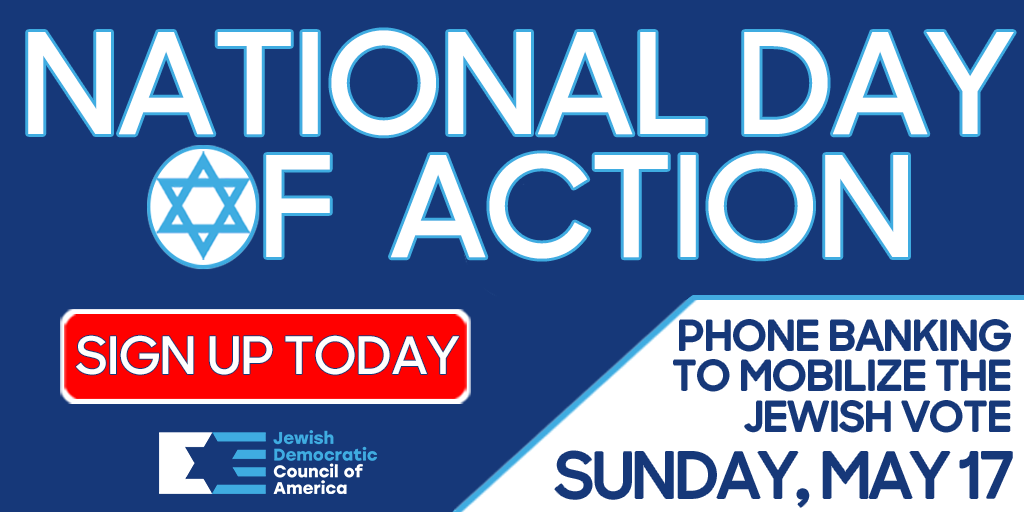 We're also excited to announce that Jewish musician Elana Arian, who moved us all with her wonderful song "I Have a Voice" on our Passover call, will join us once more for our National Day of Action. We all have a voice, and we're going to use it for change in this election.
Shabbat Shalom
Ron Klein
Chair, Jewish Democratic Council of America
Halie Soifer
Executive Director, Jewish Democratic Council of America