Article
The Forward, Letter From California: Adam Schiff and the inside game
December 17, 2021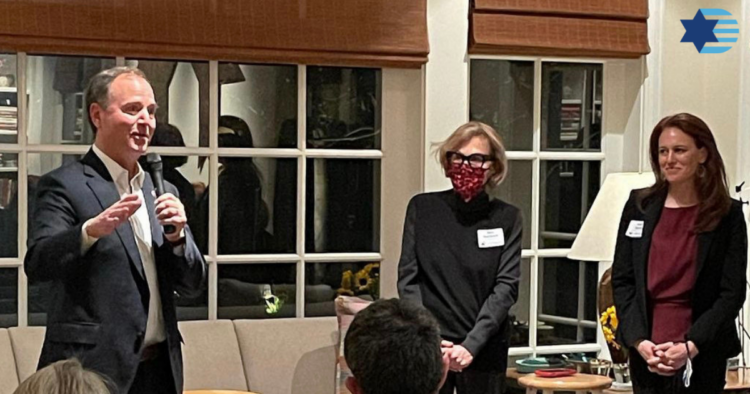 By Rob Eshman
BEVERLY HILLS — A few hours after he voted, virtually, to recommend criminal prosecution for Mark Meadows, former President Trump's chief of staff,  Rep. Adam Schiff explained at a fundraiser here for the Jewish Democratic Council of America why Jews should care.
"I don't think there's a community that better understands what happens when we move from democracy to autocracy," Schiff told the 70 people gathered in  the living room of Ada and Jim Horwich's Beverly Hills home. "The most vulnerable are minorities, and especially the Jews."
Schiff, a member of the House committee investigating the Jan. 6 attack on the capital, was also promoting "Midnight in Washington," his non-fiction account of the insurrection. He said the rioters were not only motivated by Trump and his "enablers" in Congress, calling it "a white nationalist and neo-Nazi insurrection.'
He called fellow California House member Kevin McCarthy, the Republican leader,  a liar, and said Trump would not face criminal prosecution.
'We can't expect anyone to rescue us,' he said.
A good portion of the crowd were 20- and 30-something members of the Democratic group's Next Generation Leadership Council. Halie Soifer, the head of the broader group, said what unites young and old are Republican efforts to control voting; 83% of Jews said in a July poll that they are concerned about such laws.
Schiff said the best way forward is to work for voting rights and elect good leaders to Congress. While many analysts expect the Democrats to lose ground in the 2022 midterm elections, he expressed confidence that it would not be a blowout.
"I share his belief that we can save the House and expand the Senate," said Joe Goldman, a member of the Next Generation group, "if we fight like we give a damn instead of succumbing to self-defeating pessimism."
On the other end of the age – and confidence – spectrum was Herb Gelfand, the philanthropist who introduced Schiff. "I'm 90 years old, this is probably my last election," he noted. "I fear that we will lose our democracy and lose our country."
But Rachel Sumekh, who founded the campus hunger relief organization swipeouthunger,org, said the best way to retain hope was to combine grassroots work and as electoral politics."We are pushing the outside game as much as we're showing up to events like this," she said, "and hoping for a better inside game."