We want you to be the first to know about a new interactive timeline JDCA created that charts the rise of anti-Semitism since the 2016 election, including incidents that can be directly attributed to President Trump that have been met with silence from the Republican Party. See for yourself.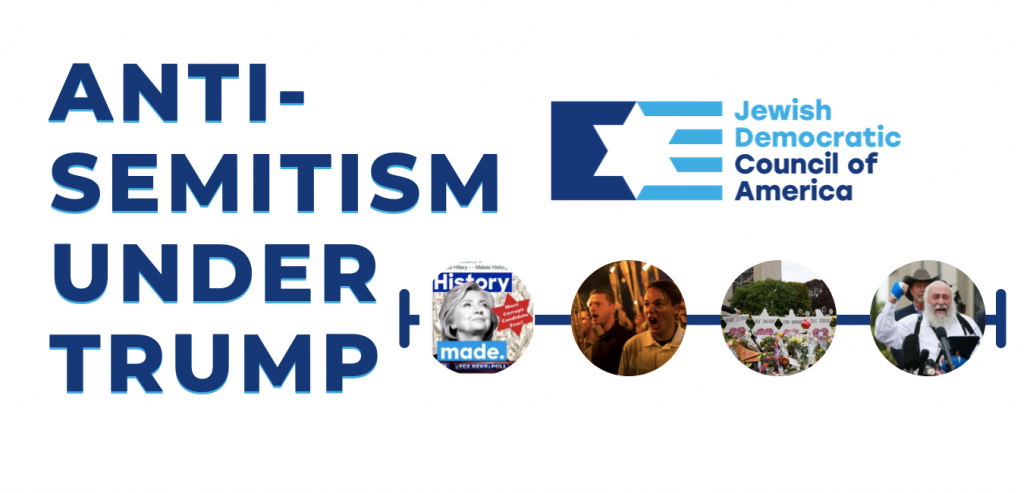 Rising right-wing extremism, white nationalism, and anti-Semitism threaten our security. We recognize these phenomena did not start with President Trump, but they have unquestionably been emboldened by his presidency. The shooter in El Paso who murdered at least 20 Americans was a home-grown white nationalist. The shooters at the synagogues in Poway and Pittsburgh were right-wing extremists. According to the Anti-Defamation League, white nationalists were linked to all anti-Semitic incidents perpetrated by extremists in 2018. The marchers in Charlottesville described by President Trump as "very fine people" were chanting "Jews will not replace us."
According to a May 2019 poll, nearly three-quarters of Jews feel less secure than they did two years ago and the majority of Jewish Americans attribute their rising insecurity to Trump, and blame him – at least partially – for the two horrific synagogue shootings in the past year.
We created this timeline, which tracks the sharp rise of anti-Semitism under President Trump, to help Americans understand the full enormity of the hatred targeting Jews during the Trump administration. We will continue to monitor these incidents – and update the timeline – to help educate both the public and lawmakers about this persistent threat. Click here to check it out.
This timeline will help us fight false equivalencies between anti-Semitism on the right and the left. We cannot ignore – and are deeply troubled by – anti-Israel bias and even incidents of anti-Semitism on the left, but we cannot pretend that anti-Semitism from the fringes on the far-left is anywhere near the same threat posed by the anti-Semitism that has infected the GOP and White House, and incites its followers to violence.
These two threats are not the same, and should not be equated. Please check out our timeline to learn more, and share it with others. Our mission has never been more critical. With your help, we can continue to expand our work. We are incredibly grateful for your partnership.
Thank you,
Ron Klein,
Chair, Jewish Democratic Council of America
Halie Soifer
Executive Director, Jewish Democratic Council of America