Article
Take Back America – NEXT WEEK!
August 7, 2020
The next few weeks will be exciting for Democrats. We'll soon learn Joe Biden's vice presidential nominee, we're quickly approaching the Democratic National Convention, and the election is less than 90 days away. In celebration of this and more, join us on August 13 at 5:00pm ET, for a star-studded, 75-minute, action-packed event to laugh, learn and be inspired as we chart the path to victory in November.
Sign up today for JDCA's election event, TAKE BACK AMERICA: Jewish Votes Will Make the Difference, to hear from Speaker Nancy Pelosi, Sen. Chuck Schumer, Sen. Cory Booker, House Majority Leader Steny Hoyer, Rep. Adam Schiff, former Rep. Steve Israel, special guests Ben Platt, Tovah Feldshuh, and more. We have some surprise guests as well. Click on the image below for more details and to RSVP. You don't want to miss it.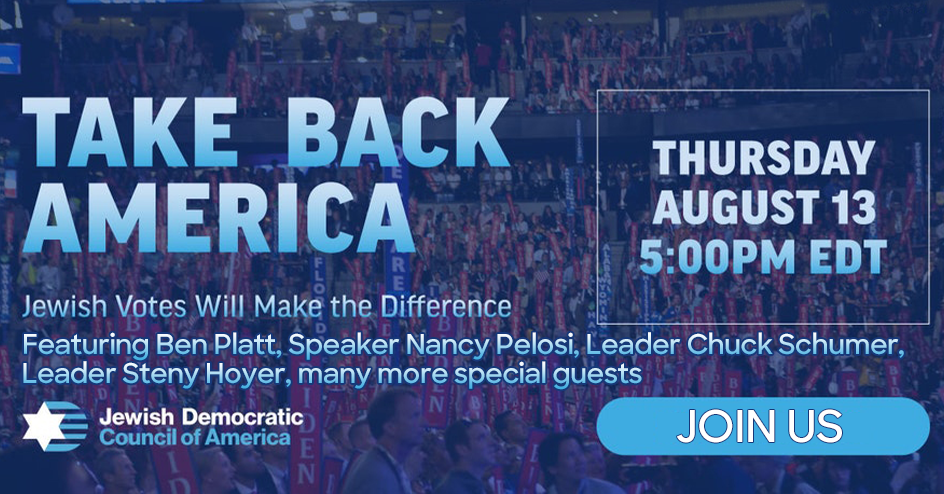 Disinformation is everywhere, and it's time to arm yourself and your friends with the facts. This week, we launched the go-to site for facts about Joe Biden's record on Israel, which is longer and stronger than any presidential candidate in history. Read more about Biden's record on Israel, the Middle East and anti-Semitism by clicking below.
And if you have friends in Georgia—or friends anywhere in the country concerned about the GOP's continued use of anti-Semitic motifs against Democrats—share this op-ed from JDCA Board member Michael Rosenzweig calling on Sen. David Perdue (R-GA) to apologize for his anti-Semitic ad against Jon Ossoff and for Republicans to hold him accountable.
Also follow JDCA on Twitter, where we've started an #RejectGOPHate campaign. To quote Donald Trump, "Yo Semites!" — we can't accept, tolerate or normalize hatred targeting our community or others.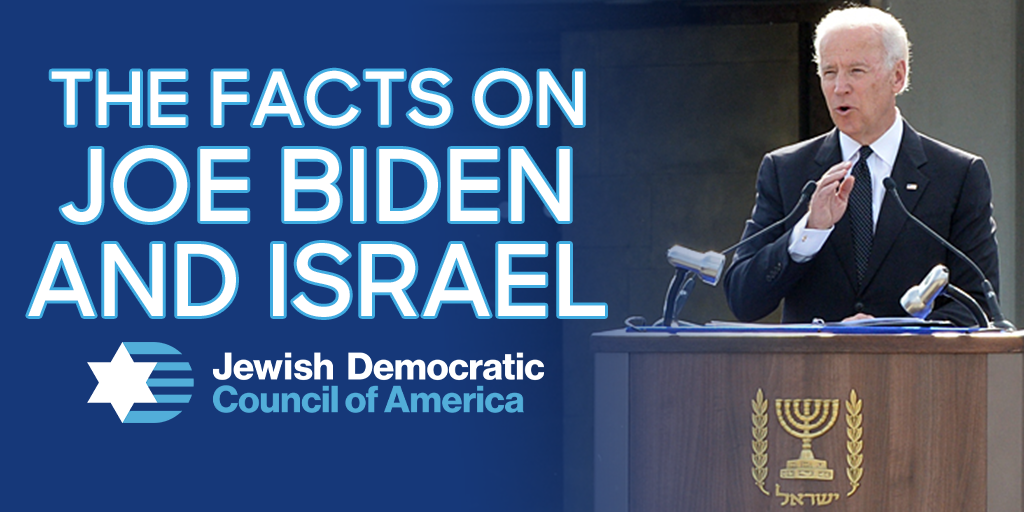 Every Tuesday and Wednesday from 5:30 to 8:30pm ET join us to call Jewish voters in key swing states to make sure they're registered to vote and help them plan how they'll cast their ballots this year. Whether you've participated before or not, we'd love for you to plug in this week. With your help, we will inspire our neighbors and friends to make a difference on Election Day.
We have an action-packed agenda between now and November 3 and we need you to join us. Check out our calendar of events and share with others to ensure Joe Biden is our next president and that we take back the Senate.
Become a part of our growing movement by signing up for a state chapter today. Together, we will restore the soul of our nation and ensure a brighter future for all Americans.
Shabbat Shalom,
Ron Klein,
Board Chair, Jewish Democratic Council of America
Halie Soifer,
Executive Director, Jewish Democratic Council of America