Article
Speaking Out in Support of Our Values
May 1, 2020
These past few weeks have been difficult for us all, and our hearts and prayer continue to be with those Americans who are suffering due to COVID-19. Amid this crisis, we are standing up and speaking out in support of our values, when and where it matters the most.
Today was one such example, when Donald Trump tweeted that the heavily-armed militia which stormed the Michigan State Capitol yesterday were "very good people." In case you missed it, yesterday's protest against social-distancing measures in Michigan included swastikas and armed militiamen blocking the door of Governor Gretchen Whitmer's office. Under any definition, this is terrorism – designed to intimidate elected officials and everyday Americans.
Yet, just as he did in 2017, when Trump called neo-Nazis marching in Charlottesville "danger of a president who endorses hatred and the urgency of electing a president who shares our values.," the President of the United States excused this hate with praise. He has repeatedly excused and encouraged hatred and extremism, and – as the national voice of Jewish Democrats – JDCA is speaking out. Read our response to Donald Trump here, and check out our video endorsing Joe Biden, which includes images from Charlottesville and Michigan, and demonstrates the danger of a president who endorses hatred and the urgency of electing a president who shares our values.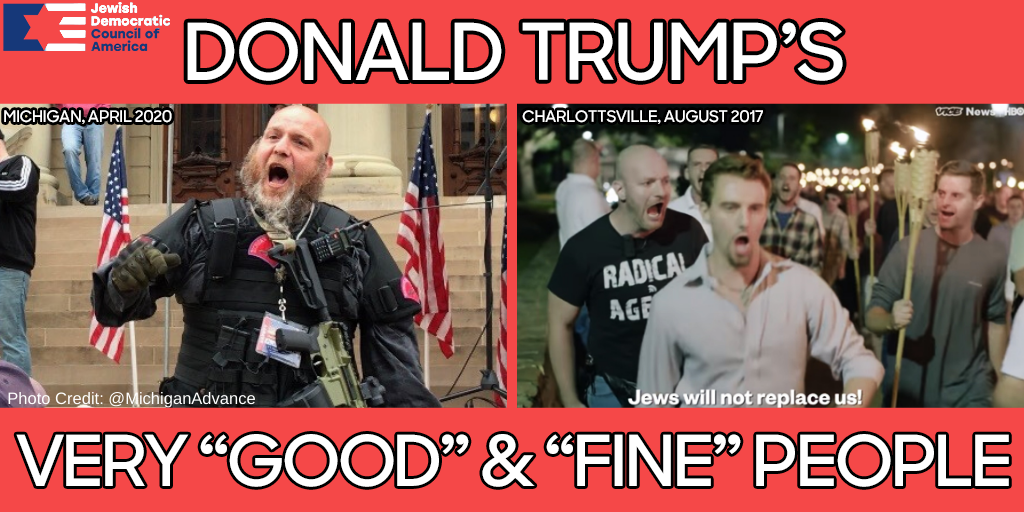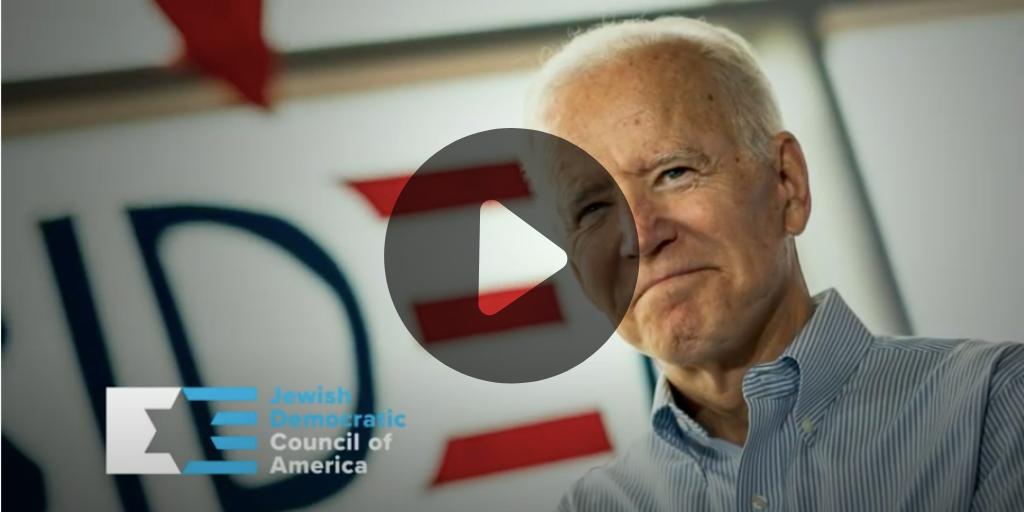 We've acted on our values in other ways. We're proud of the fact that – with your help – JDCA has made a meaningful gift to Mt. Sinai Hospital in New York, to ensure the health care workers on the frontlines combating COVID-19 have the personal protective equipment (PPE) they need to stay safe while saving lives. Thanks to those of you who supported this effort.
We have led a series of webinars with hundreds of you each week, as a part of our "Democrats Leading in Crisis" series, to speak out in support of our values. This past week, we heard from Sen. Chris Coons (DE) and Senior Biden Foreign Policy Advisor Tony Blinken about Biden's positions on issues of importance to the Jewish community, including his proposals to combat anti-Semitism and make our communities safer. The call made clear that Biden would continue his unconditional support of U.S. aid to Israel, as well as his support of a two-state solution to the Israeli-Palestinian conflict. Blinken and Coons also explained that Trump's reckless withdrawal from the Iran nuclear deal – with nothing to replace it – was a mistake that has left the U.S. and Israel less secure.
Join us next week, on Tuesday, May 5, 3:00 pm ET to 4:00 pm ET, when we discuss "U.S. Global Leadership, Refugees and Immigration" with Senator Ben Cardin and Mark Hetfield, President and CEO of HIAS. This is a great opportunity to hear from two prominent Jewish leaders about our values and the importance of welcoming the stranger, as opposed to exploiting a crisis to close our borders.
Together, we can win and return our country to the values we cherish as Jewish Americans by ensuring that Joe Biden defeats Donald Trump, that Democrats win back the Senate, and that Democrats maintain control of the House. As the only national voice of Jewish Democrats, JDCA is uniquely positioned to have a critically important impact in this election, and we can only win with your support, so join our movement today. It's easy to do by clicking below.
Shabbat Shalom,
Ron Klein
Chair, Jewish Democratic Council of America
Halie Soifer
Executive Director, Jewish Democratic Council of America