Friends,
This past Sunday marked one year until the 2020 election. As we count down to the most consequential election in our history, we are encouraged by developments of the past week. On Tuesday, Democrat Andy Beshear claimed victory in the Kentucky governor's race, flipping a red gubernatorial seat blue. Democrats flipped both chambers of the Virginia legislature, and countless Democrats won local seats across the country. Americans across the country are ready for – and demanding – political change.
The Jewish Democratic Council of America (JDCA) is working to ensure this change is consistent with our values, and that we help to flip the Senate and White House to Democratic control. Our work has never been more important. With the 2020 election less than a year away, Republicans continue to misrepresent issues of importance to Jewish voters, including where Democrats stand on Israel. JDCA is here to arm you with facts to refute false narratives. Check out our "frequently asked questions about the Jewish vote" tool by clicking on the image below and help us spread the word.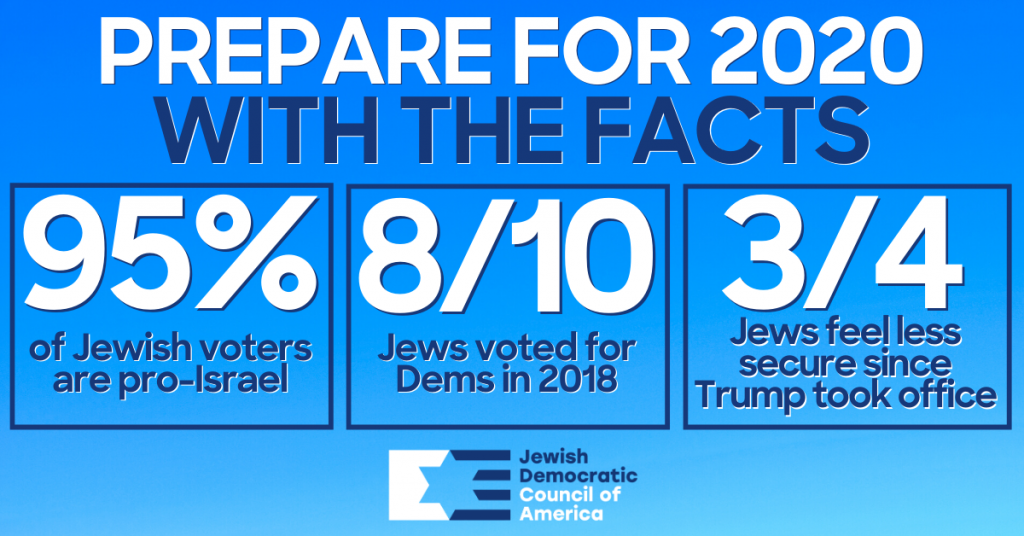 Facts like these have never been more important given President Trump and Republicans' blatant disregard of the truth. This week, the Republican Jewish Coalition (RJC) issued an ad intentionally misrepresenting the priorities of Jewish voters and where Democrats stand on Israel. While they called the ad "shanda" – or shame – we called out the shanda of their blatant hypocrisy and betrayal of our values. Check out our response to the RJC in the following video here, on Twitter here and Facebook here.
Join us
TOMORROW
, Friday, November 8, at 11 a.m. EST to hear the facts on "The Future of U.S. Aid to Israel" with former U.S. Ambassador to Israel Dan Shapiro and Policy Director of the Israel Policy Forum (IPF) Michael Koplow, two leading experts on U.S. policy toward Israel.
Register for the call here or by clicking on the image below
.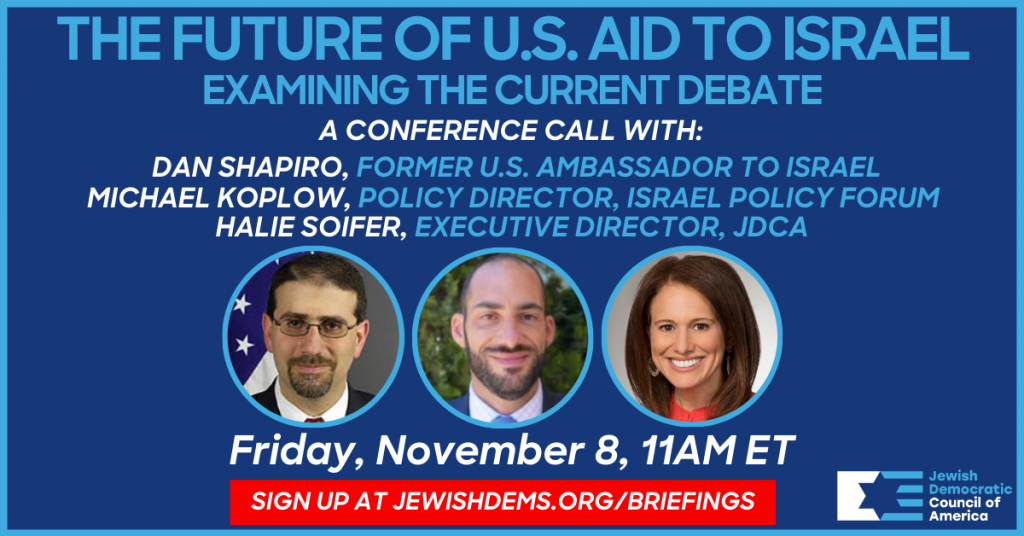 Make no mistake: Democrats support a strong U.S.-Israel relationship, support military and security assistance for Israel, and oppose the global Boycott, Divestment, and Sanctions (BDS) movement against Israel. NO ONE is calling for blanket aid cuts to Israel. JDCA strongly supports the mutually beneficial military and security relationship between the U.S. and Israel, as well as the continuation of full military aid, and we do not support reducing or conditioning assistance to Israel.
With your help, we can continue to expand our work and ensure we're successful. We are incredibly grateful for your partnership.
Ron Klein,
Chair, Jewish Democratic Council of America
Halie Soifer
Executive Director, Jewish Democratic Council of America