Article
Patriotism over Trumpism
July 7, 2023
As we celebrated America's 247th birthday this week, Jewish Dems remain deeply committed to defending our democracy, including in the next election. We also noted the stark difference between how Democratic and Republican leaders marked the holiday. While Democratic leaders — from President Biden on down — emphasized the importance of American democracy, the frontrunner for the Republican presidential nomination continued to attack truth, democracy, and American values.
On July Fourth, Jewish Dems were honored to celebrate American independence at the White House, where President Biden acknowledged the sacrifice made by military families and spoke about the importance of defending American democracy. The President emphasized that "democracy is never, never, never guaranteed. Every generation must fight to maintain it. We must always cherish it, defend it, and strengthen it."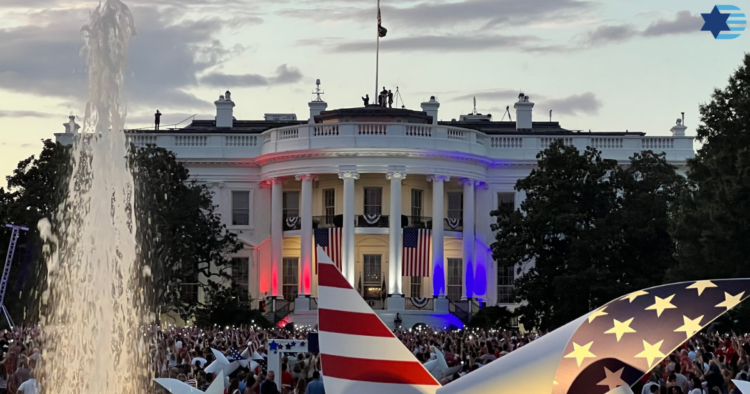 That same day, Donald Trump — who remains Republicans' top choice for 2024 — took a dangerous and divisive approach. The twice-impeached and twice-indicted former president shared an image of the White House on fire, directed profanities at President Biden, lied about the 2020 election, and spewed falsehoods about his multiple federal indictments. The contrast between the leaders of the two parties demonstrates yet again why Jewish voters stand with the Democratic Party, why 80% of Jewish voters view Trump unfavorably, and why 73% of Jewish voters view the Republican Party unfavorably. The GOP is a threat to our democracy.
Democrats are prioritizing the fight for the future of our democracy, which is the top issue for Jewish voters when deciding how they'll vote in the 2024 election. The Jewish Electorate Institute's (JEI) latest poll of Jewish Americans underscores that the overwhelming majority of Jewish voters trust Democrats over Republicans on every issue, including combating antisemitism.
As the political home and voice of Jewish voters in support of Democrats who share our core values, JDCA is advocating for policy, educating and mobilizing Jewish voters, and electing Democrats, all consistent with our core values. Our supporters and members are integral to our work creating a just and equitable society, safe and secure Jewish communities, and strong and vibrant democracies in the United States, Israel, and around the world, and we hope you'll join us.
The best way to celebrate democracy is to participate in democracy, and here at JDCA, we celebrate our democracy every day by doing all we can to protect and expand our fundamental rights. Following JDCA on social media is the best way to make sure you never miss a chance to advocate for our Jewish and Democratic values. As Twitter continues to implode and as antisemitism on the platform has skyrocketed,  we're responding by exploring new platforms to help us reach more Jewish voters. We encourage you to follow us on all of our platforms, including the new Twitter alternative, Threads.
Shabbat Shalom,
Hon. Ron Klein, JDCA Board Chair
Halie Soifer, JDCA CEO