Article
Our democracy is under attack
June 4, 2021
American democracy is in danger. Over half of Republicans believe the 2020 election was stolen because GOP leaders continue to exploit Donald Trump's Big Lie, and they are now using it as an excuse to suppress the right to vote. Fourteen states have already enacted 22 voter suppression laws making it harder to vote, and hundreds more have been proposed. New data shows that voter suppression laws enacted in Georgia will have a disproportionate impact on Black voters.
This week, Democrats in Texas only temporarily blocked a voter suppression law targeting communities of color. Last week, Republicans killed the bipartisan commission to investigate the January 6 insurrection. Make no mistake — our democracy is in danger.
Republicans attempted to disrupt the peaceful transfer of power and overturn the results of the 2020 election. If they take back control of the House and Senate, they could try again with the presidency. Scroll down to learn how you can take action with JDCA to protect our democracy and help Democrats win in 2022.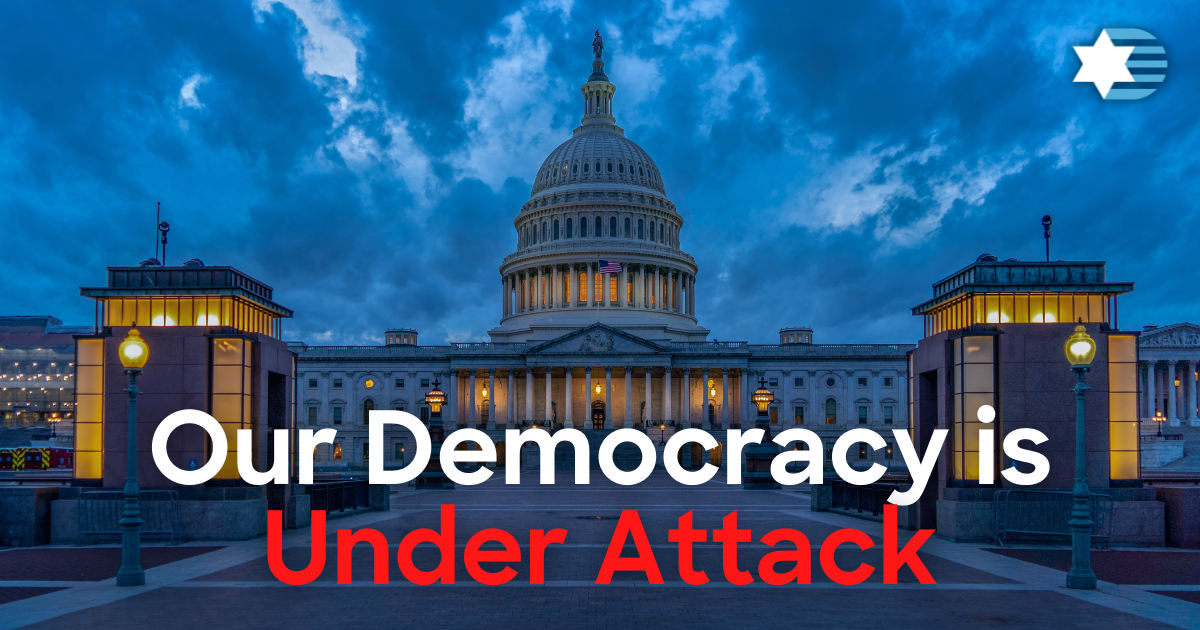 DEMAND THE SENATE TAKE ACTION ON THE FILIBUSTER
Senate Republicans' obstruction of key votes and continued efforts to suppress the will of the people are unacceptable. We need immediate action to pass the For the People Act to restore and defend the voting rights of all Americans. For the sake of our democracy and a government that delivers for the American people, we must abolish, or at the very least reform, the filibuster. Click here to write your Senators to tell them you demand action on the filibuster.
JEWISH DEMS WEEK OF ACTION
Jewish Dems around the country are getting ready to virtually descend on Capitol Hill to meet with members of Congress and to advocate for our values. If you missed our launch event last night, don't worry – we are holding another session Monday, June 7 and 8pm ET. Over the next two weeks, Jewish Dems state chapters will come together and prepare for meetings on the Hill between June 14-18. If you haven't registered yet, click here to join us for our Week of Action.
JEWISH DEMS WELCOME ISRAEL'S NEW GOVERNMENT
Jewish Dems congratulate Isaac Herzog on becoming the 11th president of the State of Israel. President-elect Herzog's career, including most recently his role as the Chairman of the Jewish Agency for Israel, has been dedicated to the betterment of Israel and global Jewry. We also look forward to welcoming a new governing coalition led by Yair Lapid and Naftali Bennett. Upon its official formation, this governing coalition will be one of the most politically diverse in Israel's history, including the unprecedented inclusion of Ra'am, an Arab Israeli party. We welcome this diversity and hope it helps to heal social and political divisions within Israel. Click here to read our full statement.
Thank you for your continued support of JDCA. Our democracy is at stake, and we look forward to working with you to protect it.
Shabbat Shalom,
Hon. Ron Klein,
Board Chair, Jewish Democratic Council of America
Halie Soifer,
CEO, Jewish Democratic Council of America