Article
NEW POLL: Jewish Voters Support Any Democrat Over Trump
February 28, 2020
A new poll released today confirms that Jewish American voters will support any of the leading Democratic candidates for president at essentially the same level in a head-to-head match-up against Donald Trump. While the Democratic candidates for president have stressed their differences during primary season, an overwhelming majority of Jewish voters prefer any of them to Trump. Jewish voters support any of the leading Democrats running for president over Trump by more than a 2:1 margin.
The non-partisan Jewish Electorate Institute (JEI) and Garin-Hart-Yang conducted an online survey of 1,001 voters nationally who self-identified as Jewish and indicated they were likely to vote in the 2020 election. The poll, which was conducted in the last week, confirms what we know to be true: Jewish voters will support Democrats in November. One of the top priorities of Jewish voters is defeating Trump because his policies and rhetoric have betrayed our values. Read more below, and join a call with the pollster to hear more about the poll on (Super) Tuesday, March 3 at 3:30 PM ET. Sign-up for the call by clicking on the image below.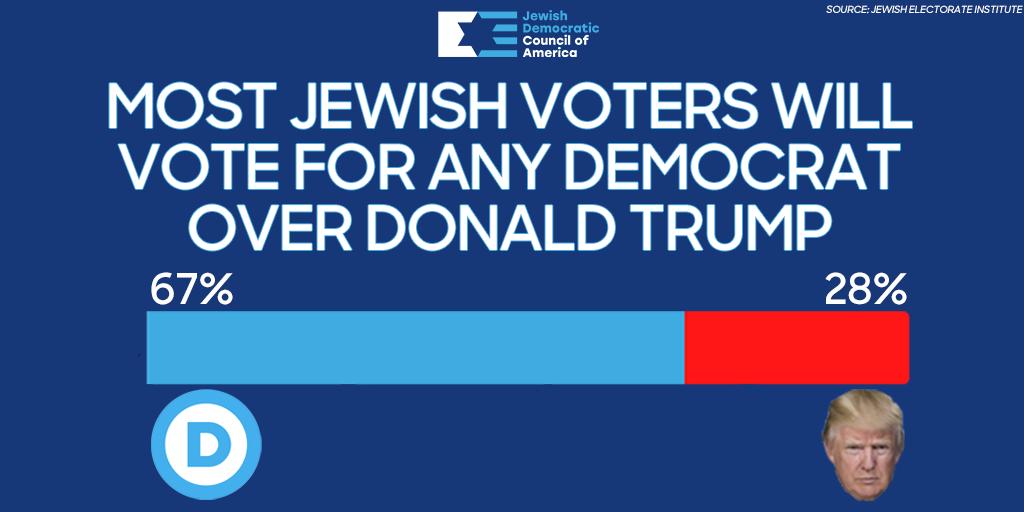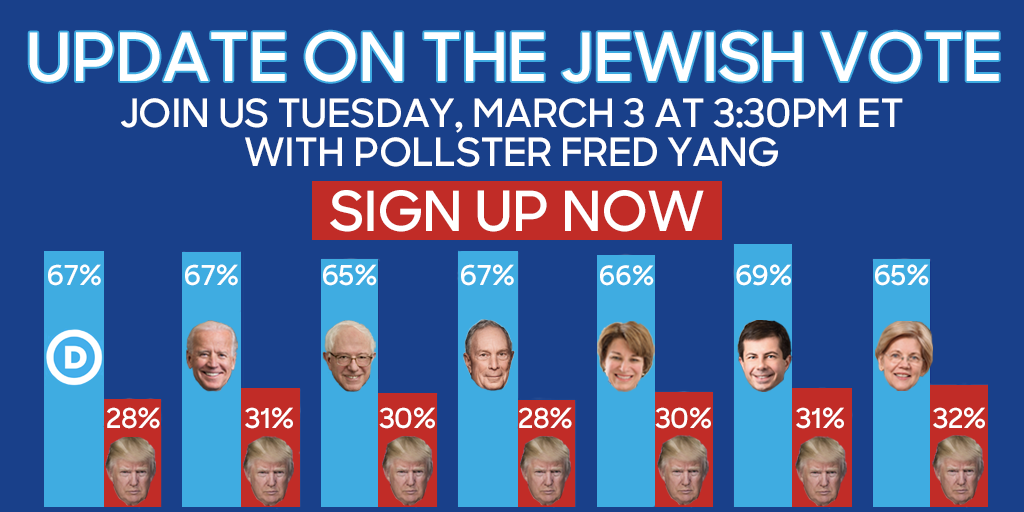 Below are key findings from the JEI poll:
A consistent and overwhelming majority of Jewish voters identify as Democrats and disapprove of President Trump.

Jewish voters are generally supportive of all of the leading Democratic candidates at nearly equal levels. 

Two-thirds of Jewish voters say they will vote for a generic Democratic candidate over President Trump in November.

Domestic policy issues, particularly healthcare, Medicare and Social Security, remain the top priorities of Jewish voters,

While 91% of Jews identify as "pro-Israel," domestic policy issues – including the rise of anti-Semitism – are driving the Jewish vote.

President Trump has a 51% approval rating for US-Israel relations, but this is not translating into support among Jewish voters.

A substantial proportion of Jewish voters personally feel less safe than they did two years ago, and anti-Semitism is the fourth most important issue driving the Jewish vote. 

President Trump's disapproval ratings for issues are highest when it comes to his handling of anti-Semitism and white nationalism (71% of Jewish voters disapprove, including one-third of Jewish Republicans).

Jewish voters believe the best way to improve their security is to elect those who share their values.
​This poll proves that JDCA's efforts to elect candidates who share our values are aligned with the overwhelming majority of Jewish voters. Stand proudly with Jewish Dems and get involved by taking action to ensure we win this critically important election:
Our mission has never been more important. With your help, we can continue to expand our work and ensure we're successful. We are incredibly grateful for your partnership.
Shabbat Shalom,
Ron Klein,
Chair, Jewish Democratic Council of America
Halie Soifer
Executive Director, Jewish Democratic Council of America