Article
NEW OP-ED: We Don't Have to Choose Between Support of Israel & Democracy
March 14, 2022
Last year, we pledged that JDCA and JDCA PAC would never support candidates who aligned with the January 6 insurrectionists, refused to certify the 2020 election, endorsed conspiracy theories about the election, or supported ongoing voter suppression efforts. We urged other Jewish organizations to do the same and stand with American democracy. As we said, "this shouldn't be a tough call. We don't have to choose between our values, our democracy, our decency, what we know is right, and support of the US-Israel relationship. It's a false dichotomy, and the overwhelming majority of American Jews reject it."
This is why we were deeply disappointed earlier this month when AIPAC PAC endorsed 37 Republicans who refused to certify the results of the 2020 election, including two who have refused to testify before the House Select Committee to Investigate the January 6 Attack for their role in the insurrection. In doing so, AIPAC is overlooking the fact that an overwhelming and bipartisan majority of American Jews support free and fair elections and oppose ongoing Republican-led voter suppression and election subversion efforts.
As I wrote yesterday in Haaretz, "it appears that AIPAC believes that support of candidates it regards as 'pro-Israel' requires supporting those who attack our democracy, align with insurrectionists, and even echo white supremacist ideology. Nothing will erode bipartisan support for Israel more than the perception that support of Israel equals tolerance for hatred and insurrection at home."
Jewish voters do not have to choose between their support for democracy and support of Israel. By supporting JDCA, you are directly contributing to our work fighting for democracy and advocating for our Jewish and Democratic values, including strong support of the U.S.-Israel relationship.
Read and share my new op-ed about AIPAC PAC's endorsements and why we don't have to choose between supporting American democracy and supporting Israel.
We all have friends who are affiliated with and supportive of AIPAC. If you agree that friends don't let friends support insurrectionists, check out this new line of merchandise. All proceeds will go to supporting JDCA's work in the midterms to elect candidates who will defend our democracy and stand with Israel.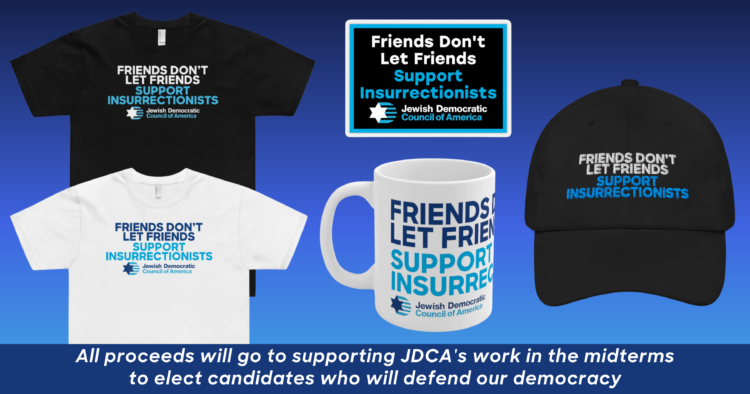 Thank you for your continued support.
Sincerely,
Halie Soifer,
JDCA CEO