Article
Much to be thankful for
November 24, 2020
As we prepare for Thanksgiving, the Jewish Democratic Council of America (JDCA) has much to be thankful for — we are incredibly grateful for your hard work and partnership in mobilizing Jewish voters, which proved critical to electing Joe Biden. We're thankful for the appointments and nominations made by Biden, indicating there will be return to experienced, competent, and values-driven leaders to government, and we're thankful that the transition process has finally begun. Finally, we are thankful for our democracy, because it was the ultimate winner in this election, which allowed us all to change the trajectory of our country and ensure a better future.
President-elect Biden is assembling a team of highly competent and experienced leaders to restore the soul of our nation and to rebuild America's vital alliances around the world. The Cabinet appointments and nominees announced this week represent a 'national security dream team,' and we're proud of the fact that this slate of nominees includes four Jewish Americans and others who represent the rich and diverse tapestry of American society. These nominees share our values and views on key issues, including Israel, and we look forward to working with them to ensure the voices of Jewish Dems are heard in the new administration.
We're especially thankful for your 
support
 of JDCA and your hard work mobilizing Jewish voters with 
#JewishDemsInAction
 in this historic election. Together, we made 
636,146
 voter contacts and our digital ads reached voters 
43.7 million times. 
Your hard work helped Joe Biden secured 77% the Jewish vote, which provided him with 
critical support in key swing states that ensured his win
, and we thank you for your hard work and commitment.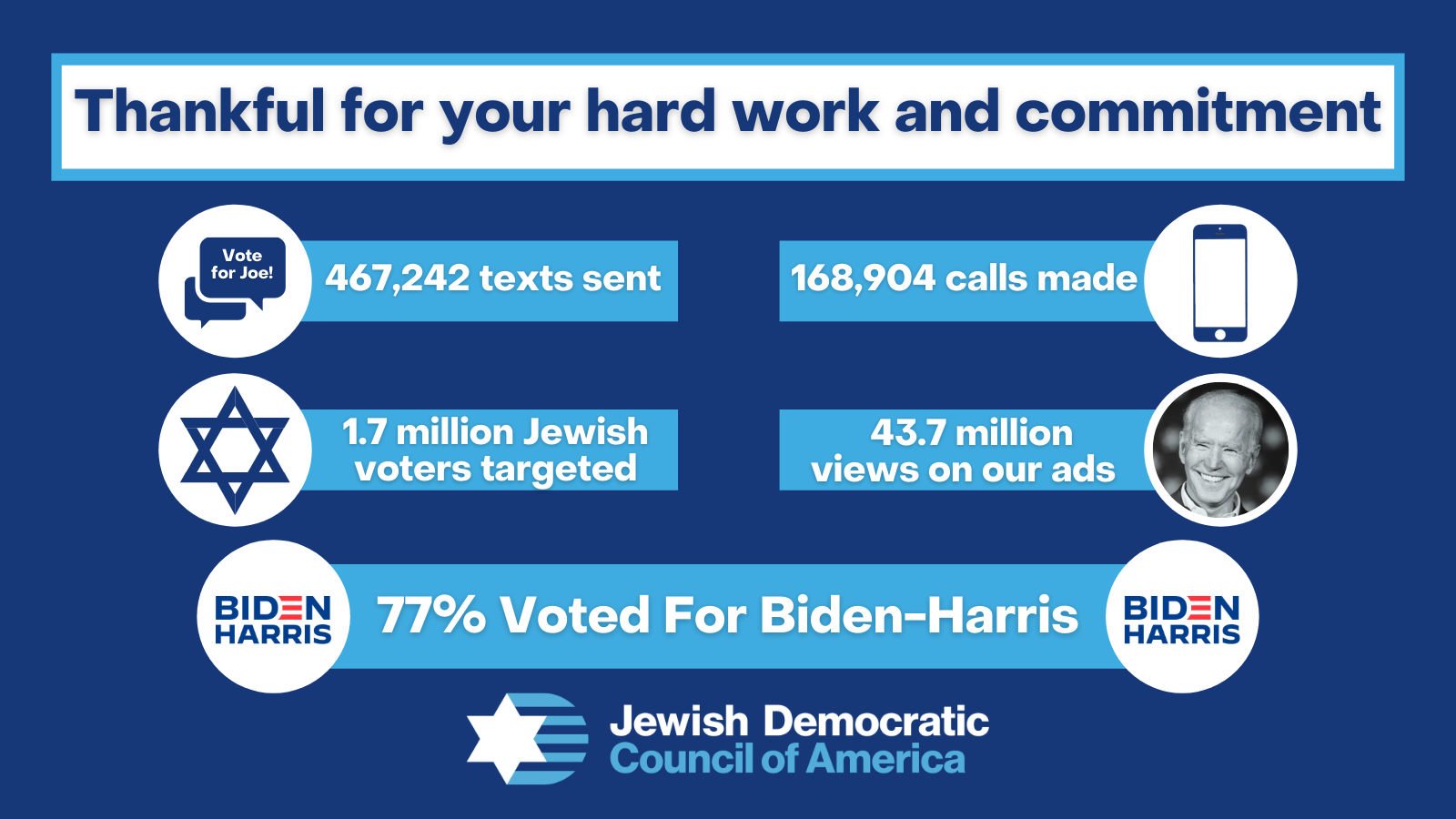 Our work together isn't finished
. Jewish Dems are proud to support Jon Ossoff and Rev. Raphael Warnock for the 
U.S. Senate in Georgia
, and now we need your help to get out the Jewish vote. Learn how you can keep Georgia blue by joining us on 
December 1, 7:00 – 8:30 PM ET 
for
'Take Back the Senate: Jewish Dems Georgia Kickoff.'
Click the image below to sign-up, and please bring others with you.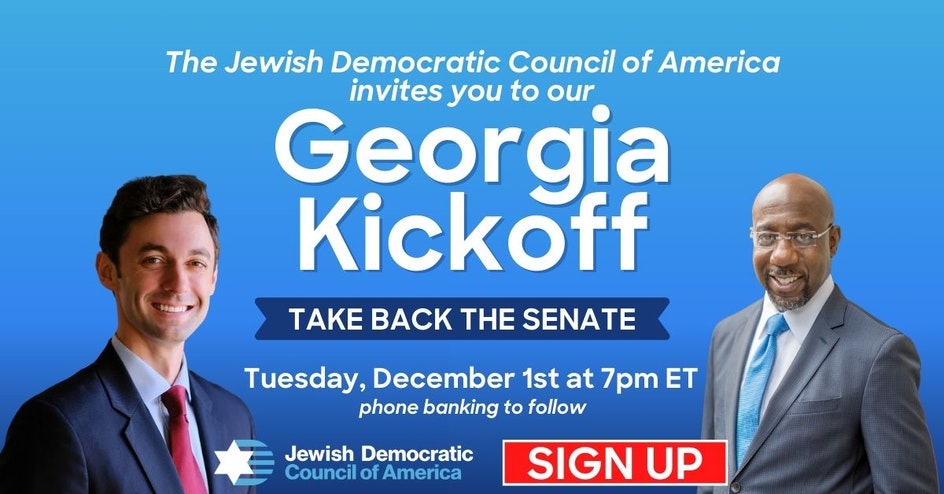 With Hanukkah just around the corner, now is the time to get your Jewish Dems gifts for family and friends! For a limited time,
 ITEMS ARE 25% OFF 
at the
 Jewish Dems store,
 where you can find JDCA masks, "Warnock Your Ossoff" and "Keep Georgia Blue" shirts and stickers, and more! Click on the image below to start shopping. 
Get your 2020 Hanukkah gifts now!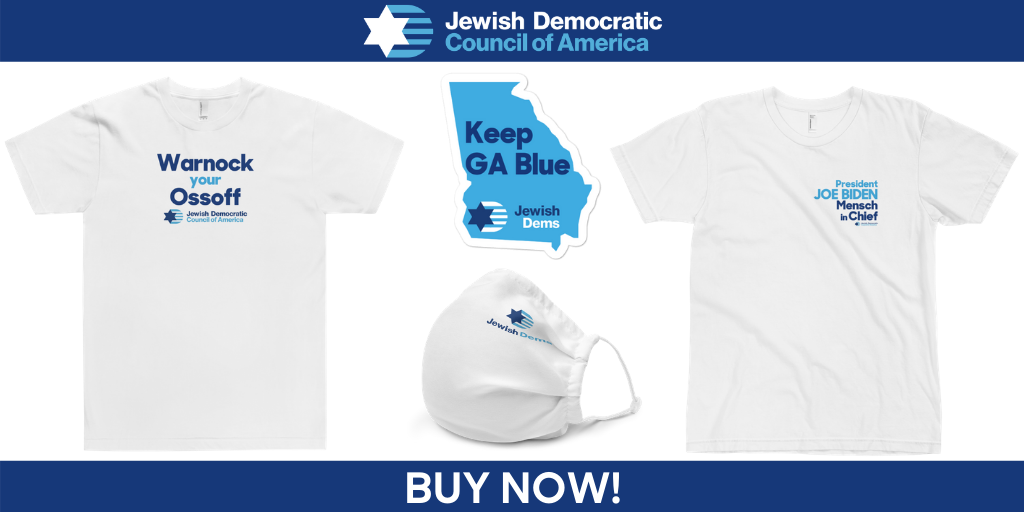 We have much to be thankful for, but we also have more work to do. With your continued support, Jewish Dems will keep fighting for our values in Georgia and beyond. Help keep Georgia blue 
– and flip the Senate blue – 
by 
supporting our work
today.
We wish everyone a safe and Happy Thanksgiving,
Ron Klein,
Chair, Jewish Democratic Council of America
Halie Soifer
Executive Director, Jewish Democratic Council of America