Article
Join us TOMORROW for a call with Rep. Elissa Slotkin and other national security experts
March 25, 2020
Yesterday, we kicked off our call series, Democrats Leading in Crisis. Join us TOMORROW, Thursday, March 26 at 3pm ET, for a call on national security with Congresswoman Elissa Slotkin (MI-8), former Chief of Staff to the Secretary of Defense and CIA Director Jeremy Bash, and former Special Assistant to the President and Spokesperson for the National Security Council Ned Price.
On the call, we'll look at the global response to the pandemic, the national security implications of COVID-19, and the national security response from the White House and Congress. Click the image below to sign-up, share with others – including on Twitter – and keep reading for more, including a preview of next week's calls.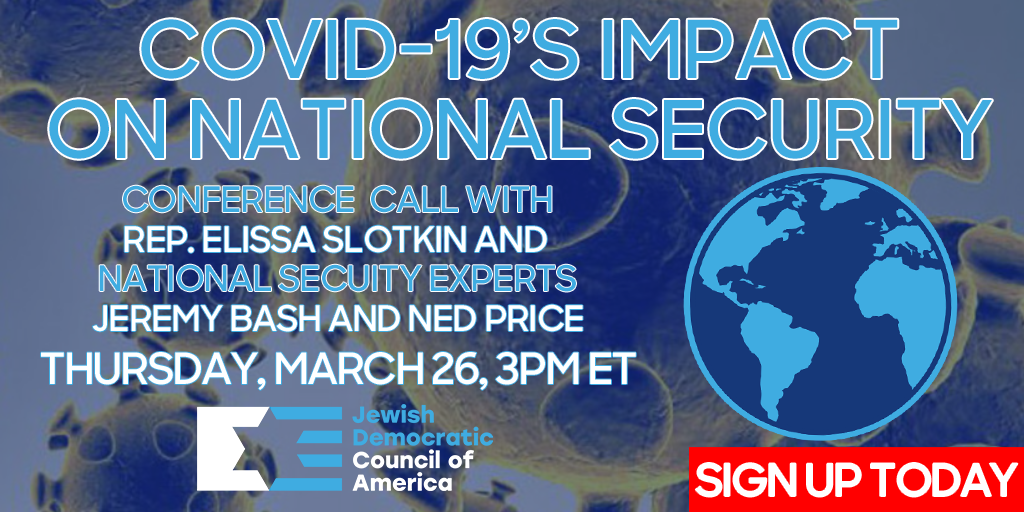 SAVE THE DATE – Join us next week, on Tuesday, March 31 at 3pm ET for a call on the economy featuring the Honorable Sarah Bloom Raskin, former Deputy Secretary of the U.S. Department of the Treasury and former Governor of the Federal Reserve Board. On Thursday, April 2, at 3pm ET, we'll talk about education with Randi Weingarten, the President of the American Federation of Teachers (AFT), AFL-CIO.
We wish you much health in the weeks ahead, and hope you can join us on our calls. While we are social distancing, there is much we can do together to bring about the change our country needs in November, and JDCA is proudly leading this charge. 
Executive Director, Jewish Democratic Council of America