Article
Join us Tomorrow at 3pm ET for our call on the "Pandemic Playbook"
April 13, 2020
We hope that your Seders were meaningful and that you and your loved ones are healthy and safe. Though this year's Passover was different from all others, we are optimistic that next year's will be better, and that we will celebrate together. Part of our optimism comes from the wisdom and guidance of experts, including those who have led on responding to global health crises.
We are grateful that one of the most renowned disaster response experts, Jeremy Konyndyk, who helped to write the "pandemic playbook" as the head of the Office of Foreign Disaster Assistance in the Obama administration, will join us for the next call in our Democrats Leading in Crisis call series tomorrow, Tuesday, April 14, at 3:00 pm ET. You may have recently seen Jeremy on MSNBC, in the New York Times, Vox and elsewhere talking about the crisis. Sign-up for the call by clicking on the image below, and keep reading for more.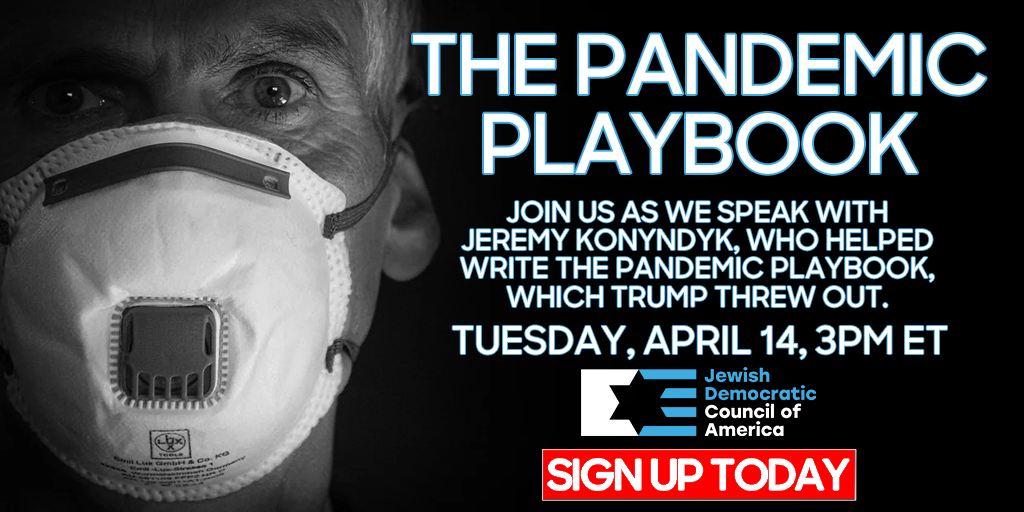 Jeremy Konyndyk, one of the leading experts on disaster response, helped write the playbook on preparing for a pandemic while serving in the Obama administration, where he led the US government's response to international disasters, including the U.S. Ebola response in 2014. As we know, President Trump threw the playbook out before our current crisis, and Jeremy has been at the forefront of international experts providing guidance in the press and elsewhere. Check out Jeremy's "Now This" video explaining the response to COVID-19, send in your questions for Jeremy to [email protected] (we'll try to get to them all), and don't forget to sign-up for the call below.
News happens fast, and we at JDCA are fighting every day to ensure that the voice of Jewish Democrats remains strong and clear. Visit our Take Action page for our latest advocacy initiatives, including our letter to members of Congress calling on them to fully fund efforts to vote-by-mail and fully fund the U.S. Postal Service in the next stimulus bill. No one should have to choose between their health and their right to vote, and – if the Wisconsin primary was any indication – it's clear that's precisely the choice Republicans want to force on Americans in November. Sign our letter to your representative and senators by clicking on the image below.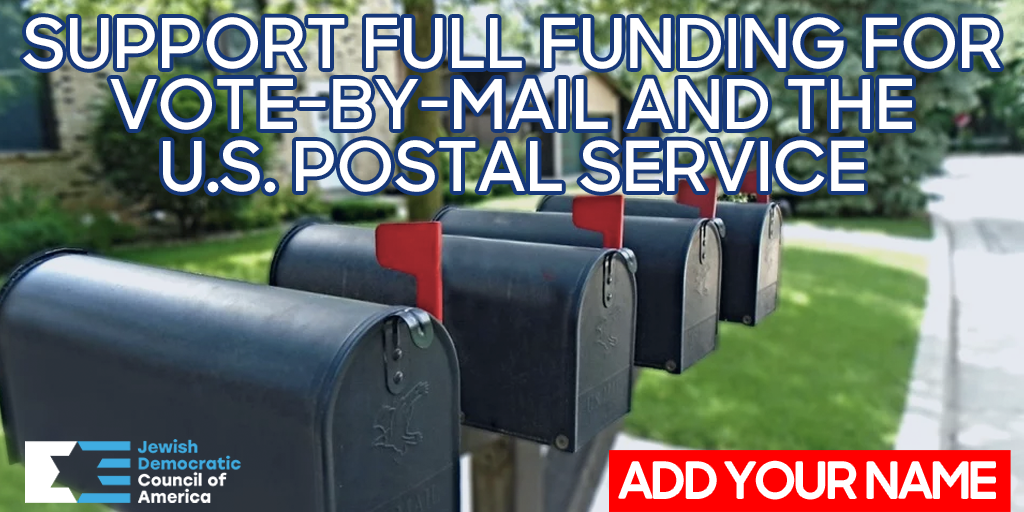 We wish you and your loved ones all the best during Pesach, and look forward to our conversation tomorrow.
Ron Klein
Chair, Jewish Democratic Council of America
Halie Soifer
Executive Director, Jewish Democratic Council of America