Article
NEW POLL: Biden > Trump by 50 Points with Jewish Voters
June 26, 2023
This morning, the non-partisan Jewish Electorate Institute (JEI) released a new poll confirming that Jewish American voters continue to overwhelmingly support President Joe Biden and Democrats and reject the values and politics of the GOP. In 2020, the Jewish vote was critical to delivering a win for President Joe Biden, and that will be the case again in 2024. Jewish voters currently support Biden over Trump by a 50 point lead, and trust Biden and Democrats more than Republicans on every issue.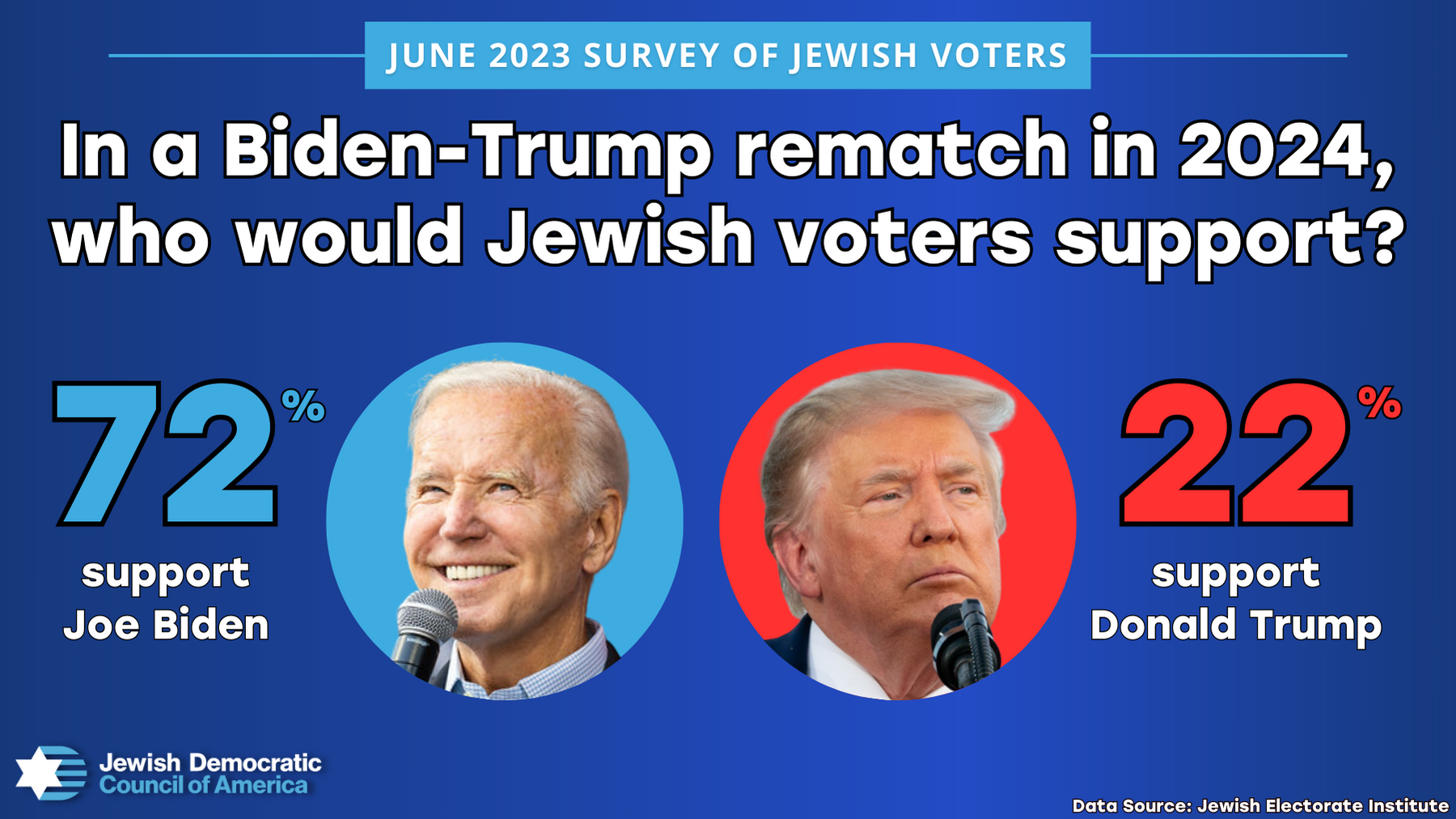 In a hypothetical match-up for the 2024 election, President Joe Biden holds a 50 point lead over Donald Trump among Jewish voters. Jewish voters hold very negative views of major Republican leaders: 80% view Donald Trump unfavorably, 76% view Ron DeSantis unfavorably, 68% view Kevin McCarthy unfavorably, and 73% of Jewish voters view the Republican Party unfavorably. In addition, a solid majority of Jewish voters reject Republican policy positions and trust Democrats over Republicans on all major issues, including fighting antisemitism.
The JEI poll found that Jewish voters prioritize democracy, abortion, guns, inflation, and climate change when determining which candidates they'll support in 2024. An overwhelming majority (72%) of Jewish voters feel emotionally attached to Israel, though it remains one of the lowest ranking issues when deciding which candidate to support. Jewish voters are also following events in Israel and believe the proposed judicial overhaul would weaken Israel's democracy.
Republicans have learned nothing in the past five years. Jewish voters have been – and will continue to be – overwhelmingly supportive of Democrats because they align with and trust Democrats more than the GOP on every major issue, especially those issues that shape the Jewish vote. The poll underscores that the vast majority of Jewish voters reject Donald Trump and the party he leads, and will continue to overwhelmingly support Joe Biden and Democrats in the next election.
Tomorrow at 11:00 A.M. ET/8:00 A.M. PT, outgoing U.S. Ambassador to Israel Tom Nides will join JDCA for a virtual conversation, and we hope you'll join us. Our discussion will focus on Nides's tenure as U.S. Ambassador, U.S. policy toward Israel, current events, and the movement to defend Israel's democracy, among other topics. We're honored to host Ambassador Nides and encourage you to join us for this important conversation.
Thank you for your continued support and partnership.
Sincerely,
Halie Soifer
CEO, Jewish Democratic Council of America