Article
Jews Against Coups – JDCA Week in Review
January 7, 2022
This was both a solemn and inspirational week. As we marked one year since the January 6 insurrection, Jewish Dems recommitted to the fight to defend our democracy. In yesterday's JDCA event with eight members of Congress and 700 Jewish Dems, we heard the message loud and clear — we cannot sit idly by as Republicans chip away at our right to vote and democratic institutions. We must do everything we can to protect and defend democracy before it is too late.
We are Jews Against Coups, and if you are too, now is the time for you to take action. Recommit to defending democracy and call on your members of Congress to take five measures in support of democracy, including passing voting rights legislation even if it means abolishing or reforming the Senate filibuster. Join us by clicking on the action item below, and keep reading for Jewish Dems in the news.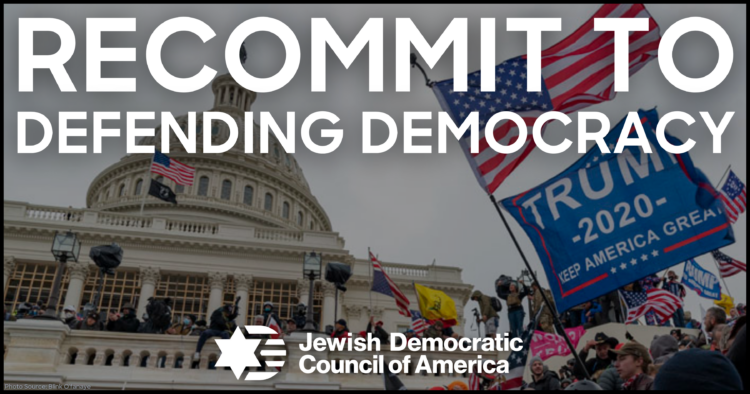 JDCA IN THE NEWS

JDCA welcomed the new year by unveiling our 2022 legislative priorities. Read in the Jerusalem Post how JDCA is advocating for the issues Jewish voters care about most, including defending democracy, protecting access to abortion, and putting an end to Republican blocks on additional funding for Israel's Iron Dome. 
Another key priority for the new year is ensuring the confirmation of Biden Administration nominees. Read JDCA quoted in the Washington Post calling out Republicans on the Senate Foreign Relations Committee for blocking three Jewish women nominated to key national security posts — Sarah Margon as Assistant Secretary of State for Democracy, Human Rights, and Labor, Dr. Deborah Lipstadt as Special Envoy to Combat and Monitor Antisemitism and Tamara Coffman Wittes as an Assistant Administrator of USAID. As CEO Halie Soifer said to the Washington Post, these nominees "are eminently qualified" and should be swiftly confirmed.
Finally, JDCA's January 6 event, was covered in Jewish Insider, as well as The Hill and Politico. If you missed the meaningful hour with Sen. Ben Cardin (MD), Reps. Jamie Raskin (MD-8), Adam Schiff (CA-28), Mike Levin (CA-49), Kathy Manning (NC-06), Brad Schneider (IL-10), Debbie Wasserman Schultz (FL-23), Susan Wild (PA-07), and Rabbi Sharon Brous, watch and share.
We were so inspired by this call to action to defend our democracy, that we want to wear it on our sleeve (and coffee mug and tote). Let everyone know that you stand for democracy by ordering your Jews Against Coups shirts, mugs, and stickers today.

The stakes have never been higher, and we're proud to be defending democracy with all of you.
Shabbat Shalom,
Hon. Ron Klein,
Board Chair, Jewish Democratic Council of America
Halie Soifer
CEO, Jewish Democratic Council of America