Article
Why Jewish Voters Will Support Joe Biden – Join Us, Tuesday, 3pm ET
July 31, 2020
This week showed us a remarkable contrast in leadership. On the same day that Donald Trump illegally proposed cancelling the November election, President Barack Obama gave a moving eulogy of civil rights icon John Lewis, which inspired us to take action to protect our democracy, encourage voting, and restore moral leadership to the White House.
As if Trump's ongoing assault on our democracy wasn't enough, Republicans continue to espouse hatred targeting our community and others. This week, Sen. David Perdue (R-GA) launched an anti-Semitic attack on his Democratic opponent, Sen. Tom Cotton (R-AR) made the appalling assertion that slavery was "a necessary evil," and Donald Trump's ambassador to the Netherlands paid tribute to Nazis. The contrast in leadership could not be more clear, and we are proud of the fact that Democrats are – as Joe Biden has said – fighting for the soul of our nation. The stakes could not be higher.
We're also proud of the fact that this week, Democrats unanimously approved the 2020 Democratic Party Platform, which reiterates Joe Biden's unbreakable support of Israel. This platform, which JDCA played a strong role in helping to shape, affirms our ironclad support of the U.S.-Israel relationship, opposition to BDS, support for a negotiated two-state solution to the Israeli-Palestinian conflict, and commitment to U.S. security assistance to Israel. This language reflects Joe Biden's views and record on Israel, which may be longer and stronger than any presidential candidate in history, dating back to when he was first elected to the Senate in 1972.
Please join us this Tuesday, August 4, at 3:00pm ET/12pm PT for our next Democrats Leading in Crisis webinar on "Why Jewish Voters Will Support Joe Biden" to hear more about Biden's support of Israel and efforts to combat anti-Semitism with the Biden Campaign's Jewish Engagement Director, Aaron Keyak, and the DNC's Jewish Community Liaison, Matt Nosanchuk. You can sign-up by clicking on the image below.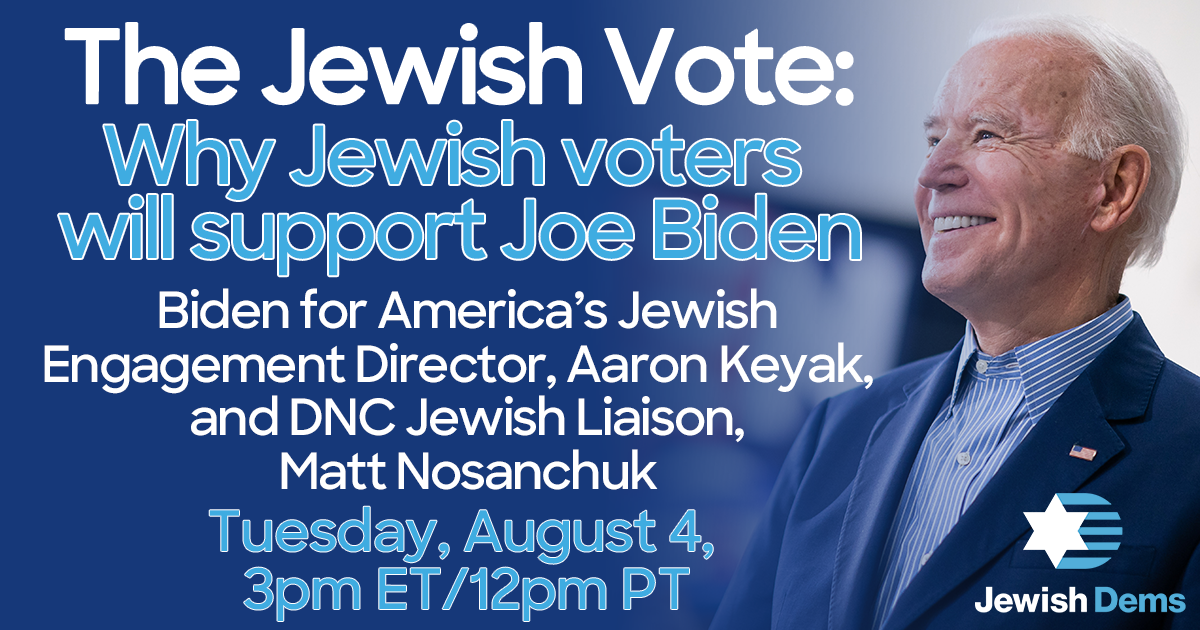 In advance of the Democratic Convention, on August 13 at 5:00pm ET, JDCA is hosting a star-studded event to laugh, learn and be inspired as we chart the path to victory in November. Please join us for JDCA's "TAKE BACK AMERICA: Jewish Votes Will Make the Difference" event to hear from Senators Schumer, Booker, and Rosen; House Majority Leader Hoyer and Representatives Schiff, Deutch, Slotkin and Rose; and special guests Ambassador Dan Shapiro, former Rep. Steve Israel, Tovah Feldshuh and Ben Platt. You can sign-up here.
For all our volunteers and chapter members – current and prospective! – please also join us the day before the convention, on August 16 at 11:00am ET for a webinar with Ambassador Dan Shapiro on Israel, the Jewish Vote, and the 2020 election. You can sign up here.
We have an action-packed agenda between now and November 3, and we want you to be part of it. Check out our calendar of events and share.
JDCA is mobilizing in advance of this critically important election, and we're asking you to join us to ensure Joe Biden is our next president and that we take back the Senate. Please become a part of our growing movement by signing up for a state chapter. Together, we will restore the soul of our nation and ensure a brighter future for all Americans.
Shabbat Shalom,
Ron Klein,
Chair, Jewish Democratic Council of America
Halie Soifer
Executive Director, Jewish Democratic Council of America