Friends,
This week began and ended with the same theme – that of our consistent and principled rejection of anti-Semitism and other forms of intolerance.
For the past month, we have been persistent and unwavering in expressing our disdain for Rep. Omar's repeated use of anti-Semitic tropes. We have also publicly disagreed with her views on Israel, and provided an on-the-ground perspective of Rep. Omar from Minnesota JDCA Board Member Beth Kieffer Leonard. Finally, we have defended Rep. Omar when she was falsely accused by Republicans of being tied to the 9/11 attacks. We reject intolerance in all its forms.
Earlier this week, JDCA supported the effort of Democratic leadership to both define and condemn anti-Semitism. While there were disagreements about the scope of the resolution, JDCA played a vital role in supporting the measure as it evolved, ensuring that the condemnation of anti-Semitism was strong and unequivocal.
In the end, the resolution was one of the strongest measures denouncing anti-Semitism to ever pass Congress. It included important denunciations of other forms of hatred and discrimination, such as Islamophobia and racism. It defined anti-Semitism as including anti-Semitic tropes such as dual loyalty accusations and other prejudicial attitudes. It rejected the perpetuation of anti-Semitic stereotypes. And it rejected hatred and intolerance in all forms. There's not one word in this resolution that we disagree with, but don't take our word for it. Read the resolution (below) and decide for yourself.
We applaud the entire Democratic Caucus for unanimously supporting the resolution, and note it was the third time the House condemned anti-Semitism in the past three months. As Executive Director Halie Soifer reiterated on Fox News, JDCA supported this important effort and criticized Republicans for their divided vote. We also condemned President Trump for his attempt earlier today to use anti-Semitism and Israel as a political wedge issue. His statement was the height of hypocrisy given his own peddling of anti-Semitic conspiracy theories and tropes.
Read on to learn more and consider supporting  JDCA today given its increasingly vital role giving voice to Jewish and Democratic values.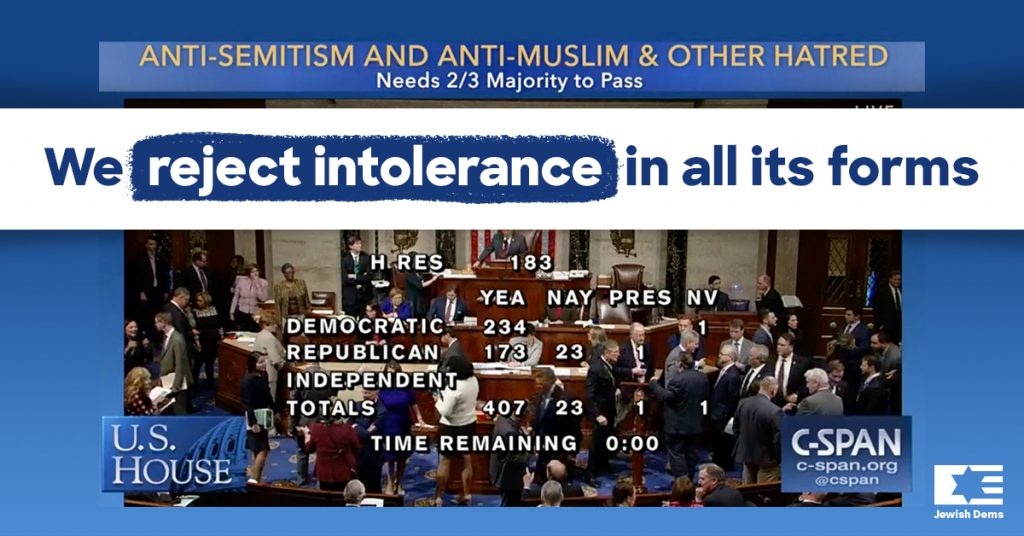 For more on JDCA's leadership role this week, click on the links below:
While the links above provide a snapshot of our week, ensure you don't miss our response to news as it breaks by following JDCA on Facebook, Twitter, and Instagram. Our work isn't possible without your support and we thank you for continuing to stand with JDCA in supporting socially progressive, pro-Israel and Jewish values.
Shabbat Shalom,
Ron Klein
Chair, Jewish Democratic Council of America
Halie Soifer
Executive Director, Jewish Democratic Council of America