Article
Growing our movement in 5784
September 14, 2023
Dear Friend,
As Rosh Hashanah begins, we want to wish you a Shana Tova U'metuka, a happy and sweet new year. In 5783, JDCA demonstrated there are no off-years in the fight for our Jewish and democratic values. We helped to get out the vote and elect Judge Janet Protasiewicz to the Wisconsin Supreme Court, organized to defend abortion rights in Ohio, met with dozens of members of Congress to advocate for our policy agenda, met with so many of you across the country, and much more.
We also further defined our mission, vision, and strategy to serve as the political home and voice of Jewish voters in support of Democrats who share our core values. We have outlined those values below, as we are deeply committed to electing Democrats who share these values in 2024. We hope you'll join us in this fight to ensure a strong start to this critical new year.
Today, America remains on the precipice. The future of democracy, the number one issue for Jewish American voters, is hanging in the balance, along with abortion access, gun safety, the environment, and the security of the Jewish community. The dramatic rise of right-wing extremism has found a home in today's Republican Party, threatening our rights, democracy, freedoms, and — given the unprecedented rise in antisemitism — our security as Jewish Americans. In order to defend democracy and other Jewish values now and in the future, JDCA is growing our efforts in the new year to advocate for policy, educate and mobilize Jewish voters, and elect Democrats, all consistent with our values.
JDCA's work is in furtherance of our vision to create a just and equitable society, safe and secure Jewish communities, and strong and vibrant democracies in the United States, in Israel, and around the world. While this vision remains aspirational, it's important to remember that when JDCA was founded in 2017, Republicans controlled both chambers of Congress and the White House. In the years since, we have made great progress — helping to flip the House, White House, and Senate from red to blue — and with your help, we will ensure that President Biden is re-elected and Dems take back the House in 2024.
Yesterday, Jewish Dems partnered with Giffords, a leading organization in the movement to end gun violence in America. We were joined by former Representative Gabby Giffords, Representative Jamie Raskin (D-MD), and Giffords Executive Director Peter Ambler for an important conversation about gun violence prevention. Watch the event and sign up for JDCA's next public event on October 3 — One Year Out: The 2024 General Election, with political commentator Brian Tyler Cohen.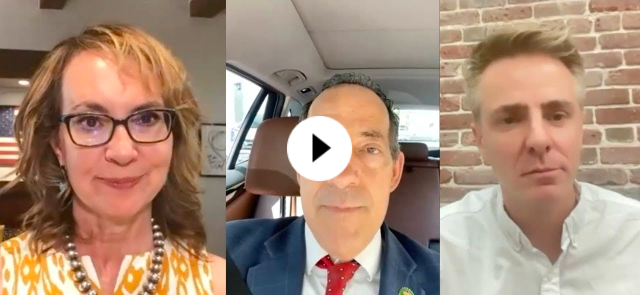 In this new year of 5784, we look forward to laying the groundwork for Democratic wins in 2024 with all of you. Thank you for your partnership and support.
Shabbat Shalom and Shana Tova,
Hon. Ron Klein
Board Chair, Jewish Democratic Council of America
Halie Soifer
CEO, Jewish Democratic Council of America