Article
Five Takeaways from the Impeachment Trial
February 12, 2021
This week, the House impeachment managers methodically made the case for convicting Donald Trump for inciting a deadly insurrection. It was difficult, but necessary, to rewatch the harrowing videos of rioters breaking down doors of the Capitol, as well as new footage showing Trump's mob painstakingly close to elected officials, including Vice President Pence. We're incredibly proud of the House impeachment managers, and are especially grateful to our friend and the lead manager, Rep. Jamie Raskin. Trump's team is defending the indefensible, and we strongly urge the Senate to convict.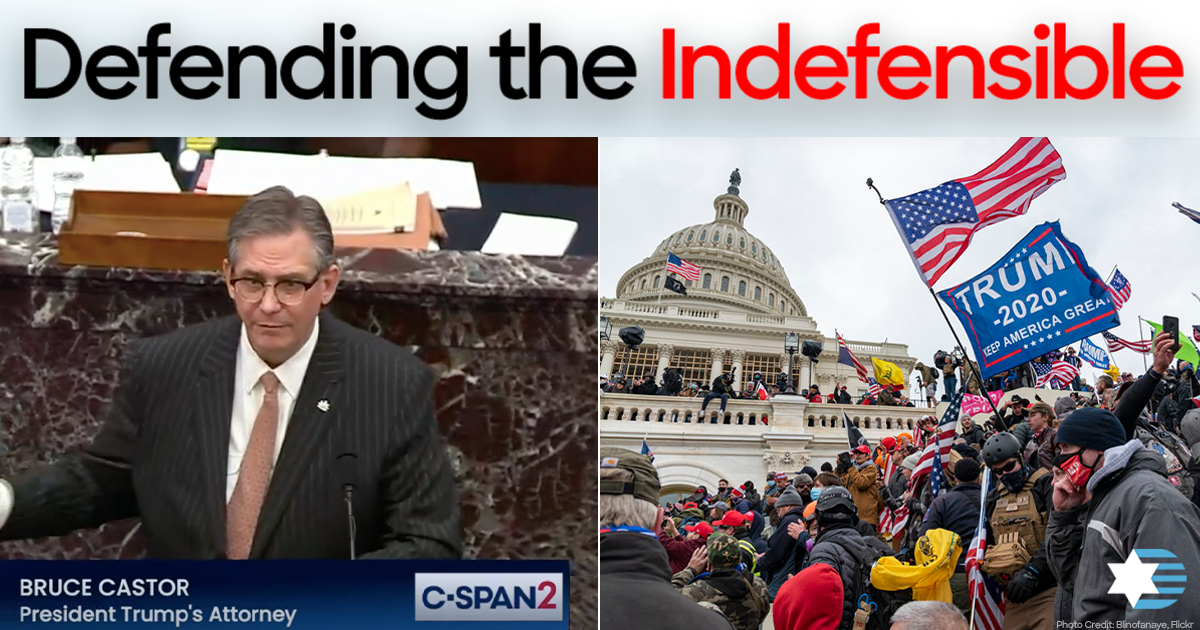 Photo Credit: Blinofanaye, Flickr
Our five key takeaways:
1. This didn't start on January 6
While the attack on our Capitol took place on January 6, we know the seeds of the insurrection were planted much earlier. Donald Trump has sanctioned violence and hatred, and emboldened right-wing extremists, since he began his campaign in 2015. After years of spewing bigotry and years of GOP acquiescence, it came to a head in the 2020 election. When Donald Trump tweeted to "LIBERATE MICHIGAN," armed militias sieged the Michigan State Capitol in what was called a "dress rehearsal" for January 6. Donald Trump has been inciting violence for years, and January 6 was the culmination of his dangerous words and alignment with extremists.
2. It could have been much worse
House impeachment managers released new footage from security cameras in the Capitol showing how close the mob came to reaching lawmakers. Republican Senator Mitt Romney was walking directly toward the crowd of rioters when heroic Capitol Police Officer Eugene Goodman guided him to safety. Majority Leader Chuck Schumer, too, came dangerously close to encountering the mob. Can you imagine what would have happened if a violent mob of Trump supporters found Senators Romney and Schumer, two of Trump's most vocal opponents?
3. The Capitol Police are heroes
The Capitol Police saved countless lives on January 6, and some made the ultimate sacrifice. Three officers have died, including two by suicide, and over 140 officers were injured in the attack. We fully support Speaker Pelosi's decision to grant the Congressional Medal of Honor to all the officers and personnel who protected the Capitol. As the Speaker said, "The service of the Capitol Police force that day brings honor to our democracy."
4. "I'm going to vote for the side that did the good job."
Those were the words of Republican Senator Bill Cassidy, the only Republican to change his vote on the constitutionality of the impeachment trial. After the embarrassing performance from President Trump's lawyers, the Louisiana Republican said, "If I'm an impartial juror, and one side is doing a great job, and the other side is doing a terrible job…I'm going to vote for the side that did the good job." As the trial continues into the weekend, it is increasingly clear that Trump's lawyers have no case to make in defending their client. Instead, they distract, play an egregious game of 'whataboutism,' and completely ignore the facts. 
5. Yet the GOP will still acquit Trump

While a handful of Republicans may vote to convict, Donald Trump's grip on the GOP remains strong, the threat of his bullying is real, and his sycophants in the Senate are likely to abdicate their oath of office in order to acquit the former president. This despite the fact that – as we said earlier today – "there is a direct line between acquittal in the first impeachment and January. Trump has acted with impunity. Similarly, extremists will see his acquittal as validation, so they can operate with impunity." If Senate Republicans vote to acquit, they're effectively saying to the Proud Boys – and other white supremacists and domestic terrorists – "stand back and stand by."
This is why the work of JDCA is so important. It starts with electing lawmakers who reflect our values, and continues with furthering those values by combatting bigotry, antisemitism, and blatant attacks on our democracy. Even though Trump is out of office, Trumpism – and his insidious impact on our country – is pervasive, including in Congress. We have much work to do, and we call on you to
join JDCA as a member
 today.