Article
Fighting for the Soul of Our Nation
July 10, 2020
Joe Biden is right – we are in a battle for the soul of America. Nothing less than the character of our nation is on the ballot in November. We know which candidates represent our values, and we know what it takes to ensure they're elected. Perhaps most importantly, we know this country is worth fighting for, and each of us has a role to play to bring about the change we all deserve in November. Click on the image below to join our movement and support JDCA's efforts to elect Democrats like Joe Biden, and keep reading for more about upcoming events, including our next "Dems Leading in Crisis" webinar on "COVID Future: Returning to School & Work."
As Joe Biden said, "It's time to remember who we are. We're Americans: tough and resilient. We choose hope over fear. Science over fiction. Truth over lies. And unity over division. We treat each other with dignity, we leave nobody behind, and we give hate no safe harbor. We are the United States of America. And together, there is not a single thing we cannot do."
We share Joe Biden's optimism about our future and know change is possible in November, but we also know that our country is struggling. Trump's refusal to listen to science has resulted in more than 130,000 deaths from COVID-19 and counting, plus many more who survived this virus and continue to suffer. It's clear that Donald Trump cares more about his political agenda and re-election than our lives and those of our loved ones, but we don't have to accept his ignorance as our new norm. We can listen to experts and inform ourselves about how we can chart a path that ensures our safety and health.
Join JDCA on Tuesday, July 14 at 3pm ET/ 12pm PT, for our next "Democrats Leading in Crisis" webinar on "COVID Future: Returning to School & Work" with Jeremy Konyndyk, one of the leading disaster response experts who led the Obama administration's response to Ebola, served as a WHO advisory committee, and co-authored the pandemic playbook that Trump threw out. We'll also be joined by Vice President of the National Women's Law Center, Melissa Boteach, an expert in women's economic security. Jeremy will talk to us about what we can expect in the months ahead as we contemplate a return to work and school, and provide policy recommendations for the next administration. Melissa will talk about the disproportionate impact of the virus on women in the workplace struggling with childcare, and provide policy solutions Congress can take to support women and families struggling during this crisis. You can sign-up by clicking on the image below.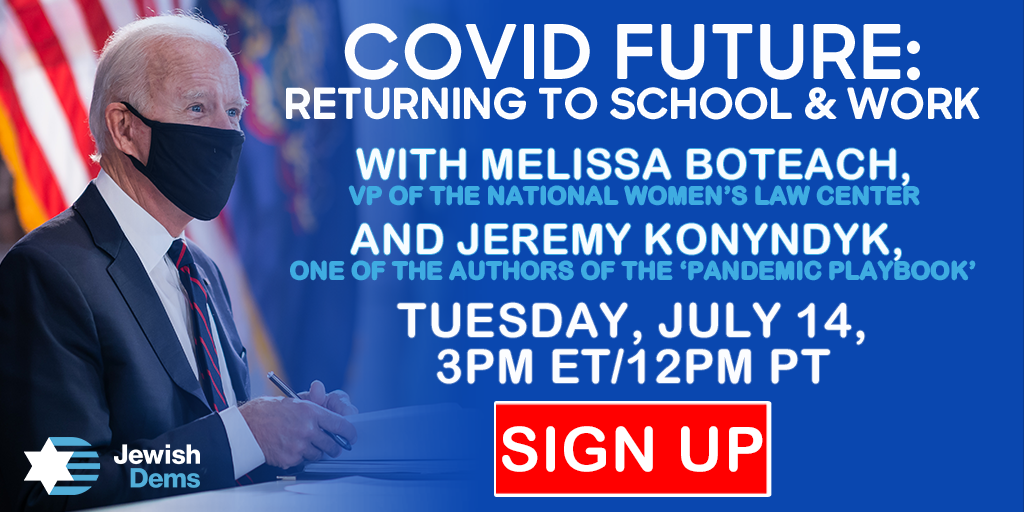 We at JDCA are doing all we can to fight for the soul of our nation, but we need your help. Join JDCA and Jewish Dems across the country every Wednesday from 5:30 to 8:30 PM ET as we call and text voters in key swing states. With your help, we will mobilize voters to make a difference in 2020. Sign up to join us by clicking here or on the image below. Our next phone bank is next Wednesday, July 15. Join us and make a difference!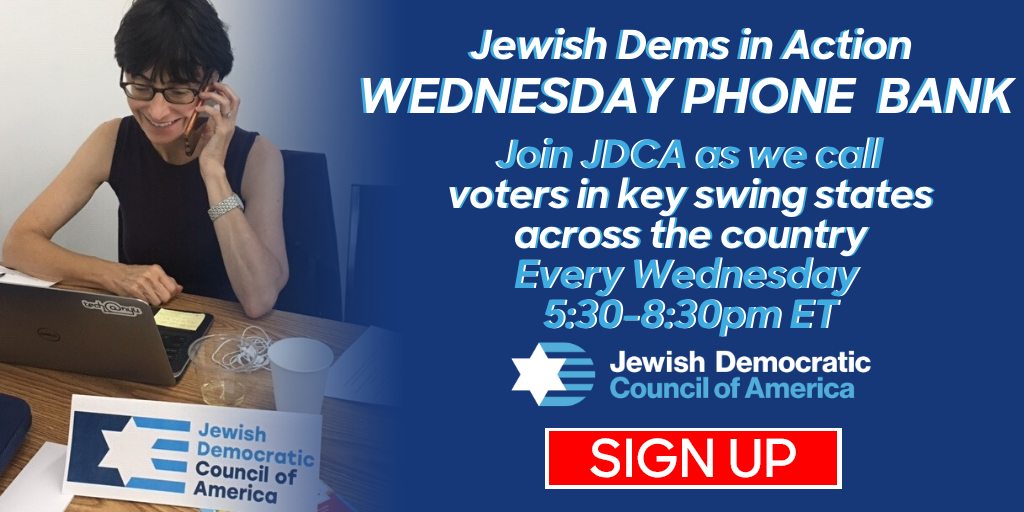 JDCA is mobilizing to elect Joe Biden, and to ensure Democrats win back control of the Senate and expand their House majority, and we're asking you to join us. Please become a part of our growing movement by signing-up for a state chapter to ensure a better and brighter future for all Americans.
Shabbat Shalom,
Ron Klein,
Chair, Jewish Democratic Council of America
Halie Soifer
Executive Director, Jewish Democratic Council of America