Article
Dems Leading in Crisis – Join us tomorrow, Tuesday, July 21 at 2pm ET
July 20, 2020
Over the weekend we lost one of America's heroes, civil rights icon, Congressman John Lewis. JDCA mourned the loss and honored the legacy of John Lewis, who shared our values about equality, justice and human rights. For 34 years, John Lewis served as the "conscience of Congress" and voice of moral leadership in the House of Representatives, where he earned and commanded deep respect from both sides of the aisle. We honor John Lewis by turning our grief into action and pledging to continue the fight for racial justice, even if it means getting into some "good trouble" along the way.
Join us on Tuesday, July 21, at 2pm ET for our next Dems Leading in Crisis webinar, "America in Crisis: Remaking the Social Contract," with Maryland Congressman Jamie Raskin. On the call, Rep. Raskin will share his memories and thoughts about the life and legacy of Congressman John Lewis. Rep. Raskin serves on the House Select Committee on the Coronavirus Crisis, and will also discuss Democratic proposals for helping all Americans recover from this unprecedented public health and economic crisis. You can sign up for the call by clicking on the image below.
Don't miss JDCA's "TAKE BACK AMERICA: Jewish Votes Will Make the Difference" national event on Thursday, August 13, at 5:00pm ET, just before the Democratic National Convention. Plan to join us (virtually) to laugh, learn and be inspired as we chart the path to victory in November. You can sign-up here or by clicking on the image, and check out our calendar of all upcoming events below.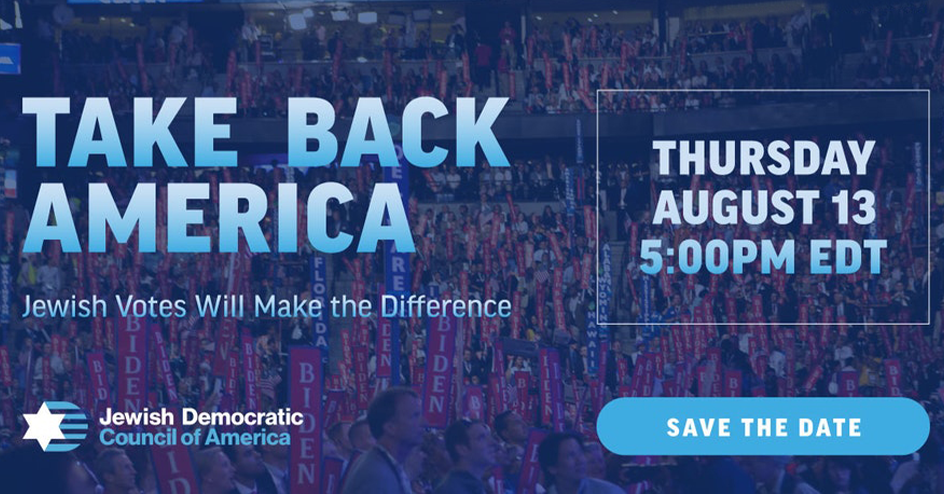 We can defeat Donald Trump and his Republican enablers in November — if we start working today. Join JDCA and Jewish Dems across the country every Tuesday and Wednesday from 5:30 to 8:30 PM ET as we call voters in key swing states. With your help, we will mobilize our neighbors and friends to make a difference in November.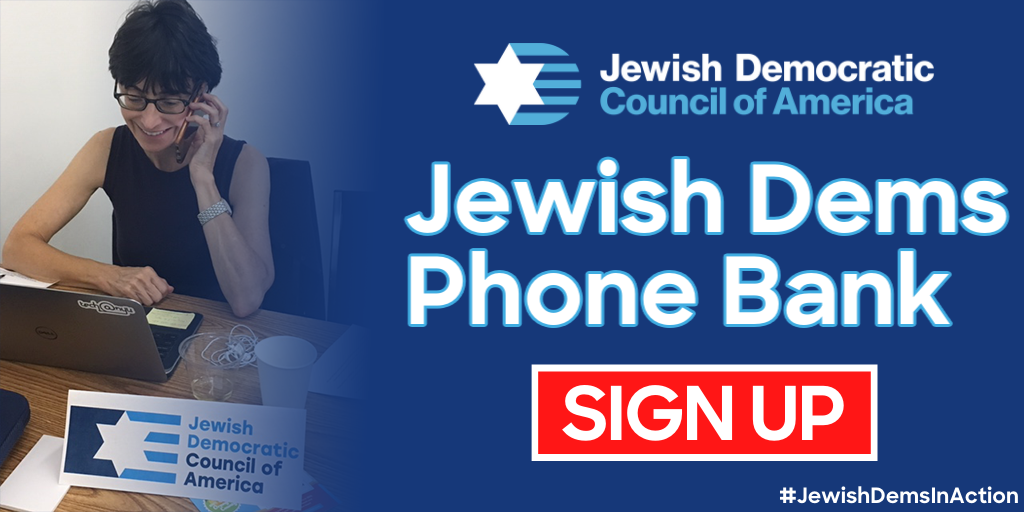 JDCA is mobilizing in advance of this critically important election, and we're asking you to join us. Please become a part of our growing movement by signing up for a state chapter and supporting JDCA today in our efforts to ensure a better and brighter future for all Americans.
We hope to see you soon,
Ron Klein,
Chair, Jewish Democratic Council of America
Halie Soifer
Executive Director, Jewish Democratic Council of America