Article
Democrats Responding to Crisis: Join Our COVID-19 Call Series
March 20, 2020
These are difficult, unprecedented times for our country, and we are sending best wishes and prayers for the safety and health of you and your families.
Here at the Jewish Democratic Council of America (JDCA), we have transitioned to fully remote operations, we're planning for digital grassroots organizing, and we're urging everyone to take the necessary precautions to ensure their safety. As we learn to adapt to the new normal, we aren't stopping our critically important work. We are here to give you opportunities to engage and organize, including from your home.
That is why we have created a new call series called Democrats Responding to Crisis. Starting next week, you can join us on Tuesday and Thursday afternoons as we convene to hear from leading Democrats and experts about the impact of COVID-19 on the following topics: voting, national security, education, healthcare & the economy, as well as the response of Congress, states, and the international community.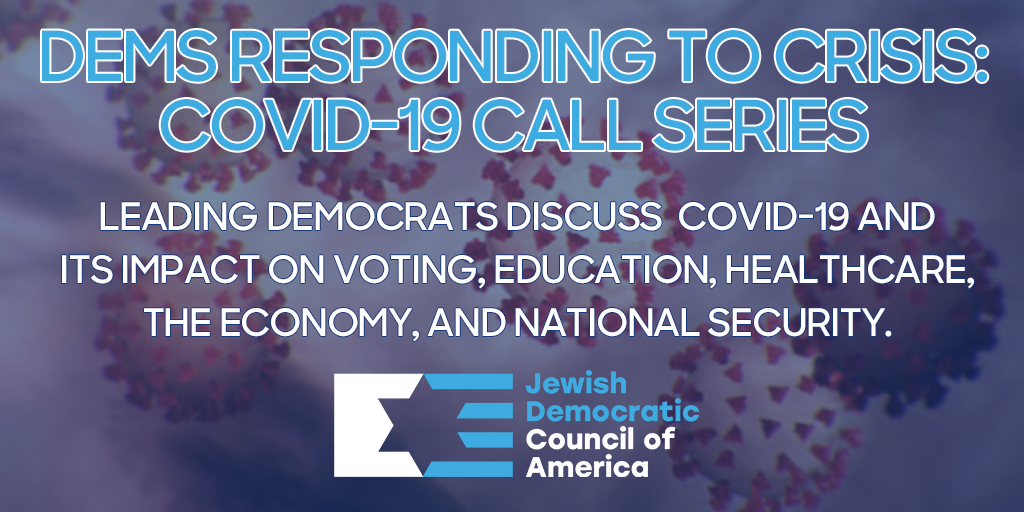 Our first call on the impact of COVID-19 on elections will take place this Tuesday, March 24 at 3pm ET with Marc Elias, the leading election and voting rights lawyer in the country who represents the Democratic Party and dozens of Senate, House, and gubernatorial elected officials and candidates. Earlier this week, Marc wrote in the Washington Post about how the coronavirus will change the way we conduct elections. He has also written about steps we must take to safeguard voting rights with vote by mail in the wake of the COVID-19 pandemic.
On Thursday, March 26 at 3pm ET, we will have a call on the international response to the COVID-19 pandemic, and the national security implications of the virus. We will consider the coronavirus from the global perspective, and examine the consequences of President Trump's decision to eliminate the National Security Council (NSC) office responsible for pandemic response. We will be joined by former Obama administration officials and national security experts, including Jeremy Bash, former Chief of Staff to the CIA Director and Secretary of Defense, and Ned Price, former Special Assistant to the President, NSC Spokesperson, and CIA analyst.
As the virus continues to impact the safety, health and livelihood of all Americans, we need real leadership. We need free and widely available coronavirus testing in all 50 states, and accessible healthcare for those impacted. We need to meet the growing demand for medical supplies and services, protect our healthcare workers on the frontlines, and develop contingency plans for accessible and safe voting. We need to work with the international community to combat a global pandemic, not retreat and withdraw as if we can solve this problem wholly within our borders.
We need leadership, and that is why we're convening this conference call series to discuss and highlight Democrats demonstrating leadership and responding to this crisis. Join us for this important conversation starting this Tuesday and Thursday at 3pm ET, follow JDCA on Facebook and Twitter for news updates and analysis.
Wishing you and your families health and safety during this difficult time, and hoping you can join us next week.
Shabbat Shalom,
Ron Klein
Chair, Jewish Democratic Council of America
Halie Soifer
Executive Director, Jewish Democratic Council of America