Article
Bring your values to the Seder
March 26, 2021
As we come together for another year of virtual Seders, we are also reflecting on the events of the past year that have changed our lives. We've experienced a year-long global pandemic that coincided with the rise of a racial and social justice movement. Our nation survived direct and unprecedented threats to our democratic institutions, including a deadly insurrection, siege on the U.S. Capitol, and ongoing voter suppression. We achieved historic electoral victories that flipped the White House and Senate blue, and the inauguration of President Joe Biden and Vice President Kamala Harris.
The soul of our nation is healing. But the work is far from over.
Creating change starts with conversations with our loved ones about our values, and how we act on those values. The Seder is a perfect time to discuss not only our freedom from bondage, but how we continue to ensure freedom for others. We encourage you to use the 
Jewish Dems Passover Seder Companion
 alongside your Haggadah as a way to spark conversations around some of the most pressing issues of our time — nine of which we've included on this year's 
Jewish Dems Advocacy Seder Plate
.
Click 
here
 or on the image below to download your Seder companion and to bring our Jewish and Democratic values to your Seder. And in case you missed it – or wanted to watch again – click 
here
 or below to see the 
White House Passover celebration
!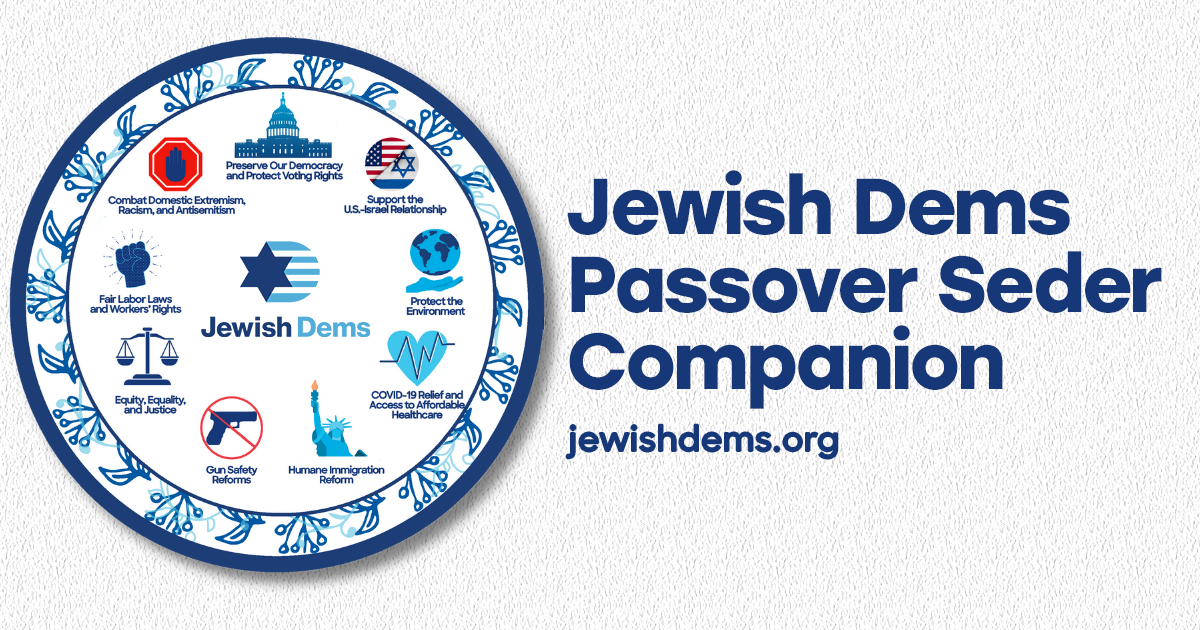 Thank you for your continued support of our shared mission and values. For invites to exclusive events and regular political analysis and briefings, and to help JDCA continue to expand our efforts to advocate for Jewish and Democratic values, we encourage you to 
become a member today
. And if you're already a member, please consider continuing to 
support JDCA
. We deeply appreciate your partnership.
Shabbat Shalom and Chag Pesach Sameach,
Hon. Ron Klein
Board Chair, Jewish Democratic Council of America
Halie Soifer
Chief Executive Officer, Jewish Democratic Council of America