Friends,
This week, the Jewish Democratic Council of America (JDCA) joined the country in mourning the loss of President George H. W. Bush and the leadership he represented at home and abroad. As we reflect on our nation's loss, we remain inspired by his legacy and the new era of American leadership that will be ushered in the next Congress following the remarkable midterm elections. Just the past day, we learned that Democrats won another seat in California, which brings the total number of Democratic wins to 40. As CNN concluded, this election was not a blue wave; it was a blue tsunami. As we have seen in the past week, some Republicans in Michigan and Wisconsin are orchestrating a power-grab, subverting the will of the people by limiting the power of incoming Democrats during lame-duck state legislative sessions. We are deeply troubled by this development, and also are calling on Congress to take important action to pass an anti-BDS bill in the lame-duck session of the 115th Congress. Read on to learn more about these issues and how you can get involved and support our work, and check out JDCA's post-election video!
JDCA mourns the loss of President George H. W. Bush
President George H.W. Bush dedicated his life to public service and leadership, and embodied grace and civility in politics. He was motivated by what he believed was the country's best interest, and his legacy stands as an important reminder of the strength of our democracy. Today is Pearl Harbor Day, so it is especially fitting that we remember President Bush's service, as well as that of so many brave American veterans during World War II. The Jewish community will always be grateful to President Bush for his role in the emigration of Jews from Ethiopia, Syria, and the former Soviet Union, and for his efforts to reverse the "Zionism is racism" resolution at the United Nations. May his memory be for a blessing.
JDCA post-election video
As we continue to reflect on the remarkable and historic midterm elections, JDCA has prepared a short video summarizing our work, our accomplishments in the midterms, and our advocacy efforts going forward. Please check it out – ideally with the volume on! – and share with others who may want to join our 20,000+ strong movement. Please also consider supporting JDCA today, so we can deepen our advocacy efforts in the next Congress and lay the groundwork for 2020 and beyond.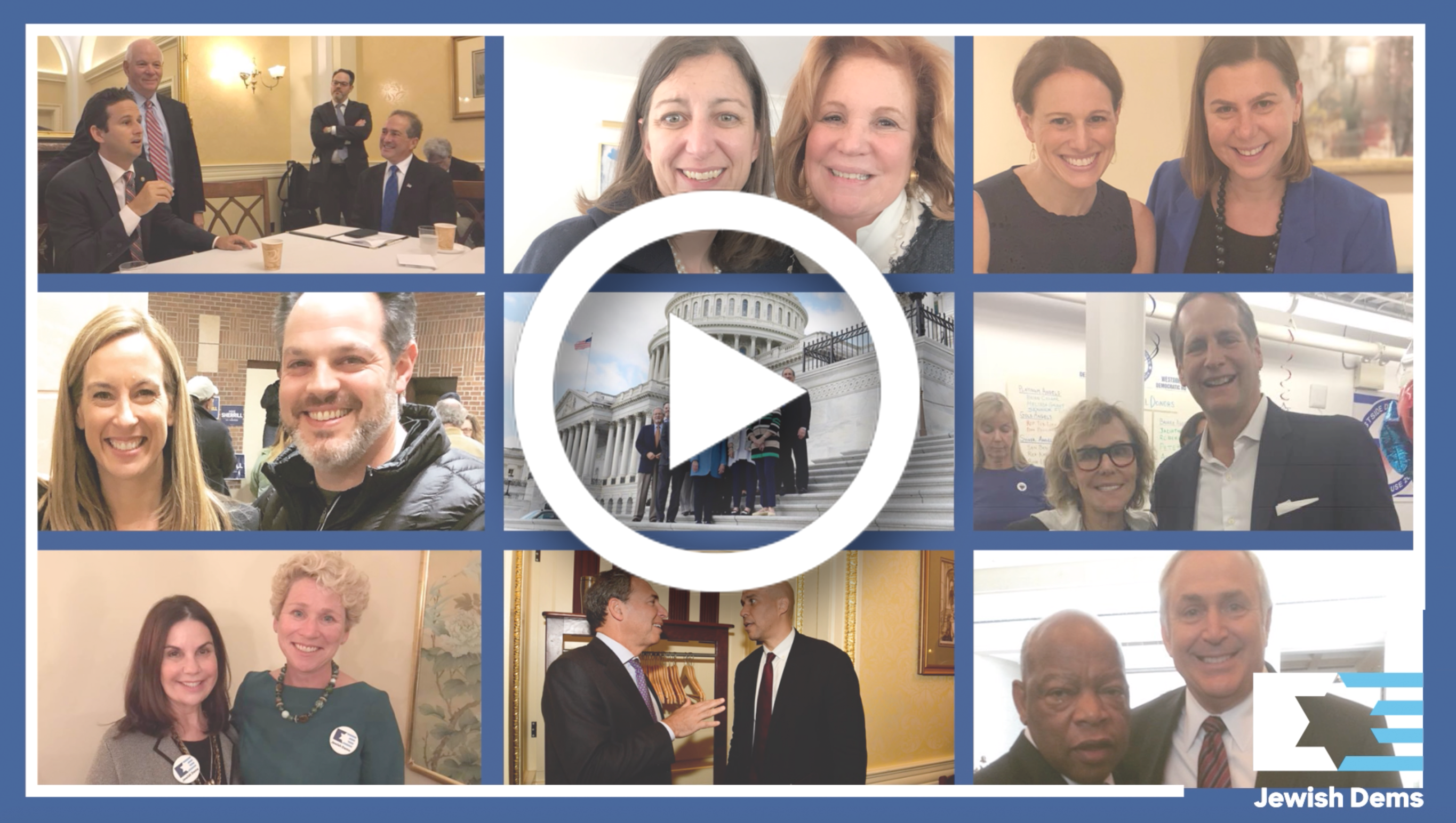 JDCA supports the Israel Anti-Boycott Act
While JDCA is focused on preparing for its advocacy efforts in the 116th Congress, we are also closely watching developments in the lame-duck session of the 115th Congress, which will conclude at the end of the month. One important bill pending before the full House and Senate is the Israel Anti-Boycott Act. This legislation would strengthen existing U.S. law that protects U.S. companies from coercion by foreign governments to participate in boycotts of Israel by extending such protections to international governmental organizations, such as the United Nations. The bill, as amended, also reinforces First Amendment protections, including the rights of U.S. companies and individuals to express their points of view and engage in boycott activity of their own accord. Furthermore, it explicitly states that its adoption will not alter U.S. policy on final status issues associated with the Israeli-Palestinian conflict.
The Democratic Party platform adopted in 2016 states that Democrats "oppose any effort to delegitimize Israel, including at the United Nations or through the Boycott, Divestment, and Sanctions Movement," and opposition to BDS is also part of JDCA's platform. The Israel Anti-Boycott Act, as amended, is consistent with our position on this critical matter, and we are urging Congress to pass this bill before the end of this legislative session. Join JDCA in urging your Member of Congress to support the Israel Anti-Boycott Act before the end of the year.
JDCA opposes Republican power grabs
This week, troubling developments across the country indicated that some Republicans have not accepted the unequivocal results of the midterm elections. Republican state legislators in Michigan and Wisconsin are pushing legislation that would limit the authority of incoming Democrats, including incoming governors. In North Carolina's 9th Congressional District, allegations of election fraud are clouding the election of Republican Mark Harris over Democrat Dan McCready. JDCA strongly condemns efforts in Michigan and Wisconsin to subvert the will of the people, and JDCA supports a full investigation into credible allegations of election fraud in North Carolina. Elections must be conducted fairly, and both parties should respect the will of the people as reflected in the election results. The future of our democracy depends on it.
JDCA seeks interns
JDCA is planning on expanding as an organization in the coming year. We welcome your support at this pivotal time, so please consider ways you can help us as we grow. We are also seeking interns to work at our DC office, as described in further detail here. If you are interested, or if you know someone who would be interested, please email [email protected].
JDCA wishes everyone a Happy Hanukkah
As we gather with our families to light the 6th candle, JDCA wishes everyone a happy Hanukkah. While the struggle to overcome challenges never ends, we are confident that the light of this holiday and this past election will help to guide us forward.
Shabbat Shalom,
Ron Klein
Chair, Jewish Democratic Council of America