Article
Jewish Dems support Israel Anti-Boycott Act (S. 720 & H.R. 1697)
December 6, 2018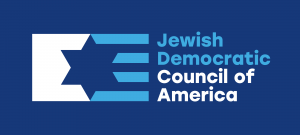 FOR IMMEDIATE RELEASE
Washington, DC – Today, the Jewish Democratic Council of America (JDCA) announced its support for the passage of the Israel Anti-Boycott Act, S. 720 in the Senate and H.R. 1697 in the House, introduced by Senators Ben Cardin (D-MD) and Rob Portman (R-OH) and Representatives Juan Vargas (D-CA) and Peter Roskam (R-IL). The bill will extend existing U.S. legal protections which protect companies from coercion by foreign countries to participate in boycotts of Israel to include protection from boycotts led by international governmental organizations, such as the United Nations.
"The Jewish Democratic Council of America opposes efforts to delegitimize Israel through global boycott, divestment, and sanctions (BDS) efforts. The Israel Anti-Boycott Act is consistent with the 2016 Democratic Party Platform that states Democrats 'oppose any effort to delegitimize Israel, including at the United Nations or through the Boycott, Divestment, and Sanctions Movement' and is also aligned with JDCA's platform of opposition to global BDS," said Halie Soifer, Executive Director of JDCA. "We support the Israel Anti-Boycott Act, as amended, and urge passage of this legislation during the 115th Congress. We are encouraging JDCA members to write to their Member of Congress to support passage of the bill by the end of the year."
Facts about The Israel Anti-Boycott Act (S. 720 and H.R. 1697)
The bill strengthens existing U.S. law that protects U.S. companies from foreign coercion to participate in boycotts against Israel;
The bill opposes boycotts fostered or imposed by an international governmental organization, or requests to impose such practices or boycotts, against countries friendly to the U.S.;
The amended version of this bill reinforces First Amendment protections including the rights of U.S. companies and individuals to express their points of view and engage in boycott activity of their own accord.
The amended version of this bill will not alter U.S. policy on final status issues associated with the Israeli-Palestinian conflict.