Article
2021 Year in Review
December 22, 2021

As 2021 comes to a close, we want to recognize all we've accomplished together and express how grateful we are for your support, activism, and commitment to our Jewish and Democratic values. We are proud that JDCA has grown into a national movement, and we're grateful for all we have achieved together in 2021.
As we take a look back on the past year, we're also preparing for the 2022 midterm elections. JDCA is laying the groundwork to reach more voters and have a bigger impact than ever before, and we need your help.
2021 ELECTION VICTORIES

Building on our overwhelming victory helping to elect President Biden in 2020, JDCA and JDCA PAC helped seal victory in five elections in 2021. 
In Georgia, we played a critical role in the runoff elections to secure our Senate majority. We organized a campaign to reject false claims against Rev. Raphael Warnock, and supported Jon Ossoff when his opponent ran an antisemitic attack ad. We're proud to have been part of the coalition that turned Georgia and the Senate blue and elected Georgia's first Jewish and Black senators.
JDCA and JDCA PAC proved our effectiveness – and the importance of the Jewish vote – with our critically important role supporting Shontel Brown in the Ohio-11 special election primary. JDCA PAC's digital ads were sent to each of OH-11's Jewish voters approximately 150 times each, reaching voters at least 3 million times. Brown won by just over 4,000 votes, and voter turnout in Jewish areas was twice as high as the general population in OH-11. This was a great example of the critical role of the Jewish vote and JDCA specifically shaping the outcome of important elections. We're thrilled to have helped increase the House Democratic Caucus' narrow majority in November with the election of Congresswoman Brown.
When right-wing extremists in California tried to recall Governor Gavin Newsom earlier this year, JDCA was the only national Jewish organization engaged in this race and the only organization specifically dedicated to mobilizing Jewish voters. Thanks to the state-wide get out the vote efforts led by JDCA PAC targeting hundreds of thousands of CA Jewish voters via phone, text, and digital ads, the Jewish vote helped keep Governor Newsom in office. 
In 2021, JDCA also endorsed Governor Phil Murphy (D-NJ) for reelection and the Jewish community played a pivotal role in his successful campaign. In a tight race, Murphy's strong support in the Jewish community and the margin of victory in heavily Jewish districts secured his reelection.
GRASSROOTS MOBILIZATION

JDCA's activists and volunteers are essential to our success. In June, we completed our inaugural virtual Week of Action on Capitol Hill, organizing over 725 volunteers from 14 states to participate in 81 congressional meetings, advocating for voting rights protection, filibuster reform, support of aid to Israel and Iron Dome following attacks by Hamas, and efforts to combat and monitor antisemitism and extremism. 
In 2021, we also launched new Jewish Dems Chapters in Arizona, New York, and Southern California, expanding our total to 15 chapters.
The growth of our grassroots efforts led to our activists making over 110,000 direct voter contacts through phone banking and text banking in 2021, playing a key role in our success in electing Democrats who share our values.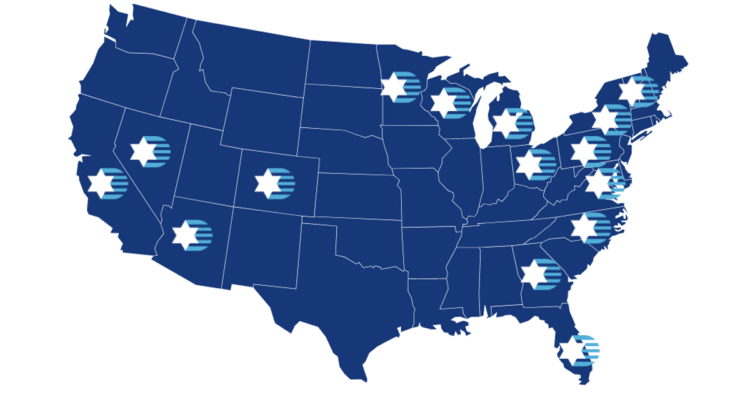 POLITICAL ADVOCACY

JDCA was proud to support the policies and agenda of the Biden administration and Democrats in Congress throughout 2021. We created more than 30 calls to action this year, focusing on issues of importance to Jewish Democrats, resulting in over 6,800 direct messages sent from JDCA activists to their members of Congress on key policy issues. Jewish Dems also played an active role in supporting the confirmations of many of President Biden's nominees and ensuring they are confirmed. JDCA was in touch with members of the administration and Congress throughout the year, especially before important votes. 
JDCA advocates for the issues Jewish voters care about most. That includes defending our democracy, combatting antisemitism and extremism, and supporting Israel's security. JDCA became one of the first Jewish organizations to actively support abolishing or reforming the filibuster, and we have been on the forefront of the fight to defend democracy, including with a voting rights toolkit for 2022. Check out all our action items from the past year by clicking on the image below.
Our work will be even more vital in 2022 because our democracy is on the line in the midterm elections. Don't wait to get involved – let us know you are committed to winning with Jewish Dems in 2022.
IN THE PRESS

On issues including antisemitism, Israel, and the Jewish electorate, the media recognizes the importance of JDCA as the national voice of our Jewish and Democratic values.
JDCA, CEO Halie Soifer, and Board Chair Ron Klein are regularly quoted in both the mainstream and Jewish press, including MSNBC, The New York Times, The Washington Post, NPR, Politico, Haaretz, JTA, The Forward, Jewish Insider, and many others. 
PROGRAMS AND EVENTS

In 2020, Jewish Dems were among the first Jewish organizations to make the transition to online programing. We continued this work in 2021, hosting 88 events and providing unique access to Democratic elected officials and policy experts.
In 2021, we were proud to host our first Jewish Second Gentleman Doug Emhoff, as well as champions of protecting our democracy in Congress including Reps. Raskin and Schiff – and nearly all the Jewish House members – for in-person events.
We also hosted candidate forums for the OH-11 and FL-20 special election Democratic primaries and events with policy experts on voting rights, gun violence, climate change, and combating white supremacy and extremism. We also discussed Black Lives Matter as a Jewish value and economic justice through a Jewish lens, among many other key issues.
JDCA MEMBERSHIP

JDCA launched our paid membership program this year, giving members access to exclusive events such as our Meet the Members series to engage with key members of Congress and policy experts. Becoming a member not only gives you premium access, but you make an impact by supporting our work and helping us expand our efforts. Learn more and become a JDCA member for 2022.

PREPARING FOR 2022

JDCA has already endorsed 13 candidates in the U.S. Senate to ensure that we not only maintain our majority, but expand it in 2022.
JDCA endorses candidates in races where we know the Jewish vote can make the difference. These 13 Senate incumbents share our Jewish and Democratic values, and we look forward to endorsing more Democrats in 2022. 
JDCA has a proven track record of helping Democrats overcome the challenge of Trumpism, and JDCA's distinct efforts have been recognized by President Biden, Speaker Pelosi, Leader Schumer, and leading Democrats. 
JDCA is the only national Jewish Democratic organization specifically advocating for Jewish values and mobilizing Jewish voters, and the only Jewish and Democratic counterweight to a well-financed national Republican effort. We encourage you to get involved our work to ensure we protect our democracy and win in 2022.