Article
100 Days- Get Involved
July 24, 2020
As of this Sunday, the most important election in our lifetimes is 100 days away. None of us want to wake up on November 4th wondering what more we could have done to change the outcome of the 2020 election. Instead, let's do all we can for the next 100 days to elect Joe Biden, flip the Senate back to Democratic control, and increase our House majority. Below are numerous ways you can get involved with the Jewish Democratic Council of America (JDCA) today and each day for the next 100 days. Check out our calendar of events and join us. Together, we can shape the trajectory of our country for the better in 100 days.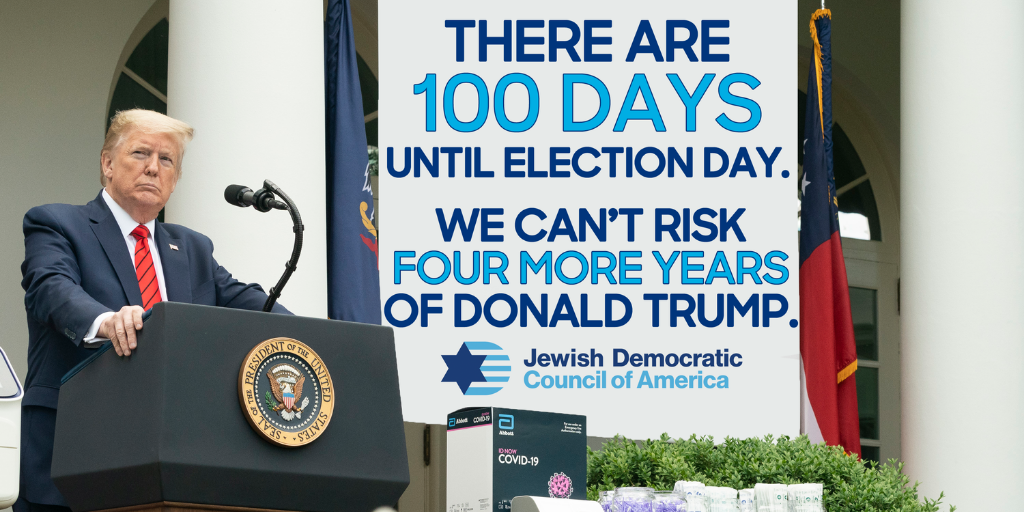 Join JDCA and Jewish Dems across the country every Tuesday and Wednesday from 5:30 to 8:30pm ET as we call Jewish voters in key swing states. Join for any part of the phone bank, either day. With your help, we will mobilize our neighbors and friends to make a difference on Election Day.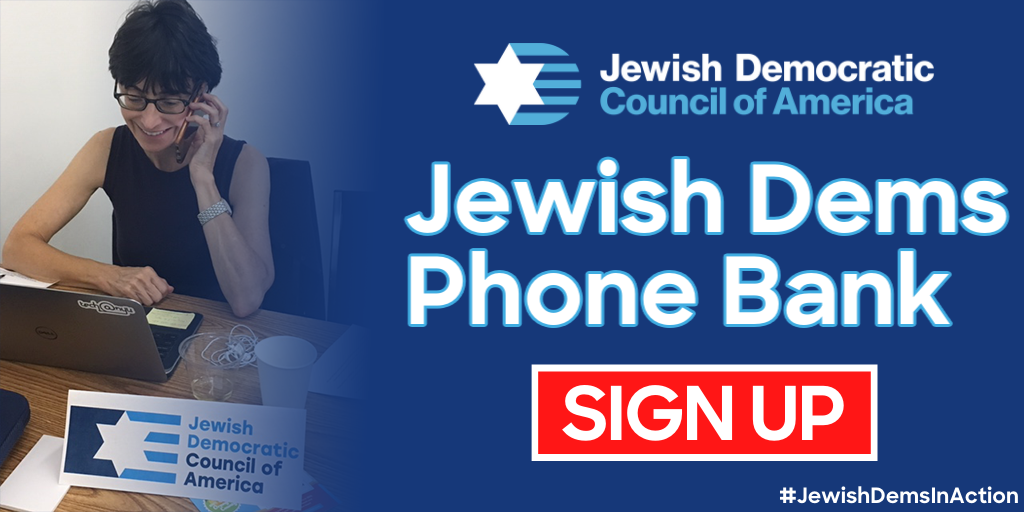 In advance of the Democratic Convention, on August 13 at 5:00pm ET, JDCA is hosting a star-studded event to laugh, learn and be inspired as we chart the path to victory in November. Please join us for JDCA's "TAKE BACK AMERICA: Jewish Votes Will Make the Difference" event to hear from Senators Booker and Rosen, Representatives Schiff, Deutch, Slotkin and Rose, as well as Ambassador Dan Shapiro, former Rep. Steve Israel and many others. You can sign-up here or by clicking on the image below.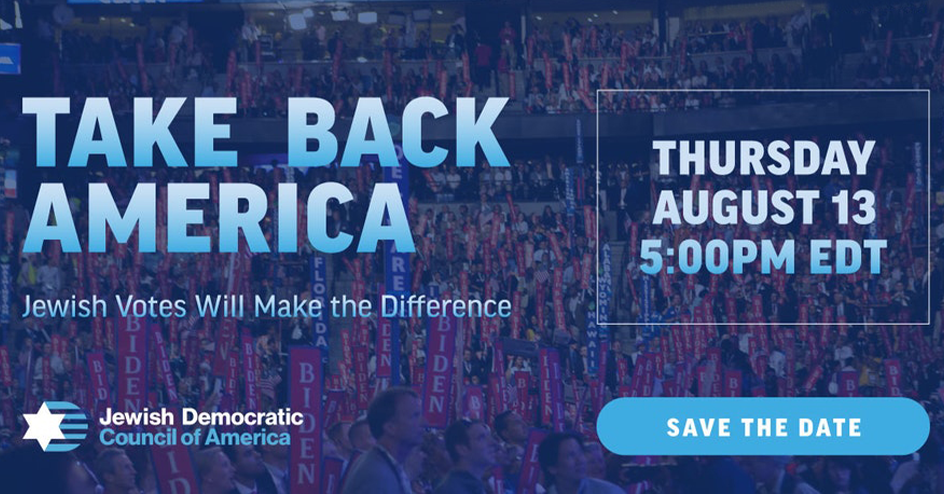 Join us this Tuesday, July 28, at 3:00pm ET for our next Democrats Leading in Crisis webinar "Honoring the Life and Legacy of John Lewis" with Rep. Alcee Hastings (D-FL). Throughout his lifetime, Rep. Hastings has championed the rights of minorities, women, the elderly, children, and immigrants. Join us to hear about how he views the legacy of the remarkable Congressman John Lewis. You can sign-up by clicking on the image below.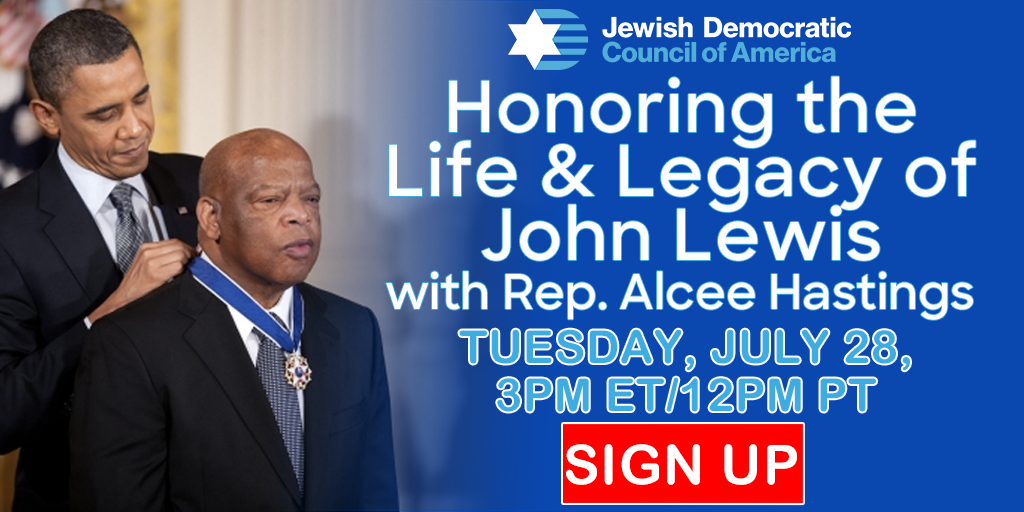 We're thrilled to host our next Candidate Forum, for the MA-4 Democratic primary this Monday, July 27 at 4:30pm-6:30pm ET. Whether you live in the district or anywhere else in the country, you'll want to hear this strong group of Democratic candidates discuss the issues Jewish Americans are voting on in November. You can sign-up by clicking on the image below.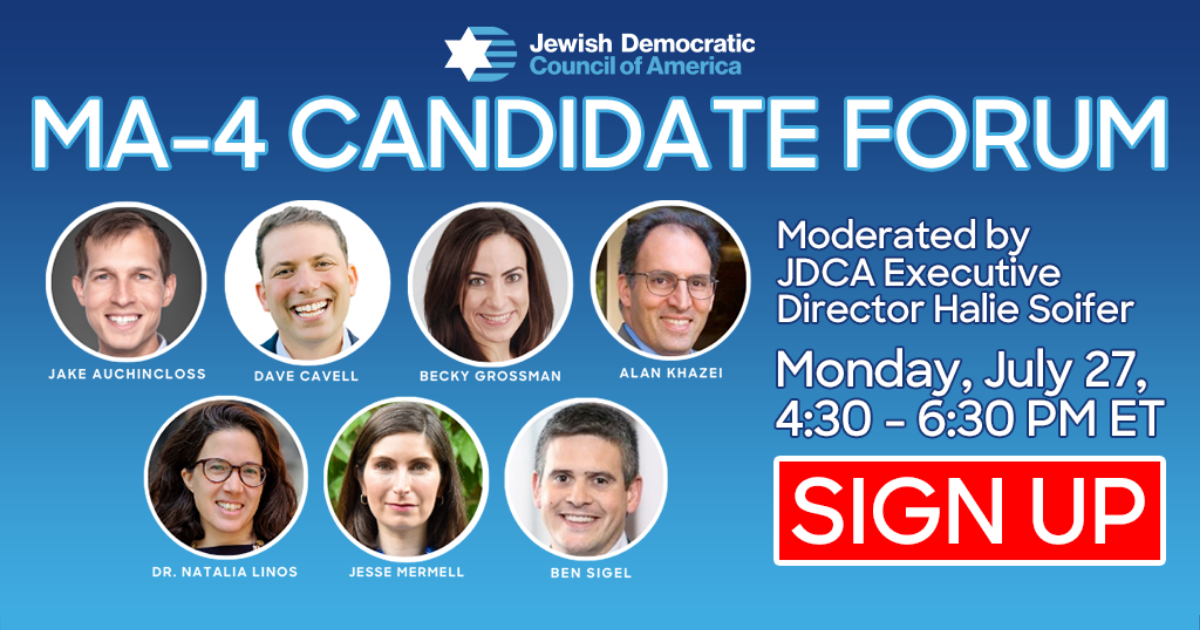 With 100 days to go, we are speaking out every day. Watch Halie Soifer on i24 discussing the Democratic Party Platform, which solidifies the Democratic Party's ironclad support for Israel, and please don't forget to following JDCA on Twitter and Facebook. We are only going to continue to expand our efforts between now and November 3, and we need your support to ensure we all wake up on November 4 knowing we did all we could to impact the outcome of this critically important election. We're counting on you. 
Shabbat Shalom,
Ron Klein,
Chair, Jewish Democratic Council of America
Halie Soifer
Executive Director, Jewish Democratic Council of America