In 265 days, Americans will go to the polls to select a new president. While we don't know who will emerge as the Democratic nominee to compete against President Trump in November, we are certain about a few things.
First, this is the most important election of our lifetime, determining the character of our country and the strength of democracy, shaping the trajectory of our future.
Second, if Donald Trump wins a second term, he'll govern as a dictator. Trump's admiration of tyrants and inclination to disregard rule of law and democratic norms will be even more pronounced if he win a second term; and
Third, an overwhelming majority of Jews will support Democrats up and down the ballot in November because Democrats support policies that align with Jewish values such as:
Access to affordable healthcare;

Protecting our communities from the epidemic of gun violence;

Defending against the rise of white nationalism and anti-Semitism;

Enacting humane immigration reform, p

rotecting civil liberties, combating discrimination, and furthering social justice; and

Restoring principled American leadership in the world.
Support of the U.S.-Israel relationship is also one such value, and we are proud of the fact that Democrats share the Jewish community's deep commitment to Israel.  Every four years, Republicans launch a campaign to convince Jewish Americans this isn't the case in a cynical effort to win over Jewish votes, and every four years, they fail.
This year will be no different, and it is important to arm yourself with the facts and do everything you can to ensure we don't wake up in 266 days wondering what more we could have done to avoid a second Trump term. We're proud Jewish Democrats because we're loyal to our values. Join us today by supporting our efforts, and read on for more about refuting false narratives about the Jewish vote and Israel.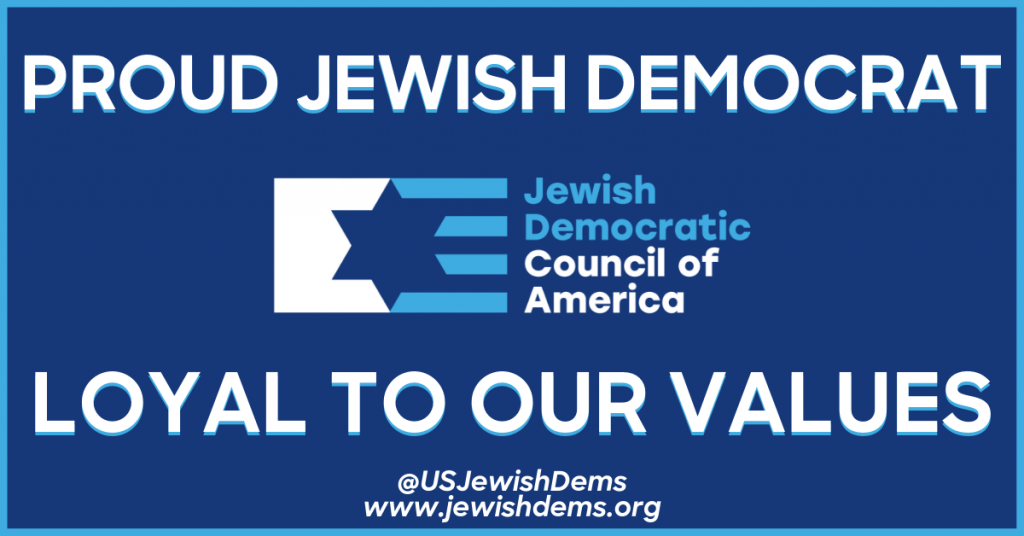 Jewish Americans care deeply about Israel and are committed to Israel's safety and security, but Israel is not driving the Jewish vote. That is because the parties and candidates differ starkly on domestic policy issues and largely agree on their support of Israel.
Republicans are conveying a narrative that simply isn't true when it comes to Democrats, Israel, and related issues. Don't fall into the trap of repeating these false narratives. Arm yourself with the truth. See key points below.
*The anti-Semitic right has found a home at the highest levels of the Republican Party, including in the White House, where we have a president whose policies and rhetoric have emboldened those who have targeted our communities and places of worship.
*The rise of white nationalism in the U.S. is real and dangerous, and Democrats are the only party calling it out, wherever and whenever it may emerge.
*Democrats in the House overwhelmingly supported and passed resolutions and legislation in recent months on the following issues:
Condemning anti-Semitism;

Opposing the global BDS movement;

Supporting a two-state solution to the Israeli-Palestinian conflict; and

Reaffirming our "ironclad" commitment to maintaining military assistance for Israel and providing record levels of military and security assistance to Israel.
*All of the Democratic candidates for president support:
A strong U.S.-Israel relationship;

A two-state solution to the Israeli-Palestinian conflict;

Security assistance to Israel; and

All Democratic candidates for president oppose the global BDS movement against Israel.
*President Trump has been long on symbolism but short on achievements on Israel.
His so-called "peace plan" was dead on arrival, is not realistic or in Israel's interest, and has been criticized by Israeli security establishment and government officials.

Moving the U.S. Embassy to Jerusalem and recognizing Israeli sovereignty over the Golan were symbolic gestures that did little to advance Israel's security or prospects for a two-state solution.

Trump's precipitous U.S. military withdrawal from Syria has created a vacuum of leadership and given Iran more of a foothold on Israel's northern border.

Walking away from the Iran nuclear deal with nothing to replace it has weakened U.S. credibility, pushed Iran to restart its nuclear program, and made the U.S., Israel, and our European allies less secure.
The facts speak for themselves, and we're proud Jewish Democrats who are loyal to our values, including support of Israel. If you care about Israel and the other values shared by most Jewish Americans on a wide variety of critical issues, you have every reason to support Democrats in November.
Stand proudly with Jewish Dems and help us win in 2020 by taking the following steps:
Our mission has never been more critical. With your help, we can continue to expand our work and ensure we're successful. We are incredibly grateful for your partnership.
Shabbat Shalom,
Ron Klein,
Chair, Jewish Democratic Council of America
Halie Soifer
Executive Director, Jewish Democratic Council of America