Article
Why Virginia Matters
October 7, 2021
The election for Governor of Virginia is just 26 days away. Earlier this week, JDCA launched our campaign to mobilize the Jewish vote in Virginia in support of Gov. Terry McAuliffe. So why does it matter, especially if you're not in Virginia? This election has massive national political implications because it will set the stage for the 2022 midterm elections, and the race is in a "dead heat" between former VA Governor Terry McAuliffe and Trump acolyte Glenn Youngkin.
Youngkin, who is closely aligned with Donald Trump, has extremist views and refused to condemn antisemitism among the VA GOP. If we allow Youngkin to win Virginia, it would not only embolden Republican extremism – which threatens our safety, health, and democracy – but it would also set a dangerous precedent that could cost Democrats Congress and the White House. This is the biggest electoral test we have faced in 2021, and we can't allow a Trump ally to win Virginia. We need your help — please support JDCA PAC's campaign for Terry McAuliffe today.
SUPPORT JDCA PAC TO KEEP VA BLUE
JDCA has demonstrated its ability to effectively get out the Jewish vote to impact the outcome of elections, most recently in California and Ohio-11. In Virginia, JDCA PAC will use the same tactics – digital ads, phone banking and text banking – because we know they work in mobilizing voters and winning elections. These tactics are targeted, efficient, and effective.
We know that Virginia's nearly 200,000 Jewish voters can make the difference in this race, and Terry McAuliffe is the right person at the right time to serve Virginia. That's why we're calling on you to help ensure he wins.
SUPPORT JDCA PAC TO KEEP VA BLUE
Terry McAuliffe has been unwavering in his opposition to hatred and antisemitism and is a steadfast friend of Israel. As Governor when neo-Nazis marched in Charlottesville, McAuliffe was resolute in his condemnation of extremism and white supremacy, which continues to threaten our community. It is crucial we send Terry McAuliffe back to Richmond, and your support will be critical in that effort.
Click below to join us for phone banks and text banks, and read why we are proud to support Terry McAuliffe. In addition, don't forget to register for next Thursday's phone bank with Representative Don Beyer (VA-8).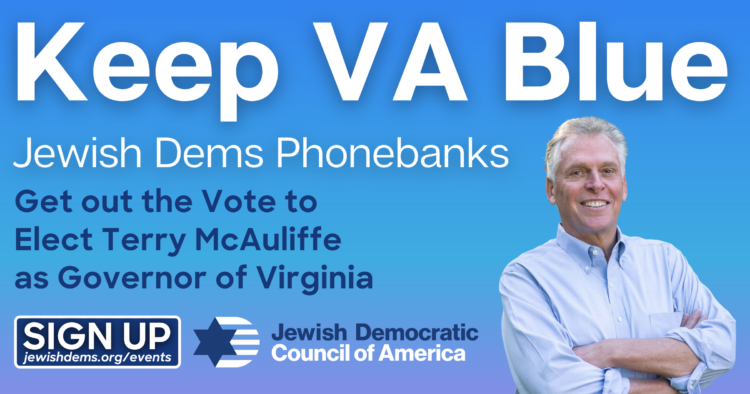 RSVP: PHONE BANK WITH JDCA IN VA
READ: JEWISH DEMS ENDORSE MCAULIFFE
Thank you for your continued support of JDCA.
Sincerely,
Hon. Ron Klein,
Board Chair, Jewish Democratic Council of America
Halie Soifer,
CEO, Jewish Democratic Council of America