Article
When They Go Low, We VOTE
February 7, 2020
This week was one for the history books. President Trump's State of the Union address was, in the words of Speaker Pelosi, "a manifesto of mistruths." The next day, all but one Senate Republican voted to acquit President Trump despite the compelling case of egregious wrongdoing made by House impeachment managers. And yesterday, President Trump had not one but two offensive outbursts, continuing his assault on our democracy, decency and values in the aftermath of his impeachment trial.
Feeling exhausted? Despair? Or just tuning it out? Those are normal reactions…but here's something better – join us in organizing and redoubling our efforts to win at the polls.
In case you missed it, our response to the State of the Union was to endorse 25 House candidates because we don't have to accept the state of our union as Donald Trump sees it. We can change the state of our union in November. Just remember – when they go low, we VOTE.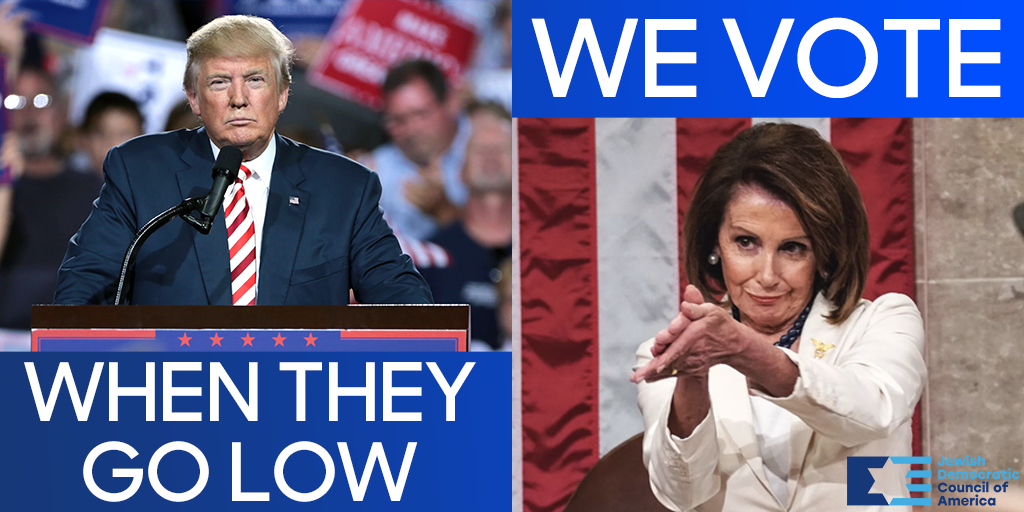 JDCA is approaching this election with a renewed determination to elect Democrats who share our values. That's why we're organizing to lay the groundwork for Democratic victories.
JOIN US. Below are interactive links for you to get involved with our efforts. Choose at least one and share with others.
Considering joining a JDCA state chapter or college campus initiative? Sign-up now, and you'll be invited to join our first online training session, led by our leadership and a grassroots-organizing expert. We'll give you the tools you need to have a meaningful impact on your campus, in your state, and in your hometown.
Want to support a JDCA college campus fellow? Help us provide each of our fellows with a stipend to take action in key states.
Here are five ways you can make a difference right now.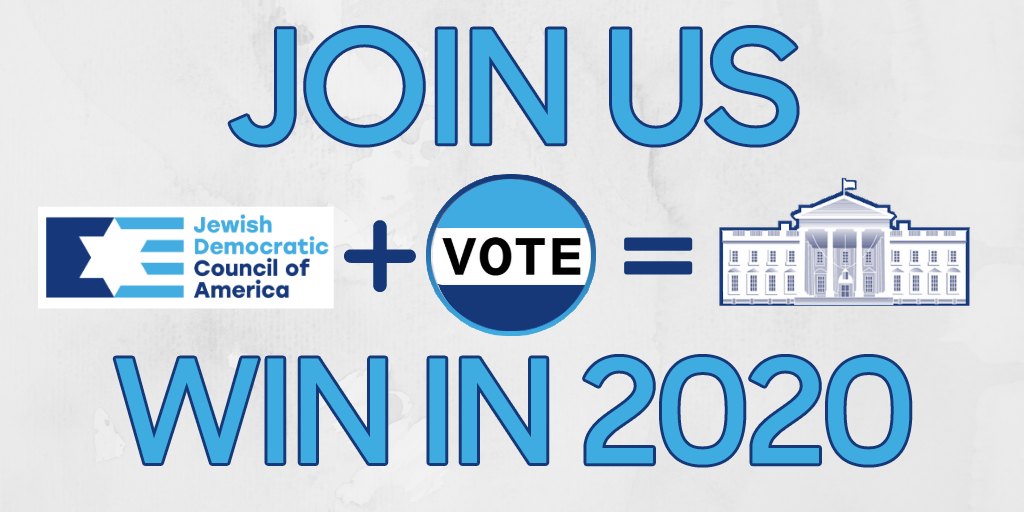 Throughout the year, we will continue to expand this list and our efforts to mobilize Jewish American voters. Through JDCA's endorsements in key districts and states – and by harnessing the power of our state chapters, Next Generation Leadership Council, and student fellows – we are creating political change in 2020 that's consistent with Jewish American values.
We will continue to do all we can to preserve the Democratic House majority and elect a Democratic president and a Democratic Senate. And we will succeed with your help, because we cannot afford to fail.