Article
When Someone Tells You Who They Are…
June 26, 2020
As Maya Angelou famously said, when someone tells you who they are, believe them the first time. Donald Trump has left no doubt who he is. The depravity of his words is exceeded only by the malevolence of his deeds, including his depraved effort last night to kick Americans off their healthcare amid the largest public health crisis of our lifetimes. We've had enough. If you feel the same way, join us in defeating President Trump and electing Joe Biden, who shares our values, in just 130 days. Keep reading for ways to get involved with our efforts, and join our upcoming "Democrats Leading in Crisis" webinar on June 30 at 3pm ET with Ambassador Dan Shapiro, and Reps. Schneider and Schakowsky on Israeli annexation.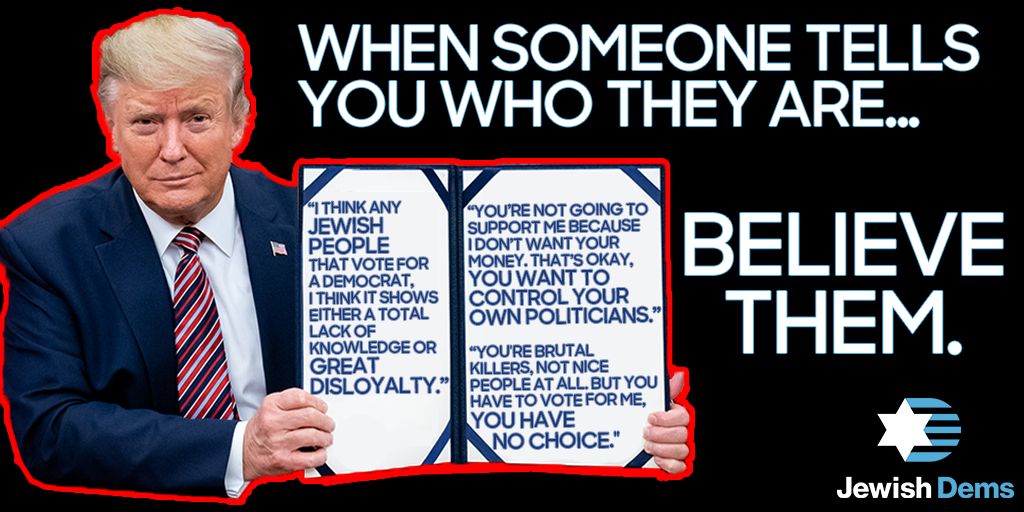 As JDCA's Executive Director Halie Soifer wrote in The Forward earlier this week, our children are watching and listening, and who we elect will determine the trajectory of their future. "This election isn't solely about partisanship or politics. More than anything else, it's about the fact that our children deserve better." Read the whole piece here or below.
Trump is bad for Jewish Americans and he's bad for Israel. Nearly 200 Democrats recently signed a letter spearheaded by Reps. Jan Schakowsky (D-IL), Brad Schneider (D-IL), Ted Deutch (D-FL), and David Price (D-NC), outlining the security implications of unilateral Israeli annexation of parts of the West Bank. Unlike all previous presidents, Trump is encouraging action by Israel that is neither in America nor Israel's best interests.
Join us next week, on Tuesday, June 30 at 3pm ET, for our next "Democrats Leading in Crisis" webinar with former U.S. Ambassador to Israel, Dan Shapiro, as well as Reps. Schakowsky and Schneider, to discuss what annexation may mean for Israel and the U.S.-Israel relationship.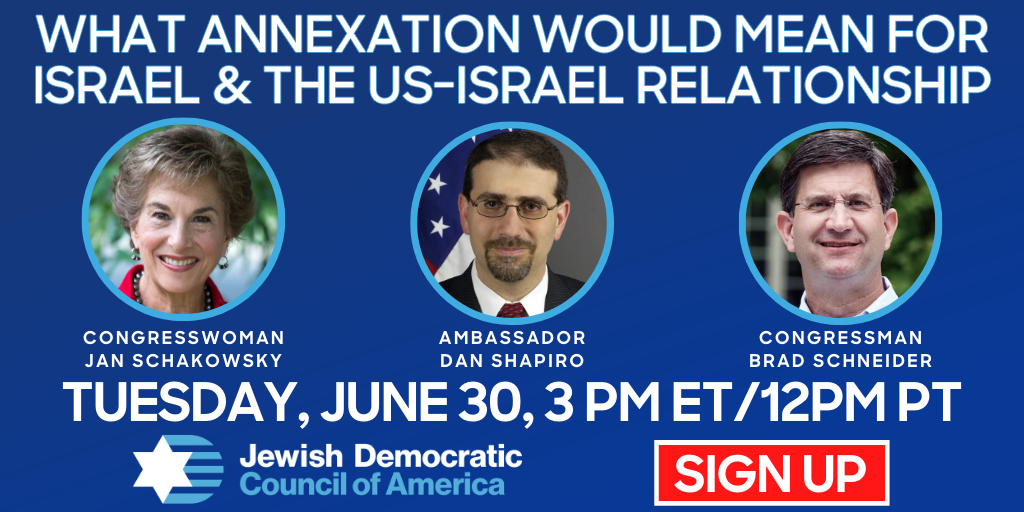 The election in November is the most important of our lifetimes. Join JDCA and Jewish Dems across the country every Wednesday from 5:30 to 8:30 PM ET as we call and text voters in key swing states. With your help, we will mobilize voters to make a difference in 2020. Sign up to join us by clicking on the image below.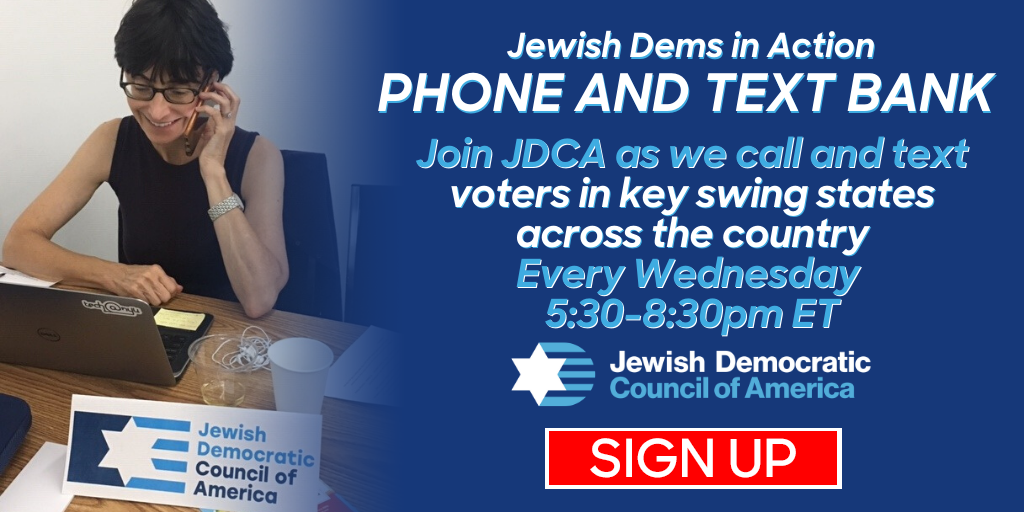 JDCA is mobilizing to elect Joe Biden, protect our House majority, and win back control of the Senate, and we're asking you to join us. Please become a part of our growing movement by signing up for a state chapter and joining in our efforts to ensure a better and brighter future for all Americans.
Shabbat Shalom,
Ron Klein,
Chair, Jewish Democratic Council of America
Halie Soifer
Executive Director, Jewish Democratic Council of America