Article
When abortion rights are on the ballot, we win.
August 15, 2023
Last week, Americans who support reproductive freedom celebrated another major victory for abortion rights — this time in Ohio.
Extremist Republican state legislators forced a special election — in early August — that would have raised the threshold of votes needed to pass citizen-led ballot initiatives. This was a blatant attempt to block the passage of a ballot initiative in November that would enshrine reproductive rights in the Ohio Constitution.
Democrats and supporters of reproductive freedom in Ohio sent a clear message on Election Day — we will not back down from this fight. Here are JDCA's three key takeaways from the Ohio election.
1. Abortion rights are a key voting issue for Americans.
In state after state, support for abortion rights continues to drive voters to the polls. It's clear that Americans will not allow Republicans to deprive them of this right, which — until 2022 — had been protected at the federal level for 50 years. Ohioans voted against this attempt to curb reproductive rights by a 14-point margin in a state that Trump won in 2020 by 8 points, demonstrating that abortion access is an issue that supersedes partisan politics.
2. Protecting democracy is a key issue for voters.
This ballot initiative was not just about abortion rights. It was also an attempt by Republican legislators to limit democracy by making drastic changes to the citizen-led ballot initiative procedure. Fortunately, Democrats helped Ohioans understand what was at stake and voter turnout exceeded expectations. For Jewish voters in particular, defending democracy remains the most important issue in elections.
3. We can and should remain optimistic about the future.
This victory is the latest in a pattern showing that Americans know which party stands with them on key issues, including reproductive rights, democracy, and healthcare. We can continue to do big things and win when we run on our values as Democrats — the same core values that we hold as Jewish Americans.
We asked Congressman Greg Landsman (OH-01) for his insider take on the Ohio special election. Here's his exclusive quote given to JDCA: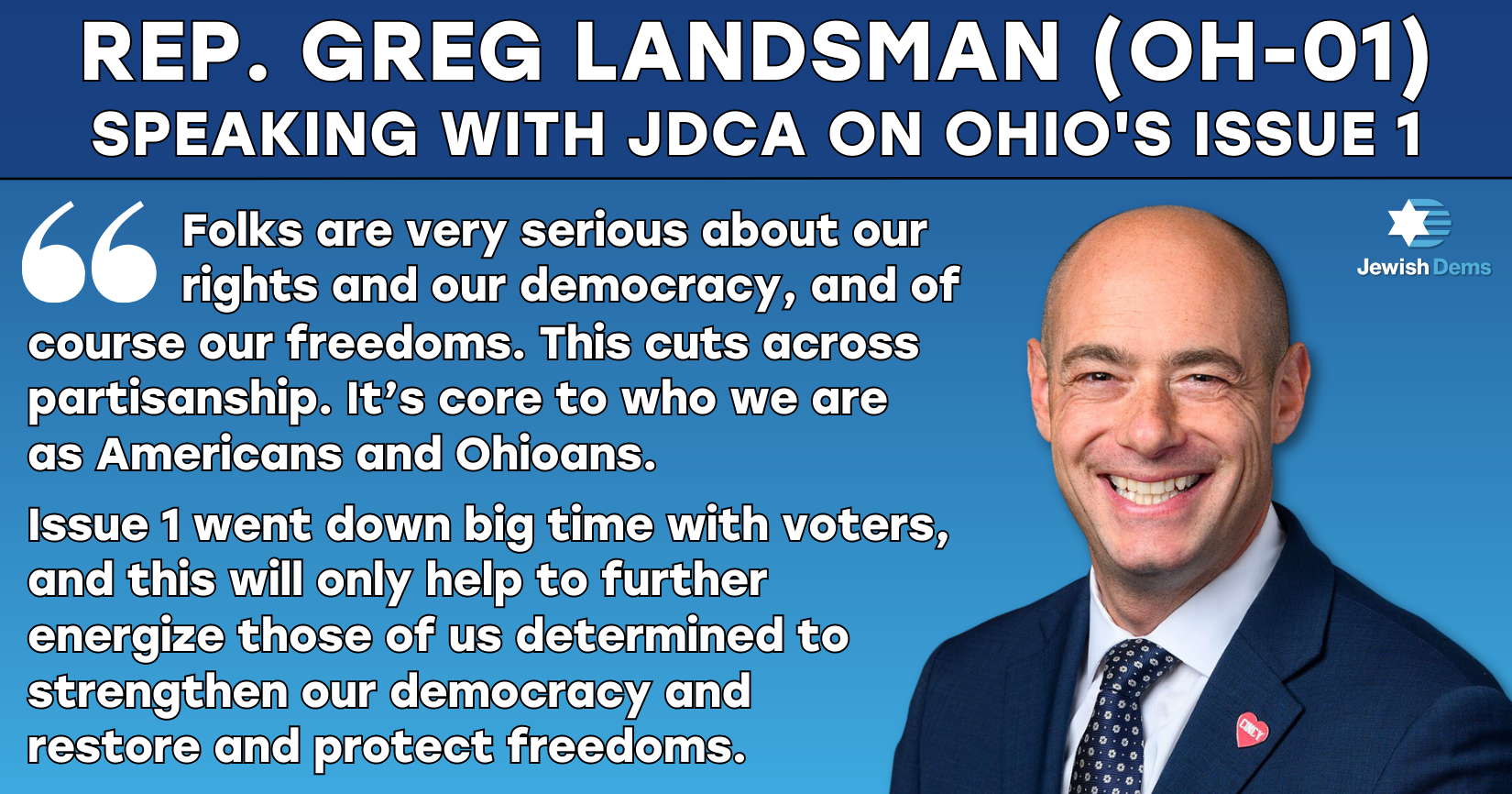 Thank you for your continued support and partnership.
Sincerely,
Halie Soifer
CEO, Jewish Democratic Council of America