Article
What President Biden Told Us About Healing from COVID
April 2, 2021
The Jewish Democratic Council of America (JDCA) is honored to be a part of the White House Faith and Community Leaders group, and yesterday
we were thrilled to be joined by President Biden for our weekly call, which many of you joined
. On the call, President Biden praised JDCA and other community members as "critical partners" of his administration. He candidly discussed the pain we've all experienced in the past year, and measures he's taking to protect American lives and livelihoods from further devastation
. The President emphasized how, while "signs of hope have emerged…we're in a race against this virus, and the race is far from over."
During Passover and in advance of Easter, the President added that "it's one of the most important opportunities of the year" to advance our values, move forward as Americans, ensure we're all vaccinated, and begin healing from COVID-19. JDCA is proud to be part of President Biden's
COVID-19 Community Corps
, to encourage and expand vaccinations, and we encourage you to join today.
President Biden is investing in the future of America. The historic passage of the American Rescue Plan earlier this month earned
overwhelming bipartisan support
among voters and has already provided Americans with much-needed relief from the pandemic.
This week President Biden unveiled another groundbreaking plan: The American Jobs Plan
, a once-in-a-generation investment to rebuild the middle class, address economic inequality, transition to a clean energy economy, and deliver justice for Americans who have been systemically excluded from our economy. Read more about the American Jobs Plan below, click on the image to write to your elected officials urging them to support the plan, and see JDCA's statement.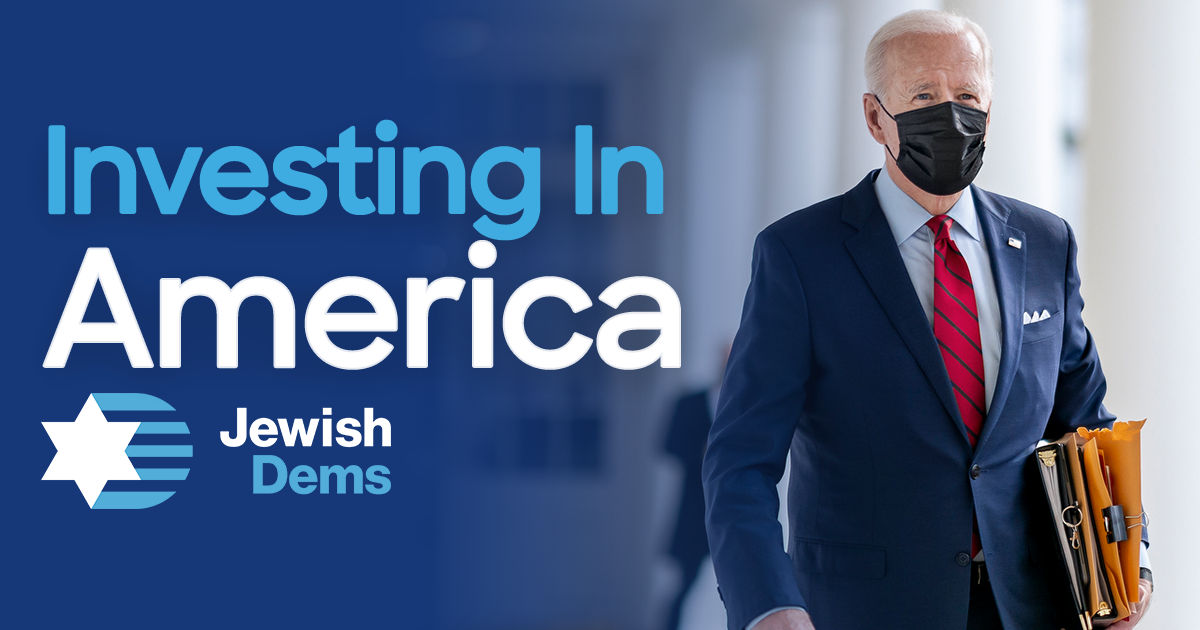 WHAT IS THE AMERICAN JOBS PLAN?
This new plan from President Biden will build on the progress of the American Rescue Plan by addressing the economic challenges that predate the pandemic. The plan is broken down into four key components:
1. How we move: $620 billion in transportation infrastructure
Modernize 20,000 miles of highways, roads and main streets; repair 10,000 bridges; expand public transit; spark an electric vehicle revolution; and prioritize underserved communities.
2. How we live at home: $650 billion in home infrastructure
Ensure universal Broadband access; replace every lead pipe in the country; rebuild our electrical grid; build, renovate, and retrofit affordable housing units; and repair our schools, community colleges, child care facilities, and federal buildings, including our veterans' hospitals.
3. How we care: $400 billion investment in care economy
Support well-paying caregiving jobs that include benefits and the ability to collectively bargain and expand access to quality, affordable housing.
4. How we make & create: $580 billion in R&D, manufacturing & training
Focus R&D investments on high-growth sectors like clean energy and rebuild supply chains to manufacture in America.
Thank you for your continued support. We encourage you to consider becoming a
member of JDCA
 and 
supporting
our mission to advocate for our Jewish and Democratic values.
Shabbat Shalom and Chag Pesach Sameach,
Hon. Ron Klein

Board Chair, Jewish Democratic Council of America
Halie Soifer
Chief Executive Officer, Jewish Democratic Council of America