Article
We Will Triumph Over Hate
August 28, 2020
This was a difficult week. We witnessed unspeakable acts of racial injustice and violence in Wisconsin, a horrific hurricane in the Gulf of Mexico, and four nights of lies and illegality at the Republican National Convention. While Republicans responded to these events by praising a president who has done nothing but sow division and hate, we're responding by working harder than ever to elect Joe Biden president in just 67 days.
Whether we like it or not, Donald Trump's words matter – he's the president. Below are a few things Trump has said about the Jewish community. We're sharing this as an added reminder of the critical importance of this election and if you click on the image, you'll be directed to the Jewish Dems events page. This past week alone, JDCA held over 14 events, reaching thousands of voters across swing states throughout the country. This is how we win this election. Join us for a phone bank this week to elect Democrats, restore the soul of our nation, and triumph over hate.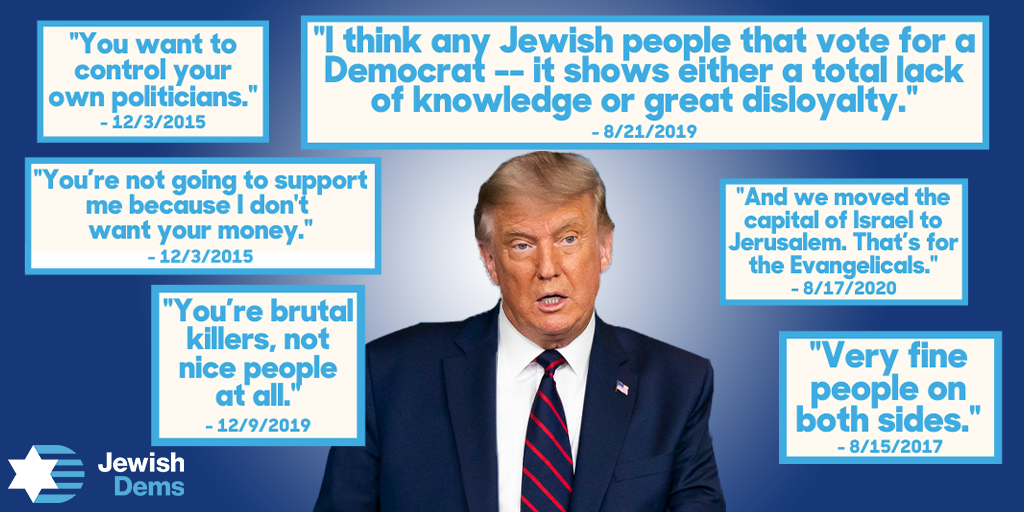 This week, the Republicans blatantly violated U.S. law at their convention by using the White House and other government resources to stage political activity. Secretary of State Pompeo had the audacity to use official State Department travel to Israel to stage his illegal speech. JDCA denounced this action and Trump's dangerous use of Israel as a political wedge issue in the New York Times, the Washington Post, NPR, and more. You can watch Halie make this case on interview on i24 and read more in The Forward.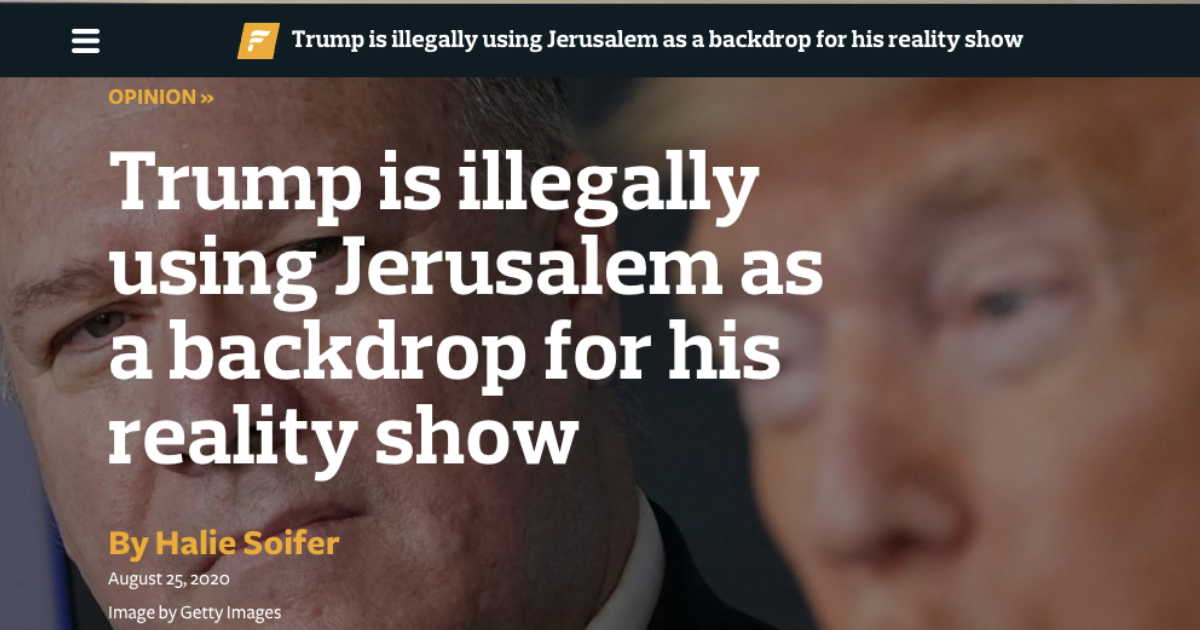 Democrats know that Americans of all faiths yearn for a president who shares their values, and demonstrates integrity and honesty. Our newest ad, which features Rabbi Michael Beals, tells the story of Joe Biden's empathy and kindness and demonstrates why We Need a Mensch in the White House. It has already been viewed hundreds of thousands of times and is currently running in swing states where the Jewish vote will help deliver a victory to Joe Biden and Kamala Harris. Check it out and share by clicking below.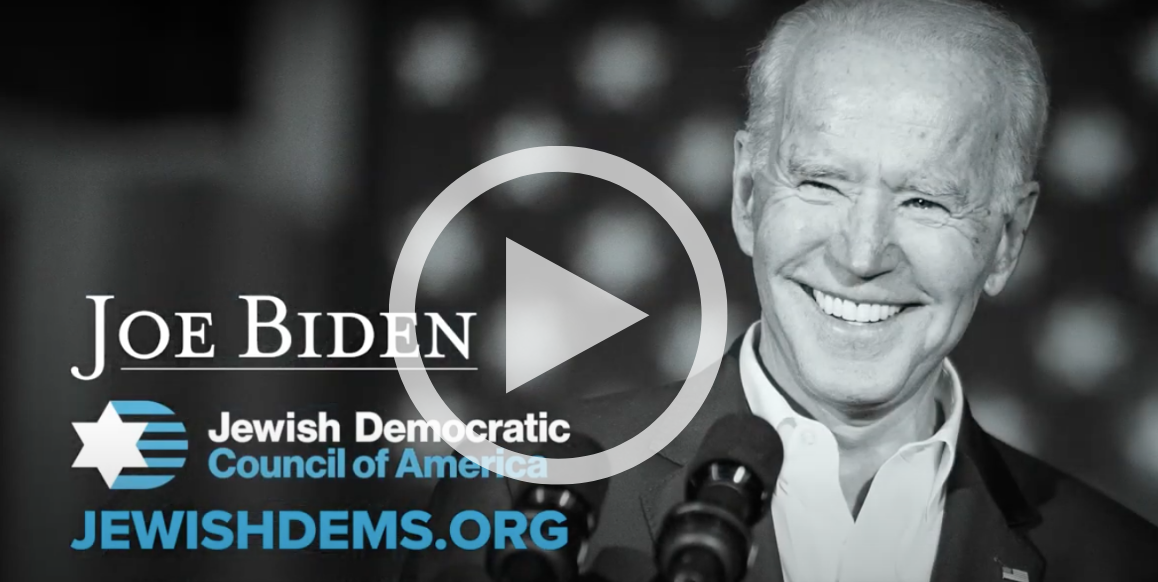 To learn more about JDCA and to keep up on all our activities, check out our newly designed website, and refer to our fact sheet on Joe Biden and Israel any time you or your friends have questions about where the candidates and their parties stand on Israel and anti-Semitism. And visit our online store and to let everyone know who you support in this election.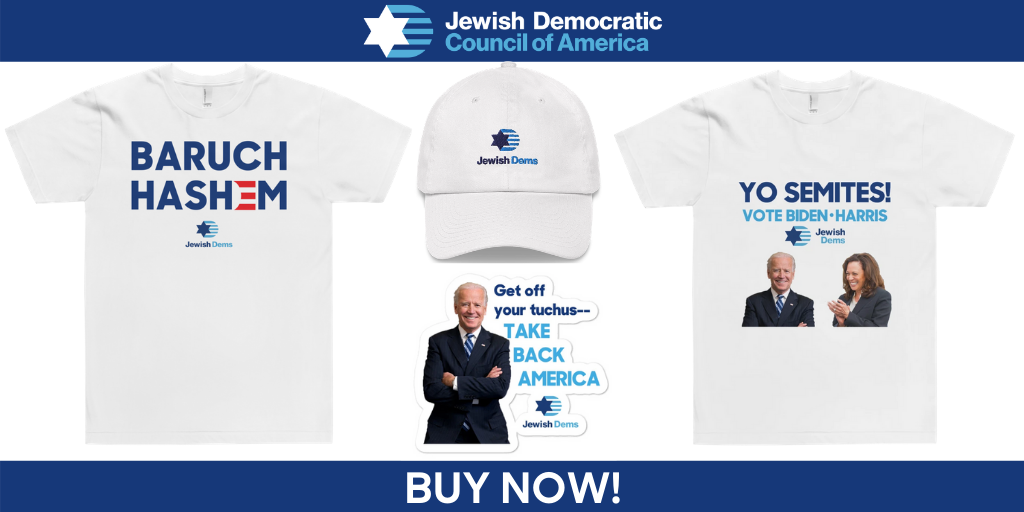 ​This was not a good week for America, and that's why we are redoubling our efforts as we fight for a better future. We cannot and will not ignore the pandemics of systemic racism, gun violence, and COVID-19 plaguing our country, and and we need real leadership in the White House.
Together, we will restore the soul of our nation and ensure a brighter future for all Americans, and we encourage you to join us by 
signing up for a state chapter.