Friends,
The pursuit of justice is one of the core tenets of Judaism and a fundamental American value. As public impeachment hearings begin this week, we are reminded that the word "justice" is repeated twice when the Torah tells us "justice, justice shall you pursue" to emphasize that justice must be pursued by just means.
We have seen this pursuit on display this week in Congress, and we applaud House Democrats for the deliberative way they are upholding their oath of office to "support and defend the Constitution of the United States against all enemies, foreign and domestic" – even when the enemy, or threat to the Constitution, is the President of the United States.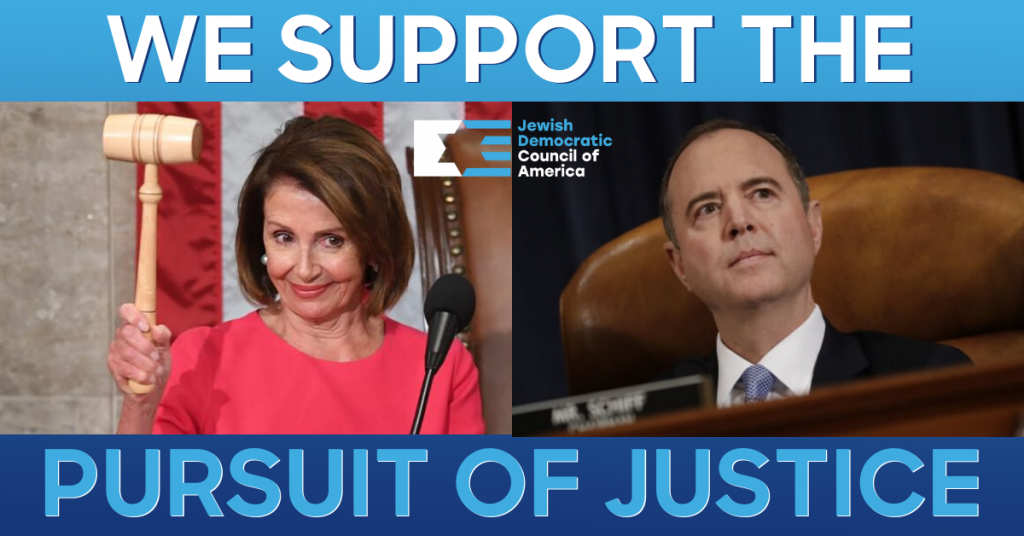 In a new video that shows her taking the oath of office on a Hebrew Bible, Rep. Elaine Luria, a Jewish member of Congress from Virginia, said this week that "as a Congresswoman and former Navy Commander, I swore an oath to support and defend our Constitution five times. Donald Trump didn't uphold his oath, but I intend to uphold mine."
Luria is one of seven freshman Democrats who wrote an op-ed arguing that "to uphold and defend our Constitution, Congress must determine whether the president was indeed willing to use his power and withhold security assistance funds to persuade a foreign country to assist him in an upcoming election." That's exactly what House Democrats are doing through impeachment proceedings, and we strongly support their pursuit of justice. Nothing less than the future of our democracy is at stake.
The pursuit of justice and adherence to our values also means ensuring that bigotry has no place in government or anywhere in America. This is why we are calling on White House Senior Policy Advisor Stephen Miller to resign in light of his deeply disturbing statements in support of white nationalism. Miller's affinity for white supremacy, his cruel views on immigration, and his emboldening of white nationalists have no place in the White House. Stephen Miller epitomizes precisely what's wrong with the Trump presidency – the abuse of power to erode our democratic norms, values, and institutions and the use of hate to divide Americans.
We have an obligation to speak out against this hatred, which cannot be tolerated. Add your name by clicking on the image below and demand that Stephen Miller resign.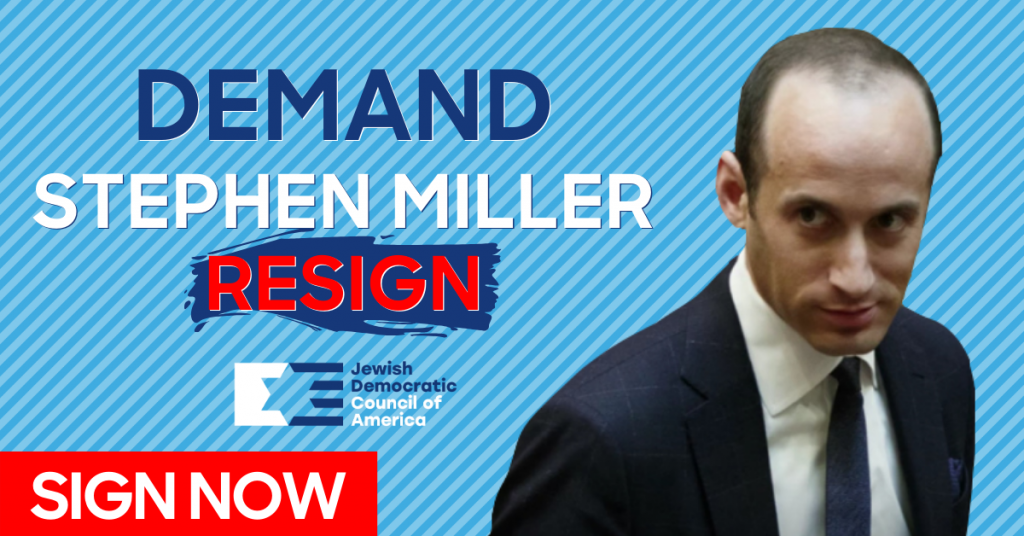 With this courageous pursuit comes some uncertainty. We don't know if the Senate will convict Trump if he is impeached by the House and we don't know if Stephen Miller will resign. But we do know it's the right thing to do because it's aligned with our values.
We also know that elections matter. Imagine if Republicans controlled Congress. Instead of watching the impeachment hearings chaired by Adam Schiff, we'd be watching Benghazi or Clinton email hearings chaired by Devin Nunes.
We are extremely grateful for your support in helping to flip control of Congress to Democratic control in 2018. We plan to do it again in 2020, when we will do all we can to preserve the House majority, and elect a Democratic president and Democratic Senate.
Stand proudly with Jewish Dems in our pursuit of justice by supporting JDCA today. Our mission has never been more critical. With your help, we can continue to expand our work and ensure we're successful. We are grateful for your partnership.
Finally, as we head into the weekend, we are hopeful that the recently-announced cease-fire in Gaza will hold, and we reiterate our strong condemnation of rocket attacks against innocent Israeli civilians. We also grieve for the victims of the latest gun violence in Santa Clarita, and reaffirm our call on the Senate to enact common-sense gun safety legislation.
Shabbat Shalom,
Ron Klein,
Chair, Jewish Democratic Council of America
Halie Soifer
Executive Director, Jewish Democratic Council of America