Article
WE DID IT
November 18, 2022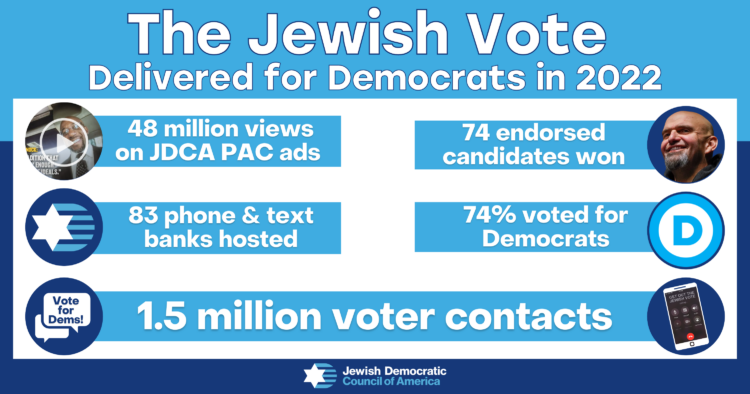 A week and a half after Election Day, with races still being called, we're reflecting on some of the biggest takeaways from the midterms, and are thrilled that so many Democrats won with the overwhelming support of Jewish voters.
JDCA and JDCA PAC's efforts to get out the Jewish vote delivered victory for Democrats and proved especially important in Arizona, Nevada, and Pennsylvania, where Democrats flipped and held critical Senate and House seats. Republican election deniers, abortion deniers, and bigoted extremists lost in Pennsylvania and Arizona for governor — and up and down the ballot in those and other states — and we're now focused on replicating this success in Georgia and ensuring the 51st Senate seat for Democrats.
SUCCESS IN AZ, PA & NV
Jewish Dems engaged directly with Jewish communities and established a strong grassroots presence in many states, including Arizona, Nevada, and Pennsylvania.
In those three critical states alone, our dedicated team of grassroots volunteers and organizational partners made over 90,000 direct voter contacts in Arizona, nearly 32,000 direct voter contacts in Nevada, and close to 320,000 direct voter contacts in Pennsylvania. Unprecedented JDCA investments in these states helped deliver victory for Democrats, where it mattered the most. Read more about the incredible work of our Arizona Chapter, led by JDCA Board Member Debra Stein, and listen to Nevada Chapter Lead Margy Feldman on Pod Save America.
Grassroots organizing wasn't the only tactic we used to mobilize voters. JDCA PAC's hard-hitting ads focused on the threat Republican candidates pose to our democracy and how Democrats share our values. JDCA PAC's ads were seen over 48 million times around the country, including 16.4 million times in Pennsylvania, 6.4 million times in Arizona, and 4.3 million times in Nevada. On average, targeted voters in JDCA's key states saw our ads 36 times before they voted. In Georgia alone, the turnout rate among those Jewish voters we contacted was ten percent higher than the turnout rate generally. Now we are focused on ensuring those same Jewish voters turn out in the Senate runoff and re-elect Sen. Warnock.
GEORGIA ON YOUR MIND?
As we aim to ensure Democrats expand their Senate majority, we are doing all we can to re-elect Sen. Warnock and defeat Herschel Walker. Help us reach more voters in Georgia by signing up for our phone bank on Monday, November 21 at 5:00 p.m. ET/2:00 p.m. PT. To reflect on how it's done, we'll be joined by JDCA-endorsed candidate and Congressman-Elect Greg Landsman (OH-1), who flipped a critical House seat from red to blue in Ohio!
CELEBRATING SPEAKER PELOSI'S LEGACY
During her decades of Democratic leadership, Speaker Nancy Pelosi advanced justice and fought for our shared values, and we're incredibly grateful for her service as Speaker of the House. She departs congressional leadership as the most impactful House speaker in American history. She has been a key partner to Jewish Dems and presciently told our supporters in September that "Jewish voters will be our path to victory again this November." Read our full statement celebrating Speaker Pelosi.
Thank you for your continued support and partnership. Without you, our shared success in these elections would not have been possible, and we're grateful.
Shabbat Shalom,
Hon. Ron Klein
Board Chair, Jewish Democratic Council of America
Halie Soifer
CEO, Jewish Democratic Council of America