Article
WATCH: JDCA on MSNBC
November 3, 2023
As the crisis in Israel and Gaza continues to unfold and antisemitism spikes, JDCA is speaking out and taking action. Today we joined MSNBC's Andrea Mitchell Reports to discuss why Israel cannot and should not be pressured into a ceasefire at this moment and Republicans' reckless "political ploy" to condition aid for Israel. Watch and share our appearance on MSNBC, read more about how JDCA took action this week, and stay tuned for an announcement next week about JDCA's next round of 2024 endorsements.
Earlier this week, JDCA PAC, the political arm of the Jewish Democratic Council of America (JDCA), released its first digital advertisement of the 2024 election cycle. The ad contrasts Biden's leadership and support of Israel and Jewish Americans with Trump's mocking of Israel and praise of Hezbollah. Click here to watch the ad to help us elect Democrats who share our values, and read more about our ad campaign in JTA.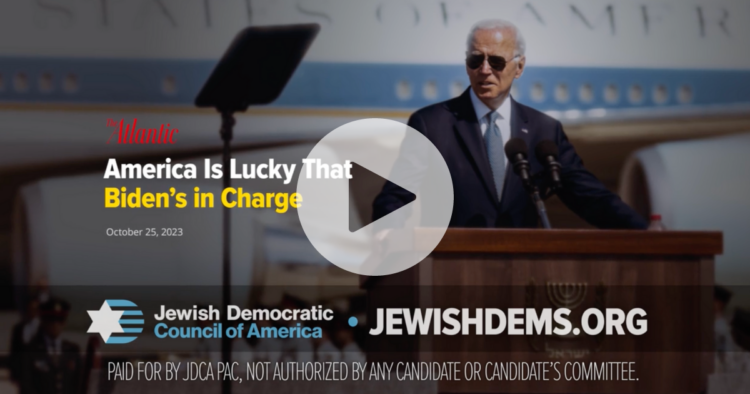 Since Hamas's horrifying terror attack on Israel, JDCA has gathered our community for four consecutive weekly discussions. Earlier this week, we hosted JDCA Board member and former U.S. Ambassador to both Israel and Egypt Hon. Dan Kurtzer for a conversation about the role of diplomacy. 
We encourage you to watch the full event and sign up to join us next week for a conversation with New York Governor Kathy Hochul about antisemitism and Israel.
Earlier this week, the administration announced additional actions to confront antisemitism on college campuses. In addition, the Biden administration's Office for Civil Rights in the Department of Education has clarified policy prohibiting certain forms of antisemitism and Islamophobia. These efforts come on top of the Biden Administration's unprecedented National Strategy to Counter Antisemitism. Jewish Dems fully support these efforts to keep our students and communities safe. Read our talking points on the crisis in Israel and antisemitism.
Thank you for your continued support of JDCA and your partnership.
Shabbat Shalom,
Hon. Ron Klein
Board Chair, Jewish Democratic Council of America
Halie Soifer
CEO, Jewish Democratic Council of America