Friends,
Tomorrow is the day.
On Tuesday, November 6, we head to the polls in the most important election of our lifetime. The Jewish Democratic Council of America (JDCA) has made every effort to ensure the voices of Jewish Democrats were heard in this election. We have endorsed 58 candidates who represent our values, organized hundreds of volunteers, and invested hundreds of thousands of dollars in advertising. We are proud of every effort, and incredibly grateful to all of you for your ongoing support along the way. As we head to the polls, we have three messages: (1) VOTE; (2) Check JDCA's website on election night, where we will post results of our key races in real-time; and (3) Join us on Wednesday, November 7, at 1:00 pm EST, to discuss the election results with Rep. Ted Deutch (D-FL) and JDCA leadership. Sign-up for the call here.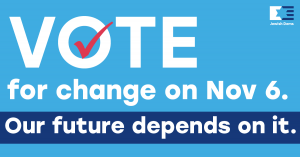 VOTE.
The most important thing we can all do is SHOW UP TO THE POLLS TOMORROW. Rain or shine, we must VOTE. These elections are vital for our future and the moment for change has arrived.
It is imperative that you have a plan to vote tomorrow.
Fourteen percent of registered voters who did not cast a ballot in the 2016 elections said they failed to vote because they were too busy. Making a voting plan is a proven way to make your voice heard! Use this online tool to find your voting place and check your registration.
Make a plan for getting to the polls.
Need a ride? Lyft is offering 50% off your ride to the polls and Uber is offering $10 off a ride to your polling place. If you need help finding a ride to the polls, call our office at (202) 975-0859 and we can connect you to a volunteer who can give you a lift!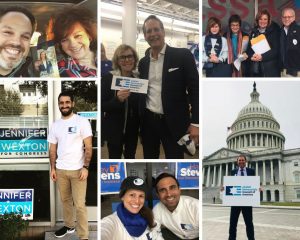 Be prepared.
If a polling official says that you are ineligible to vote, you have the right to ask for a provisional ballot. If you have any problem at the polls, call the Democratic Party's voter protection hotline at (833) 336-8683 to get assistance.
Every vote counts.
Don't think that your vote doesn't matter. Non-voters handed Donald Trump the presidency. Nearly every special election in the past two years has been decided by an incredibly small margin. Even if you think your candidate is certain to win, just remember: NOTHING IS CERTAIN. It's not over until it's over, and so much depends on the outcome of this election. EVERY vote counts. Don't let anyone tell you otherwise.
We could make history.
These elections could bring about unprecedented results for Democrats. In addition to the possibility of winning control of one or two chambers of Congress – and thus having a real chance at oversight of the president – we may elect more women and more Jewish Members of Congress than ever before. There are 197 women running for the Senate and House as Democrats and 41 Jewish Democratic candidates. Let's make history by breaking records for Dems!
We can collectively bring about change.
JDCA has mobilized our 18,000 supporters across the country to reach more than half a million Jewish Democrats this election. We have canvassed across the country with hundreds of volunteers because no one can bring about change alone. We can't wait to see the results of our collective efforts tomorrow night.
After you vote ➛
Tune in to our website Tuesday evening to see live results of races with JDCA-endorsed candidates. Join us Wednesday, November 7, at 1:00 pm EST for a post-election briefing call with JDCA leadership and Rep. Ted Deutch.
VOTE like the future depends on it –
because it does.
Thank you for your support,
Halie Soifer
Executive Director, Jewish Democratic Council of America