Article
Victory in Georgia: Jewish Voters Helped Expand the Senate Majority
December 7, 2022
We did it. A majority of Georgians voted their values and re-elected Senator Raphael Warnock, expanding Democrats' Senate majority. This is the first midterm election since 1934 when a president's party has not lost a single Senate seat, and we're proud to have delivered the Jewish vote for Sen. Warnock and a 51-seat majority for Democrats. We are grateful for your continued engagement and activism with JDCA.
With your support, JDCA PAC's digital ads in Georgia reached more than 100,000 Jewish Democrats, independents, and Republican women over 5.25 million times during the runoff and more than 12 million times throughout the year. JDCA's dedicated activists made 50,000 direct voter contacts — calls, texts and doors knocked — in the runoff. Senator Warnock knows that Jewish Dems have his back — literally (Jewish Dems were on stage celebrating with him last night!) — and we will continue to for the next six years he's in the Senate.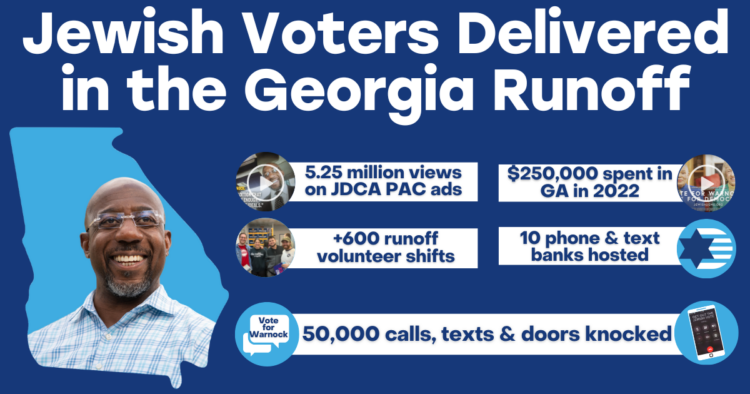 Our message to Jewish voters in Georgia was clear: Senator Warnock is a proven leader who shares our values, while Herschel Walker is unqualified and a dangerous Trump-aligned extremist. By taking action with JDCA and JDCA PAC in Georgia and throughout this election cycle, you helped Democrats expand the Senate majority. Senate Democrats will now have a true majority on committees and a stronger ability to swiftly confirm more of President Biden's judicial nominees.
Today we're celebrating this historic victory, but our work is far from over. JDCA needs your help to continue advocating for our Jewish and Democratic values, combatting dangerous right-wing extremism, and continuing to elect Democrats who share our values. Election Day 2024 is only 699 days away. Stay tuned for more information about our annual virtual Hanukkah celebration!
Sincerely,
Halie Soifer
JDCA CEO