Article
Two weeks to flip the Senate
December 23, 2020
Believe it or not, the Senate runoff elections in Georgia are just two weeks away. We're proud to support 
Reverend Raphael Warnock
 and 
Jon Ossoff
 because they represent our Jewish and Democratic values. This week we 
released a new ad
 emphasizing the importance of electing Jon Ossoff, which we're sending to Jewish voters in Georgia to get out the vote.
Yesterday, we hosted a community conversation on Black-Jewish coalitions, where we heard from leaders who helped cultivate the relationships between our communities and have advanced the fight for equality and justice. We were inspired by our guests to continue building ties and uniting around our common values. And as Dr. Rev. Gerald Durley told us, "we're fighting for a Senate seat for the overall good." We couldn't agree more, and that's why we must elect Jon Ossoff and Rev. Raphael Warnock on January 5.
If you couldn't join the call live, you can 
watch it here
. Make sure to visit our 
full events calendar
 to see all the opportunities to take action and join us on the virtual train to Georgia in the next two weeks.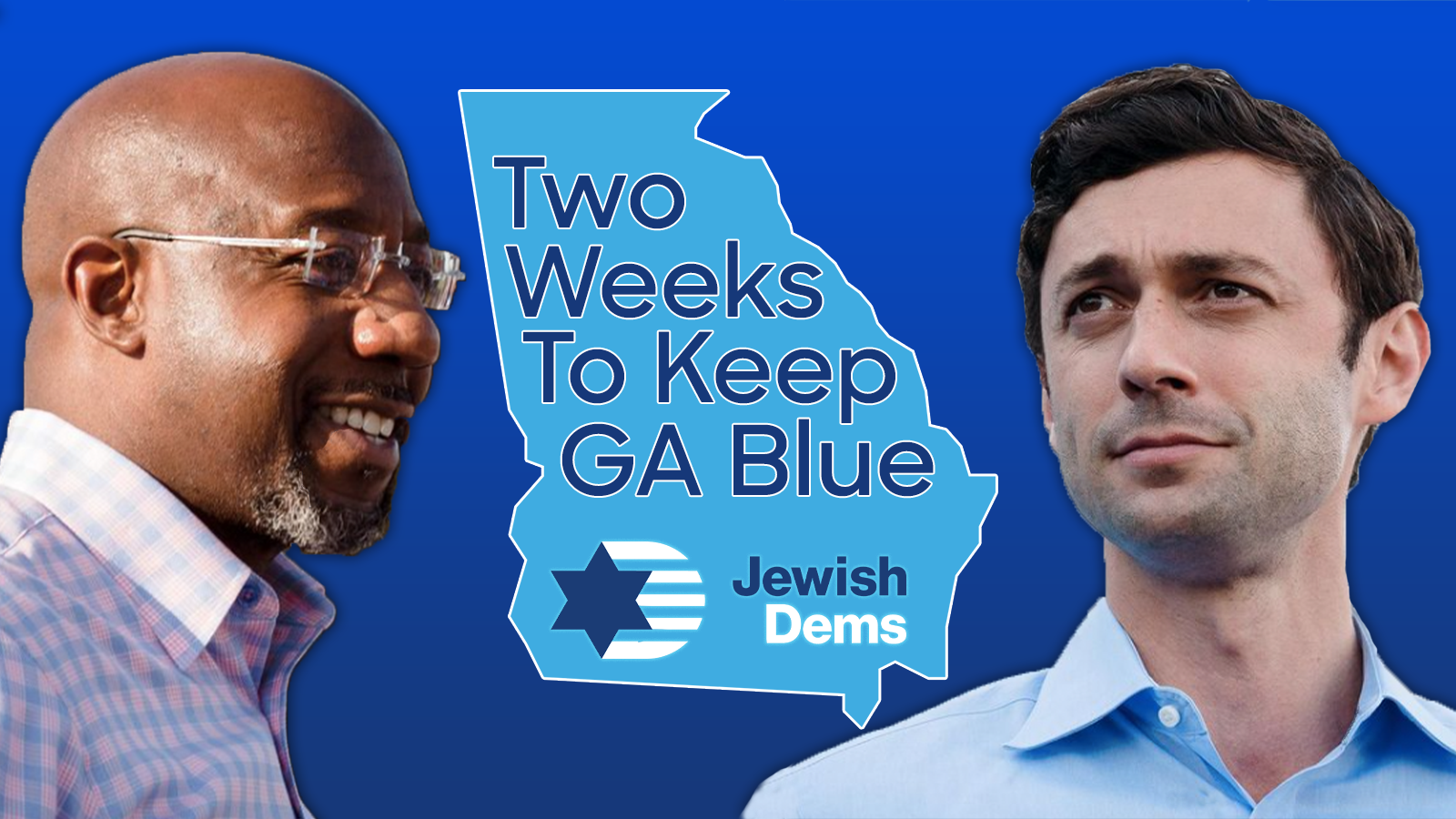 Join us on
 Sunday, January 3rd at 12pm ET, as we launch, "Last Call: 72 Hours to Take Back the Senate" – our final three days of phone banking in the Georgia runoffs.
 Some special guests will be dropping by to help us mobilize the Jewish vote, so sign up for a shift (or two), and stay tuned for more updates on just who to expect!
Kelly Loeffler has no vision, so she seeks division. Jewish Dems stand firmly behind Rev. Raphael Warnock, and condemn in the strongest possible terms the false attacks leveled against him by Senator Kelly Loeffler and all those spreading misinformation. Jewish Dems are fighting back with the truth and we will not let fear-mongering divide the Jewish community or distract voters from Loeffler's deplorable record of emboldening right-wing extremists.
Read more about our rejection of Republican attempts at division and why we support Rev. Raphael Warnock by clicking the button below.
Please support our Georgia campaign
 today by making a contribution to JDCA PAC so we can further expand our critically important work. All donations will be spent in the Georgia runoff, sending our 
digital ads
 to Jewish voters in Georgia. We deeply appreciate your 
support
.
Ron Klein,
Chair, Jewish Democratic Council of America
Halie Soifer
Chief Executive Officer, Jewish Democratic Council of America